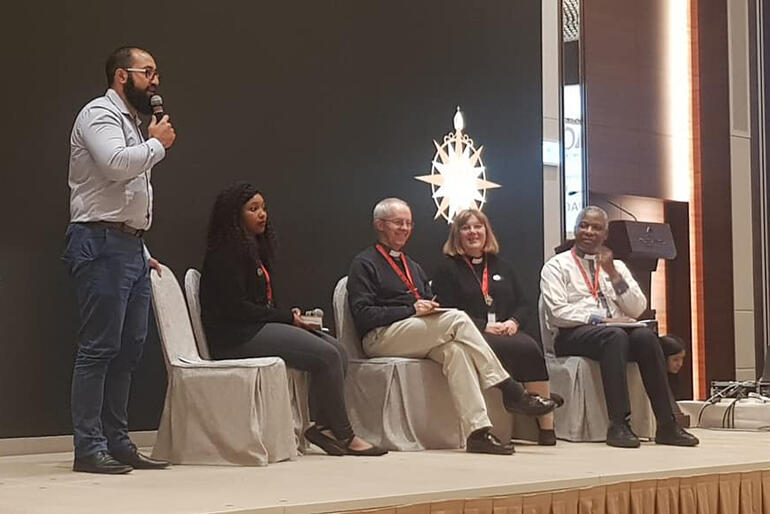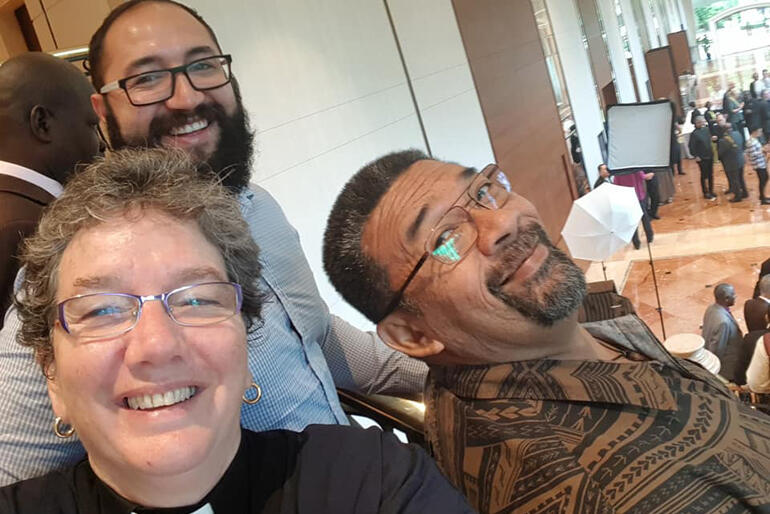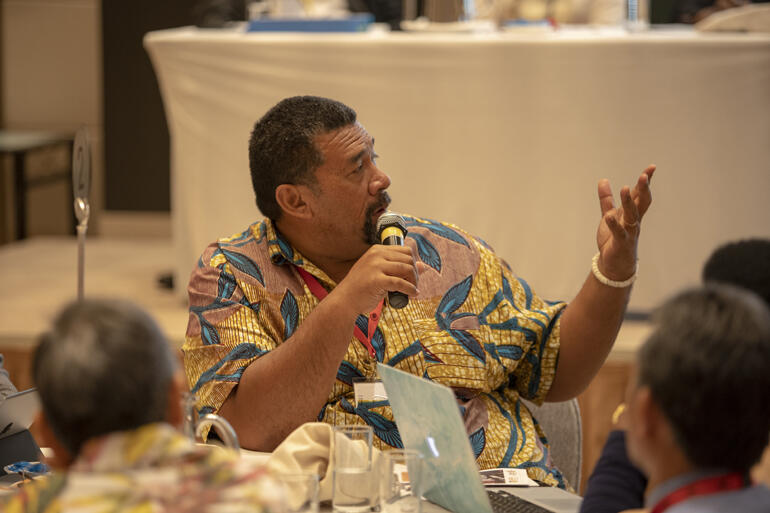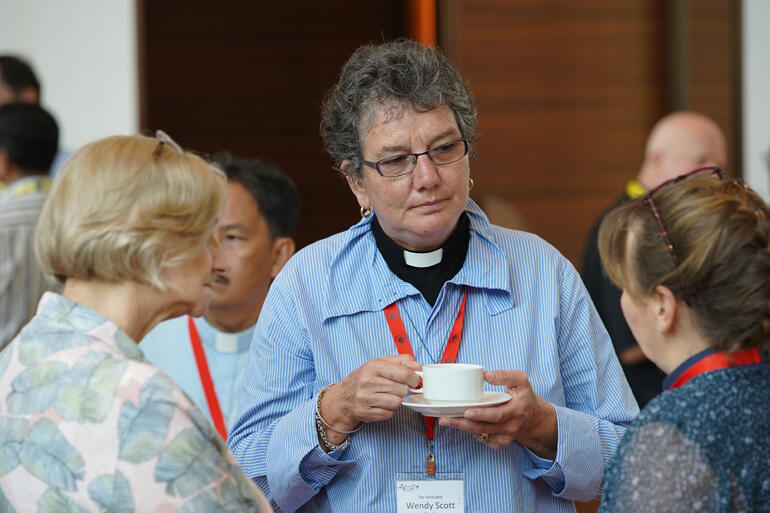 Aotearoa, New Zealand and Polynesia delegates have returned from the Anglican Consultative Council (ACC) in Hong Kong this May with a renewed sense of connection and mission within the wider Anglican Communion.
"Being at ACC was a reminder that each of us and our churches are unique in our own challenges and settings, yet united in our identity and mutual love of the gospel." said Aotearoa New Zealand ACC delegate, Archdeacon Wendy Scott.
ACC is one of the four instruments of the Anglican Communion and the only one where clergy and lay representatives set shared directions in ministry and mission to resource Anglican churches around the world. ACC delegates from Aotearoa, New Zealand and Polynesia were Archdeacon Wendy Scott (Wellington) and Fe'i Tevi (Polynesia), while Isaac Beach (Tairawhiti) came on board as one of eight global representatives for under 35s.
"It was a privilege to get to know other Anglicans and hear their hopes and dreams as churches from so many contexts, with so many challenges different to our own." said Wendy, who shared a table with members of churches in Pakistan, Bangladesh, Caribbean Islands, Central Africa North and South Sudan.
Our ANZP delegates worked alongside peers from churches in highly affluent contexts, as well as many who minister to people living in poverty, amidst the chaos of war, or facing climate chaos in the form of sea level rise and extreme weather events.
Despite the diversity in the room there was a palpable sense of unity across the 150 delegates, general secretaries and Anglican Communion network representatives who attended ACC17, said Wendy. She found the ACC functioned like an international General Synod, but one where reports and resolutions were interspersed with teaching and valuable local mission sharing on the theme of intentional discipleship.
The ANZP team were pleased to see Wellington's Assistant Bishop Eleanor Sanderson strengthening the voice from the Pacific and making an impact on the mission teaching with her video reflection on intentional discipleship.
"It was great to see Bishop Eleanor speak via screen with such clarity of what it means to lead a Jesus-shaped life." said Isaac.
During the ACC, Isaac Beach worked with the global youth team to draft a resolution raising young people's access to decision-making power and impact on mission priorities across the Communion.
"Invisibility of young people remains a problem at all levels of the Communion," he said.
"At this meeting we encouraged the ACC to recognise the active movement of young people within the body of the church, and we introduced a new mechanism for youth to influence policy at the highest level of ACC's governance."
As a result of the youth delegates' work, the ACC received a resolution to enable one ACC youth member to join its Standing Committee, and elected Ms. Basetsana Makena, General Secretary of the Anglican Students' Federation of Southern Africa, to serve on ACC Standing Committee.
At other times, Isaac spoke to the ACC plenary on how youth can take action on climate change, and advocated for the church to help improve access to education and employment for young lay people across the Communion.
"Climate change was the constant first thing off people's lips in the youth cluster. Our approach was advocating for Governments and churches to address this issue. There was a lot of hurt among the youth about the poor response of countries on climate change."
As a result, with the backing of key supporters – including Fe'i Tevi – the youth delegation put forward a resolution for the Communion to not only encourage young people's efforts on climate justice, but to put resources into their climate work.
"We called on the Church to develop climate response strategies at Communion, provincial, diocesan and parish levels, so that our communities can make a greater impact in building climate resilience." said Isaac.
Another resolution that inspired Isaac came from Bishop of Chelmsford, Stephen Cottrell which called for the Anglican Communion to raise their voices for global nuclear disarmament.
"That connected with me because on Mahia Peninsula – where I have ancestral links to the whenua – the US military are being allowed to blow rockets off our whenua that are adding to the militarisation of space. I am not happy about that, and neither are a lot of other people." said Isaac.
Wendy Scott felt the overall strong sense of unity across the provinces only momentarily faltered when the issue of LGBT Anglicans' roles in the Communion came front and centre.
"Many African churches just don't want to go there and can't go there." said Archdeacon Wendy.
"People at my table from Sudan are trying to broker peace in their country where their people are starving and women are being raped by soldiers. For them the big justice issue of sexuality is sexual violence in war."
"Homosexuality is also illegal in so many countries, and that is so different to our context. When one set of wording for the sexuality resolution came forward, the Archbishop of South Sudan said, if we signed that, we would be going home to close down our church."
Not so for the Church of England, whose 'Faith Hope and Love' research team came to ACC to present an outline of its work reviewing scientific, biblical and theological understandings of sexuality, drawing on research from within and beyond the churches.
Wendy shared insights from the study and discernment experience of this province, particularly the way Aotearoa, New Zealand and Polynesia worked through its listening process on sexuality.
"They appreciated hearing from our experience, and we hope they heard us when we said, 'This is a long and difficult road, but vital for our church to have journeyed.'" she said.
Isaac was impressed by Archbishop of Canterbury Justin Welby's use of his role to reconcile the ACC when debate over gay bishops and spouses' invitations to Lambeth stalled.
"It was his ability to hold the room and be the instrument of unity for the Anglican Communion that was great to see."
Fe'i Tevi suggested our province has much to offer the ACC and the Communion at large in understanding meeting process and debate, and particularly in the areas of transparent listening, drafting, approving and managing resolutions.
He reflected that ACC was a good experience to learn from as we head toward the Lambeth Conference, which stands to learn a good deal from meeting process issues that arose at ACC.
The next meeting of an instrument of the Anglican Communion will be the Lambeth Conference that gathers in July and August 2020 in Canterbury, UK, under the theme "God's Church for God's World: walking, listening and witnessing together."