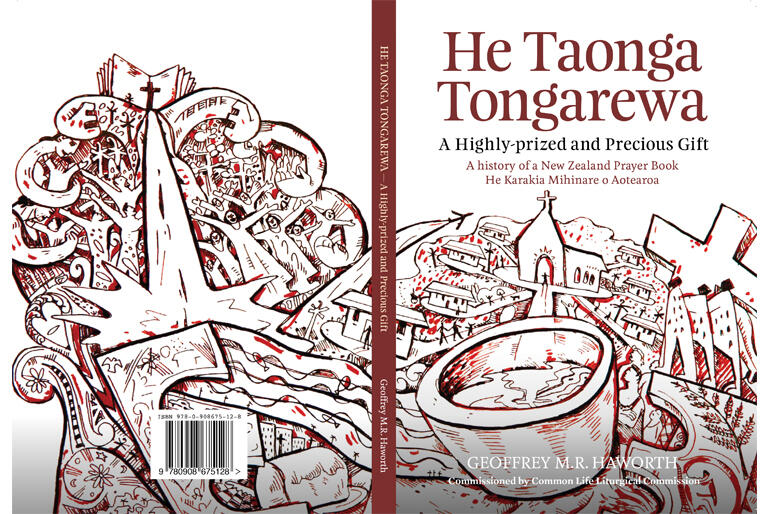 Book Review
He Taonga Tongarewa: A highly prized and precious gift
A History of A New Zealand Prayer Book
- He Karakia Mihinare o Aotearoa
_____________________________________________
Common Life Liturgical Commission 2018.
gensec@anglicanchurch.org.nz, $20.00
_____________________________________________
By Geoffrey M. R. Haworth
_____________________________________________
Reviewer: Janet E. Crawford
In his new book, He Taonga Tongarewa Rev Dr Geoffrey Haworth has written a timely history of A New Zealand Prayer Book - He Karakia Mihinare o Aotearoa (NZPB-HKMOA).
When the New Zealand Prayer Book was officially launched at a Wellington Cathedral service in late 1989, its authors could not have imagined how much the church and our society would have changed by the launch of this wide-ranging history, thirty years on.
Few young Anglicans today will have heard of The Book of Common Prayer, which was the norm for Anglican worship for more than 300 years, or even the 1970s' experimental liturgies that preceded the now 30 year-old 'new' prayer book. In 1992 for example, only three years after the NZPB-HKMOA was published, the Anglican Church in this province fundamentally changed its constitution to live as three tikanga – three cultural strands – within one church body.
In He Taonga Tongarewa, Geoff Haworth chronicles how ANZPB-HKMOA came into being before those major changes. He traces the story from 1964 when General Synod first set up a commission to revise The Book of Common Prayer, through till its first publication in 1989.
The author sets the prayer book's history in the context of social change, alongside the wider international liturgical renewal, which was led by the Roman Catholic Church's reforms at Vatican II and for Anglicans, the 1958 Lambeth Conference.
Haworth draws on official records such as minutes and synod proceedings, as well as on diverse publications, letters, articles and interviews – all listed in a comprehensive bibliography.
He Taonga Tongarewa shows how the Provincial Commission on Prayer Book Revision's work over 25 years was assisted by diocesan committees, experts and interested parties to collect, collate and debate an enormous body of literary and theological work to produce the NZPB-HKMOA. He scans the composition process that demanded many people's time, scholarship, experimentation, compromise – and ultimately approval by the General Synod, followed by publication by Collins.
In sixteen chapters, Haworth describes the work of writers and committees who composed and compiled ANZPB-HKMOA, giving due weight to each component: Eucharistic liturgies, Christian Initiation, Marriage and Funeral Liturgies, the Daily Offices, Propers, Pastoral Liturgies, the Ordinal, the Calendar and the Catechism, as well as the art work which is a distinctive feature of the book.
Haworth describes the favourable stand on inclusive language that the Prayer Book Commission took, which despite widespread opposition, went on to receive considerable praise from international critics. A more controversial issue was Psalms for Worship, a version which caused serious offence to the Auckland Jewish community and which still divides opinion.
In today's three tikanga church one valid criticism of the NZPB-HKMOA is its inadequate provision of Maori liturgies. Haworth emphasizes the importance of the Bishopric of Aotearoa which was formed in 1978, and the developing bicultural relationship between Tikanga Pākehā and Tikanga Māori.
He discusses the efforts of the Prayer Book Commission to respond, and explains why the book is far from a bicultural publication, despite significant contributions from a number of prominent Māori Anglicans. In 1989, despite its failings for Māori, Archdeacon Sir Kingi Ihaka wrote of the newly published book, "it is a taonga tongarewa- a highly prized and precious gift".
Haworth explains the background to the limited materials from Polynesia, which at that time was a diocese, but not a separate tikanga, and one with diverse languages and cultures and few resources for this work.
Haworth's research is comprehensive, his handling of difference and controversy is sensitive and his comments judicious. Although the history is a work of considerable scholarship, it is written in a very readable style.
A helpful appendix gives a timeline for the whole story, while another lists the membership of the commission from 1964-1989 and a number of contributors receive due credit in the text.
In the final chapter Haworth attempts an assessment of the impact of ANZPB-HKMOA, noting that it was a book for a rapidly changing church within a dramatically changing society.
Readers will have their own opinions as to the strengths and weaknesses of He Karakia Mihinare o Aotearoa, its relevance or irrelevance in a digital age, and the need for further change or for a fixed point in a world of flux.
Haworth himself concludes that "at some future time this book will be left behind. How it will be replaced – or whether it will be replaced – is still far from clear."
To order copies of He Taonga Tongarewa ($20, plus $4 postage and packaging) please contact the General Synod Office.
The Rev Dr Janet Crawford is a retired Anglican priest and ecumenist, and a former senior lecturer at St John's Theological College in Auckland.