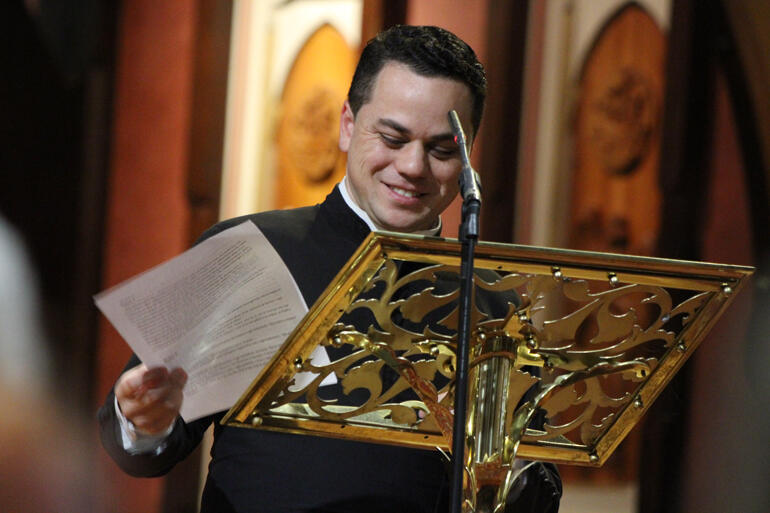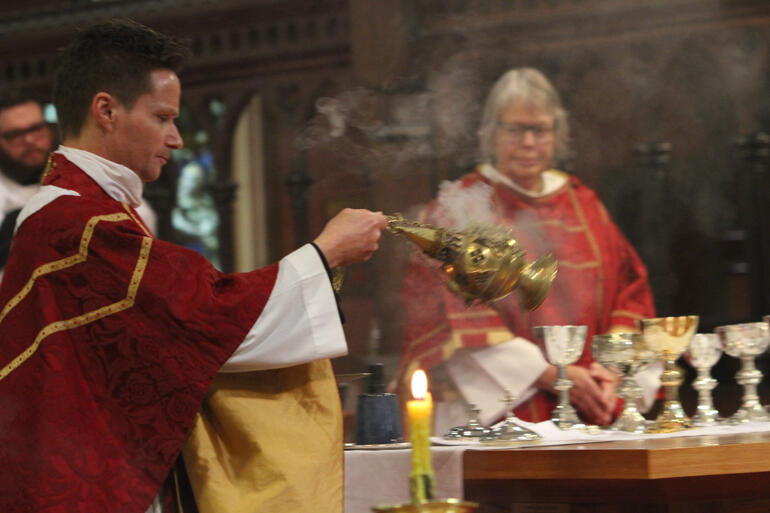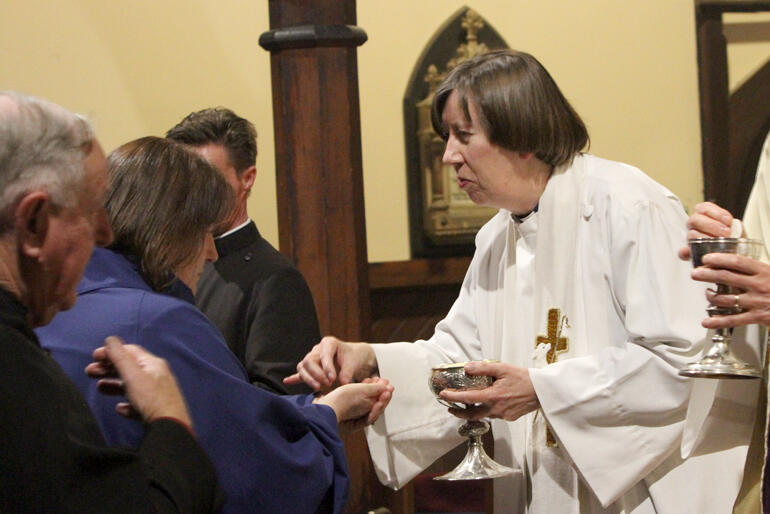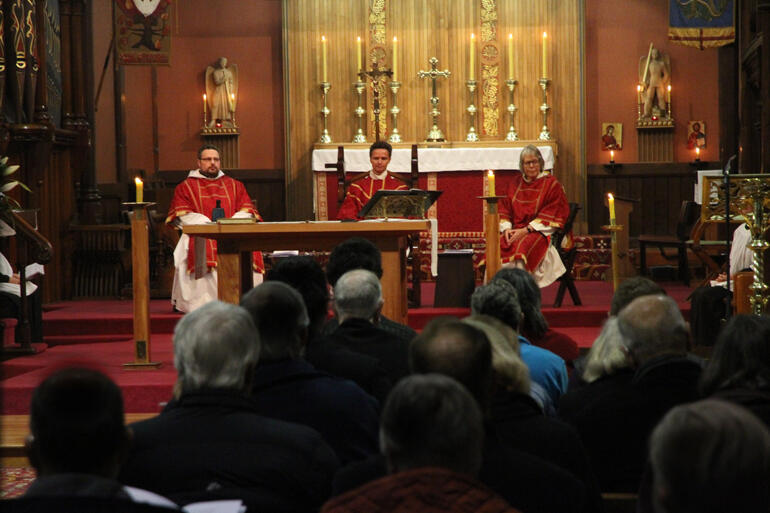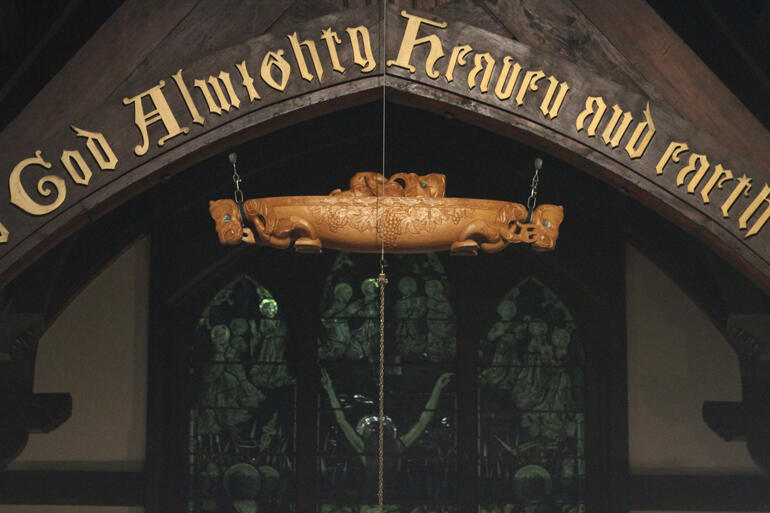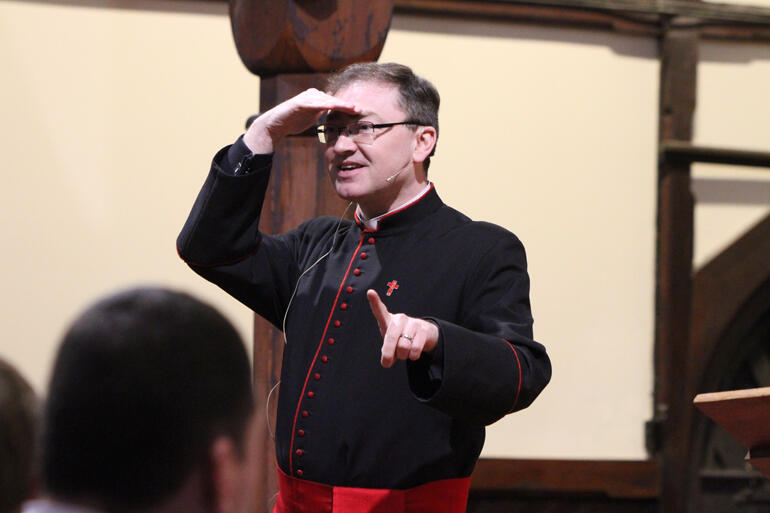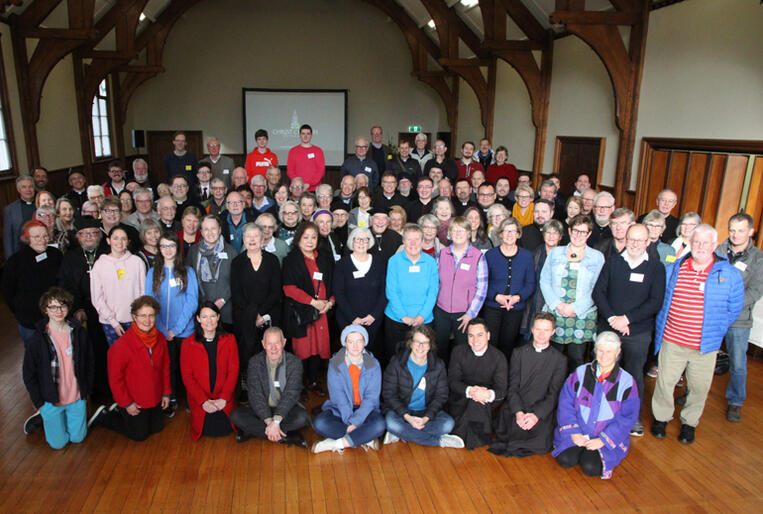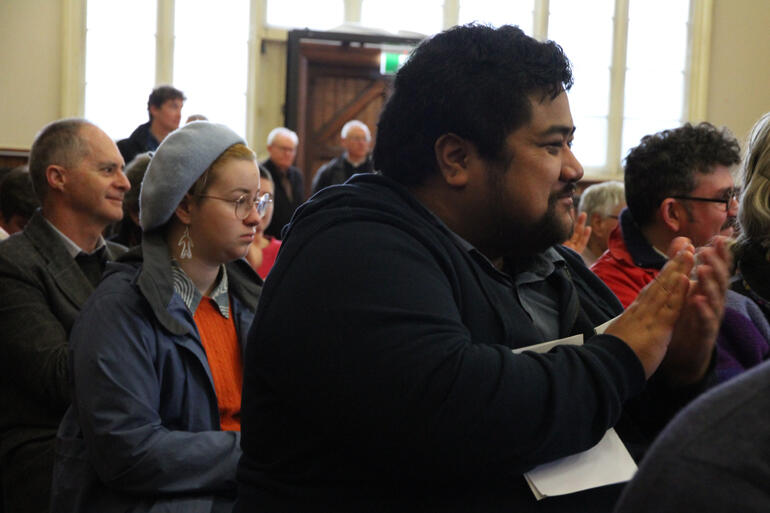 The 2021 Anglo-Catholic Hui gathered around 150 people during its three-day festival of faith, fellowship and 'Food for the Journey,' held at St Michael and All Angels' Anglican Church in downtown Otautahi-Christchurch from Thursday-Saturday last week.
The 2021 Hui focussed on spiritual nourishment through ancient disciplines of the Church, and looked to the Anglo-Catholic charism as a resource to shape effective mission and ministry in our south Pacific Anglican Church today.
Vicar of St Luke's Mt Albert, Rev Clare Barrie enjoyed many aspects of the Hui, but overall for her it was an experience of being fed,
"It is great to come to an event where I don't have to organise everything, and where I know the quality of what's going to be on offer is worth turning up for. It's a great opportunity to spend time with people who share a love of beautiful liturgy and enjoy some good scholarship," she said.
Keynote speaker was Sub-Dean of Christ Church Cathedral Oxford, the Rev Canon Richard Peers, whose recorded video talks anchored the hui in the four disciplines of confession and reconciliation, praying the psalms, fasting and spiritual direction as practices to undergird Christ-centred lives in today's world.
Fr Richard's talks resonated with many at the hui and at times set off gasps of shock, as he outlined his unbending take on some less than modern ideas. Among his advice on spiritual discipline, he emphasised:
– recognising that we are all sinners who need regular sacramental confession and repentance
– the importance of praying the Psalms daily and learning them by wrote
– the value of regular fasting as an essential spiritual practice for every Christian, and
– the need to move spiritual direction out of professional psychodynamic counselling model and ensure it is Christ-centred rather than person-centred
Rev Cruz Karauti-Fox, Missioner of Waikato in Te Hui Amorangi o te Manawa o te Wheke, was struck by Fr Richard's take on confession,
"Growing up, the value of the sacrament was downplayed, or even ignored. Father Richard reinvigorated for me the importance of confession and its centrality in the journey of life, and how it needs to be continually offered to the faithful."
A high school teacher for many years, Fr Richard observed that contrary to what many church growth advisors teach us, stringent spiritual demands can give young people who are drawn to religion something solid to aspire to.
Fr Richard reported how young men at the school he headed in Lewisham, South London were turning to Islam, attracted by its clear pathway for conversion, its clear rules for prayer and its clear limits on behaviour. That countered a wider trend in church growth, he said, which suggests that leading people to God requires religion to be easier and less threatening.
Vicar of All Saints' Birkenhead, Rev Jordan Greatbatch said Fr Richard's perspective echoed his experience with people seeking a life of faith,
"Sometimes people are ready for commitment, but we don't demand it of them – and when we fail to do that, they lose interest." he said.
In his second talk, Fr Richard encouraged daily reading of the psalms, so that Christians can "ingest" the language of the people of God, in the words they have spoken to God.
He told the story of one not uncommon occasion, when he was head teacher and was called to collect a young Afro-Caribbean high school student from the local police station. The student was being held after he objected to treatment he saw as racial profiling.
To ease them out of the station. Richard helped his student close down the irate officer with an apology. Still full of rage at the unjust grounds of his detention, the student leant down to Fr Richard's ear and whispered his words of holy anger, "O Lord, avenging God – avenging God appear...!"– straight out of Psalm 94.
Fr Richard shared how that connection echoed wider conversations where his students reflected on how God stands with all who counter racist oppression or systemic violence.
In his third session, Richard Peers challenged Christians to fast for its spiritual value, offering nutritionists' advice to smooth the way, and in his final talk he called for a different kind of spiritual direction, where a fellow Christian listens for God's work in another person's life, helps them to find God in their life and turn back to God. His most radical suggestion there was to remove payment from spiritual direction.
Throughout the Hui, masses and daily prayers were held in St Michael and All Angels' Church, drawing on both classic and contemporary hymns and songs and harnessing the full splendour of Anglo-Catholic liturgical ritual. Bells, candles, incense, robed clergy and servers, and the wakahuia holding the reserved sacrament all helping to communicate the holiness and mystery of God's presence in the Eucharistic feast.
Toupili Pamatangi from St Ambrose's in Christchurch came along to the Hui for a taste of that kind of Anglo-Catholic worship,
"I first experienced this kind of worship at Easter camp a few years ago when Bishop Victoria led an evening prayer with candles in the chapel – it was completely different to any worship I'd ever known and I was so intrigued – so (over the years) I have come back for more."
Dean of Dunedin Very Rev Dr Tony Curtis led morning Bible studies at the Hui, delving into the stories of two biblical women whose powerful witness to holiness has been blighted by centuries of uncalled-for slights to their reputations.
The Bible studies revealed Ruth as the foreigner who taught the people of God how to be the people of God (Ruth 1-2), and the Samaritan woman at the well (John 4: 1-26), as the person who held the longest theological dialogue with Jesus we can find in the gospels, and whom Jesus sent as evangelist to the Samaritans.
Ingrid Vlieg from St Peter's Palmerston North revelled in the way the two women's honour was reclaimed in the Bible studies,
"The Bible studies were great, I will never be able to read Ruth or see the Samaritan woman in the same way again."
For Ingrid that lined up with everything else she experienced at the Hui,
"I've got such a positive vibe from these few days. People here welcomed me like a long lost friend even though its been two years since the last Hui and I loved everything about it: the masses, the workshops, the people, the talks, I'll carry it with me for months."
The next Anglo-Catholic Hui will be hosted in the Waikato in 2022, supported by a continuation committee who will carry forward learnings from the first three Hui into planning for the next.