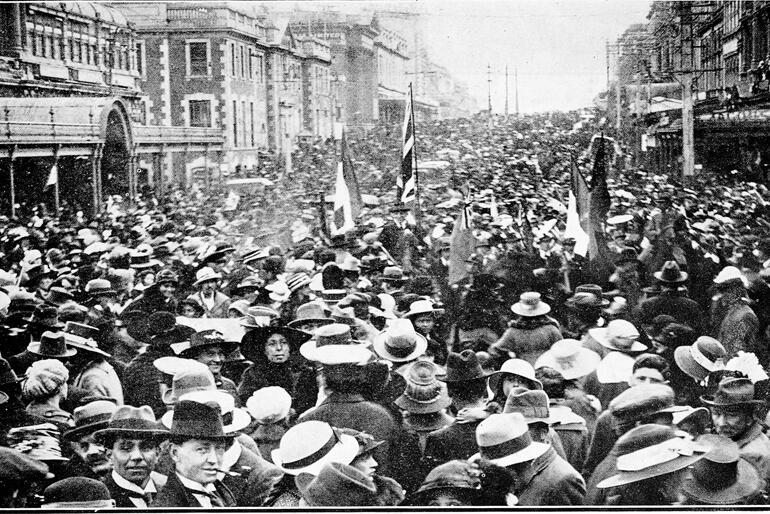 Churches round Aotearoa New Zealand have been asked to make a raucous joyous noise on Sunday 11 November 2018, to commemorate the centenary of the Armistice which ended the First World War.
The Government's Ministry of Culture and Heritage which is charged with staging official events for the occasion are inviting churches around the country to take part.
To encourage churches to get involved, the Ministry's WW100 Programme Office has issued the following invitation:
The centenary of Armistice Day gives our nation the opportunity to honour the sacrifices made by all New Zealanders during the First World War, as well as to reflect on peace (rangimārie) and hope (tūmanako). This day of remembrance will follow on well from the Anglican Church's observance of All Soul's Day just prior.
While the main WW100 commemorations will take the form of a live-streamed National Service at Pukeahu National War Memorial Park in Wellington, we want to connect all New Zealanders to the event and we are inviting Dioceses and Hui Amorangi to join in the Roaring Chorus campaign.
We want communities to help recreate the 'roaring chorus' of thanksgiving and jubilation that erupted across New Zealand as word of the Armistice reached our shores 100 years ago! The Evening Post described the scene in Wellington as such: "There were songs and cheers, miscellaneous pipings and blastings, and tootings and rattlings—a roaring chorus of gladsome sounds." Similar noisy outpourings of joy and relief were reported across the country.
We aim to recapture this moment immediately following the two-minute silence that will be observed nationwide at 11am. Organisations and community groups are being invited to gather whatever 'instruments' they have at hand and help create a 'roaring chorus' to once again celebrate peace and hope for the future.
As the members of congregations will of course be in services on the morning of Sunday 11 November, options for creating a roaring chorus could include the ringing of church or hand bells, choral or congregational singing, or the playing of organs or other church music – or all of these at once!
New Zealand's Roaring Chorus campaign connects with the British and German Governments' invitation to nations across the world to participate in bell-ringing at the eleventh hour of the eleventh day of the eleventh month in 2018. This will be a seminal moment in their own Armistice commemorations.
Bellringing campaign
The UK's Ringing Remembers campaign will repeat the bells that pealed across Britain to celebrate the end of the war. The project aims to recruit 1,400 new bell ringers so the bells in churches and public buildings can once again ring out. The project is on track with some 1,000 bell-ringers already recruited to honour the 1,400 bell-ringers who lost their lives during WWI.
We know that church bells usually ring as a call to prayer, but we very much hope you would consider having them ring also at 11.02am on Sunday 11 November. As we are expecting major television and radio coverage of Armistice Day, you are invited to let us know of any Roaring Chorus plans they may make. We will be liaising with media and could include your events for potential publicity.
A downloadable A4 information sheet is available here.
We encourage church members to list their Roaring Chorus activity on our website here, or if it's part of a publicly accessible event add it to Eventfinda and tick the WW100 Tours & Themes box. Prior to any plans being finalised and listed for public audience, however, we would love to hear from any groups during their planning phase. Perhaps we may be able to help with resources or promotion material. Please feel free to contact us at info@ww100.govt.nz, or contact the WW100 Communications Advisor, Charlotte Haddon, directly on 04 499 4229 extn 671.
He maungārongo ki runga i te whenua. May peace prevail on earth.