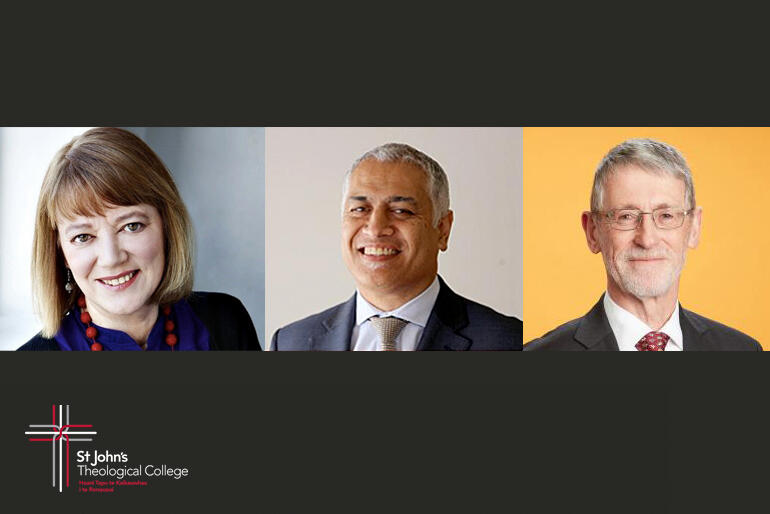 General Synod Standing Committee and Te Kotahitanga have announced a new three-member interim Board for St John's College. The Interim Board will oversee the College's work to implement recommendations from the St John's College 2021 independent review.
The Co-Chairs of the Standing Committee of General Synod - te Hīnota Whānui of the Anglican Church in Aotearoa New Zealand and Polynesia, together with the Chair of Te Kotahitanga, have announced the appointment of the first three members of a new Board for St John's College, which will be:
· Dr Nicola Hoggard Creegan
· Mr Matanuku Mahuika, and
· Mr John Whitehead CNZM, KStJ
The Church will next appoint a further two Board members, including one College governor with expertise in Pasefika education.
General Synod Standing Committee and Te Kotahitanga have identified several key areas where the new governors are highly qualified to lead the necessary changes signalled in the independent review of College culture undertaken by Miriam Dean QC and Doug Martin in 2021.
"Fundamental to the fifteen recommendations into culture change at the College was the establishment of an independent Board. This Interim Board is an important step in that direction," said today's announcement sent to the Anglican Bishops in Aotearoa, New Zealand and Polynesia.
Further information on the three new College of St John the Evangelist Board members' educational backgrounds, roles and governance experience follows below.
Dr Nicola Hoggard Creegan, Co-Director, Theology Lecturer and Chaplain.
PhD (Historical & Philosophical Theology) Drew University, New Jersey, 1991
Master of Philosophy, Drew University
MA (Theol Studies) Gordon Conwell Seminary, 1984
Bachelor of Arts (Hons) (Mathematics), Victoria University of Wellington, 1974
Dr Nicola Hoggard Creegan is an Adjunct Lecturer in theology for Otago University and Flinders University in Adelaide, Australia, City Campus Chaplain at the University of Auckland. Dr Creegan currently serves on a number of governance boards including as: Co-Director and Development Officer for NZ Christians in Science; Chair of the Christian environmental conservation organisation A Rocha Aotearoa New Zealand and Editorial Chair for Christian Perspectives on Science and Technology.
Mr Matanuku Mahuika, Law Partner and Director
Bachelor of Laws (Law) (Hons), Victoria University of Wellington, 1991
Matanuku Mahuika as extensive legal background as well as an established career in governance. His current roles include: Partner at Kāhui Legal; Chair of Ngāti Porou Holding Company and Eastland Group. Anglican Church Ministry Standards Commissioner; Director of The NZ Merino Company and Pakihiroa Farms; and Board Member of Callaghan Innovation.
Mr John Whitehead, CNZM, KStJ, Chancellor, Trustee and Board Chair
Master of Commerce (Hons) (Economics), University of Canterbury, 1974
Bachelor of Science (Hons) (Mathematics), University of Canterbury, 1972
Mr John Whitehead is highly experienced in institutional governance and is a former Secretary of the New Zealand Treasury. He is a member of the Anglican Church General Synod Te Hīnota Whānui and serves on the General Synod Standing Committee.
Mr Whitehead serves in many governance roles, including as Chancellor of the New Zealand Priory of the Order of St John; as Chair of the Priory Board, Governance Review Committee member, People and Capability Committee and Member of the Future Revenue Advisory Committee. John also serves as Chair of the NZ Data Trust.
The Interim Board of Te Whare Wānanga o Hoani Tapu will become fully active once the Church has completed the process of notifying the New Zealand Qualifications Authority of the new Board appointments.