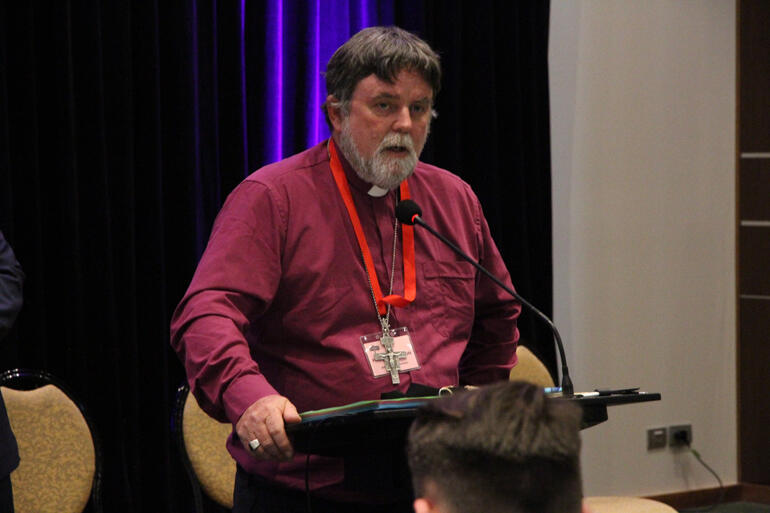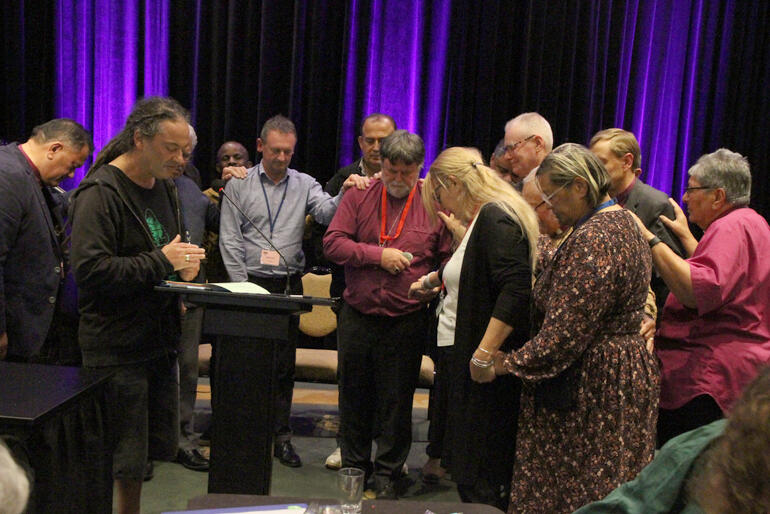 Archbishop Philip Richardson has announced his retirement as Archbishop and Primate after a decade of service in the role.
Retiring from the primacy in mid-2023, he continues as Archbishop and as Co-chair of General Synod Standing Committee for the next six months.
Archbishop Philip was elected Senior Bishop of the New Zealand Dioceses in 2013, and since then has served as President of the General Synod Te Hīnota Whānui alongside Archbishop Brown Turei, Archbishop Winston Halapua, Archbishop Fereimi Cama and Archbishop Don Tamihere.
In its final session in Nelson this October, the General Synod Te Hīnota Whānui 2022 thanked Archbishop Philip Richardson for his ten years' service as president, with words of thanks offered by speakers from each Tikanga.
Bishop of Wellington, Rt Rev Justin Duckworth thanked Archbishop Philip on behalf of the bishops of the New Zealand dioceses, saying that Philip had offered a profound example of living out this Church's three Tikanga relationships. In particular, he picked up on Archbishop Philip's survivor-centred work during the Royal Commission,
"The character you have shown constantly in this space – your love and your character in this space – has been exceptional."
Bishop Justin also spoke of Archbishop Philip's tireless work to care for the needs of the Church and its good governance.
"At General Synod in the evenings it would always be, 'Where's the Archbishop?' – and that's because every night you were working behind the scenes for this house."
"And every time we gathered at night at Lambeth, you weren't there either, you were busy, working all night on the Anglican Identity Call or on other things for the benefit of the whole Communion."
"I want to mihi you for your years of faithful service."
Bishop Gabriel Sharma thanked Archbishop Philip for his love and care for the Diocese of Polynesia.
"I want to thank you for your support, your guidance and your friendship to us, especially in these last months since the loss of our Archbishop."
Bishop Gabriel said the Diocese of Polynesia looks forward to thanking Archbishop Philip in Pacific style when he comes to Fiji for the installation of Archbishop-elect Sione Ulu'ilakepa as Bishop of Polynesia in March 2023.
Speaking on behalf of the Pīhopatanga o Aotearoa, Archbishop Don Tamihere opened his praise for Archbishop Philip in words of complaint,
"Archbishop Philip is the most annoying man I have met – he works more hours, drives more miles and bears more burdens than many of us."
Archbishop Don acknowledged that his fellow primate had sometimes borne the brunt of his service to this Church, but that he had done so with grace and patience.
"We need to acknowledge so much that he has done for us, most often unseen, unacknowledged, unrecognised and unthanked. His great servanthood is in turn only made possible because of the great sacrifice that his beautiful wife Belinda and their children have made and continue to make. We as a Church are indebted to them, and it is a debt we can never repay."
Archbishop Don also thanked ++Philip for the respect he showed to the late Archbishop Brown Turei, which among much else had earned him the lasting respect of the Pīhopatanga.
"It's been a real privilege Philip. I'm honoured to have served with you. I want to thank you for your extraordinary integrity."
Archbishop Philip for his part thanked the Church for its trust,
"It's been the most enormous privilege to be entrusted in the responsibilities of the primacy."
"I'm sorry to any who have been hurt by decisions I have been part of."
Archbishop Philip went on to honour those whom he had looked to as models.
"I think of Archbishop David Moxon who worked with me for so many years in the Diocese of Waikato and Taranaki. I think of the late Paul Reeves who ordained me, mentored me in so many ways. His character and his leadership in our Church and nation stands head and shoulders above anything ..."
Archbishop also gave thanks for three more Anglican leaders, the late: Archdeacon Tikituterangi Raumati, Archbishop Whakahuihui Vercoe and Bishop of Polynesia Jaybez Bryce – and for his Diocese of Waikato and Taranaki.
He especially honoured his wife Belinda and his children Joshua and Clare.
Archbishop Philip finishes his time as Senior Bishop of the New Zealand Dioceses, Archbishop and Primate of this Church on 30 June 2023.
He will then continue as Bishop of Waikato and Taranaki and will return to General Synod Te Hīnota Whānui in that role.