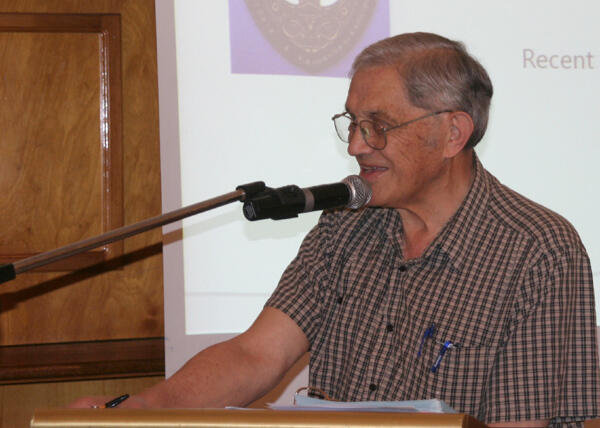 The Anglican Church in these islands has made a historic commitment to sharing its resources.
Last evening, General Synod adopted a resolution which will see Tikanga Maori exercise tino rangatiratanga (sovereignty) over half of the funds in the church's main educational body, the St John's College Trust.
At present, that trust has assets of $315 million.
Synod unanimously passed a motion brought by Professor Whatarangi Winiata which asked it to set up a six-person working party to advise how this should be done.
This three-tikanga working party will report back to the next meeting of the General Synod – in 2014 at Paihia, near Waitangi, exactly 200 years after Samuel Marsden and Ruatara, in effect, planted the Anglican Church in Aotearoa New Zealand.
In proposing his motion Professor Winiata explained that for Tikanga Maori, the fundamental issue at stake was not "a grab for money" – but tino rangatiratanga.
"Tino rangatiratanga did not get into the constitution in 1992," he said. "It was understood at that time that we would not deal with all the issues at the time, but as they arose.
"Tikanga Maori have decided it's time to deal with tino rangatiratanga. This is about the importance of recognizing kaupapa tuku iho." (key inherited values).
He said that while the motion was not a claim for more money, it was a claim to full sharing, and a claim to exercise tino rangatiratanga over the setting of investment policy for 50 percent of the trust's assets.
Where this milestone decision was concerned, there was no foot-dragging by the other tikanga, either.
During one of a number of tikanga caucuses during the afternoon, for example, one Pakeha bishop told his caucus that he looked forward "with absolute joy" to his tikanga engaging with its partners to work out how best to share the putea.
And this morning Archbishop David Moxon, the senior bishop of the New Zealand dioceses, described the resolution as a "landmark decision in the history of this church".
It was a resolution, he said, "which honours our partnership in terms of the treaty and the church," and he predicted it would have "huge, long-term implications."
Professor Winiata and Bishop John Gray will represent Tikanga Maori on the six-person working group, while Bishop Api Qiliho will hold one of the seats with another Tikanga Polynesia representative to be announced.
The two Pakeha representatives will be named shortly by the Inter-Diocesan Council.
Te Aute request declined
However, there was a bitter-sweet taste to synod's work on its last afternoon. Because while it was moving towards that ground-breaking resource-sharing decision, it was also weighing up another motion, again brought by Professor Winiata, which asked the synod to support further requests to help save Te Aute College.
This request, by the Te Aute Trust Board (TATB), was declined.
The issue went to a tikanga vote, with Tikanga Maori and Polynesia supporting the request and Tikanga Pakeha voting against.
Synod itself does not make those funding decisions – that is the work of Te Kotahitanga, which advises the St John's College Trust Board on its funding distributions.
Nor does the synod decision stop the TATB making its requests directly to Te Kotahitanga and the St John's College Trust Board.
That was always the plan, and that will continue as before.
The General Synod decision does, however, send those bodies a signal.
Tikanga Pakeha reached its view on Te Aute in a caucus it called after Professor Winiata had presented the TATB report.
In reporting back to the plenary session of the synod, Archbishop Moxon said that while his tikanga "recognized the huge efforts" made by the Te Aute Trust Board, and remained "fully committed to the development of Anglican Maori education", it "was not in a position to support the motion" because of "material uncertainties" about the prospects of Te Aute College.
(To read the full Tikanga Pakeha caucus report, click here.)
Professor Winiata told synod that survival of the school "was a matter of great significance to Maori people."
He asked, too, whether further funds to save Te Aute could be tapped now, as an advance on Tikanga Maori's share of the putea it will likely control after 2014.
But Archbishop Moxon said the Tikanga Pakeha caucus felt that the working out of Motion 27 (on resource sharing) "should drive everything else.
"We want everything you want, in principle," he told Professor Winiata. "We want motion 27 to flourish. But we cannot gainsay its consequences."
He then asked Tikanga Maori to allow the motion about Te Aute to lie on the table.
But Tikanga Maori asked for it to be put to a tikanga vote.
And even though there was a two-to-one majority in favour, the motion was lost because tikanga votes must be unanimous.
As soon as Motion 7 had been declared 'lost' Professor Winiata asked whether that result would be recorded as a division.
On being told that the motion would be forever recorded as lost, rather than as a division, he told synod how pleased he was to hear that.
In the runup to 1992, he said, sceptics had forecast that the three-tikanga arrangements would forever frustrate and block progress.
"I can recall six or seven divisions at every General Synod I went to before 1992," he said. "That hasn't happened once since."
To read the full text of the resource sharing resolution, click here.