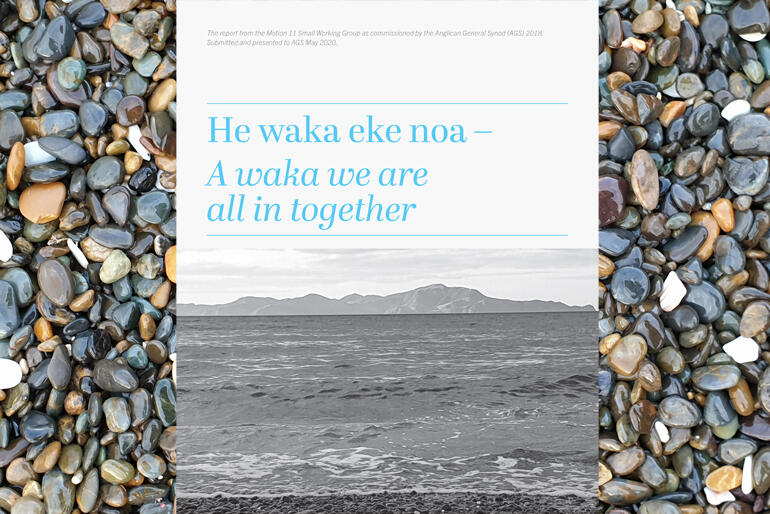 A General Synod Te Hīnota Whānui Working Group report on Mission Aligned Investment has been launched as a new Anglican Resource for Social Justice.
The report digs deep into both theological and practical arguments for a change to the status quo of looking to Church assets for a simple financial return.
The draft report 'He waka eke noa - A waka we are all in together' shares the Motion 11 Working Group's two years of research into 'Mission Aligned Investment' that was due to come to General Synod Te Hīnota Whānui in May 2020.
Mission Aligned Investment revisits land and capital held in trust, to review their potential not only for raising cash, but also for raising the Church's capacity to serve its goals of justice, service and mission.
Secretary of the Motion 11 Working Group, Paul Gilberd has been a driving force for its work. As an expert in social housing and now General Manager of Community Finance, Paul has seen plenty of evidence that Mission Aligned Investment can offer huge returns for mission from even minor shifts of capital.
But he says the philosophical shift takes a little more getting used to.
"We need a change in our thinking about our assets that means we expect more from them."
"Mission Aligned Investment challenges our often unexamined ideas of "good stewardship," where fiduciary duty only impacts the figures on the bottom line."
"What this report calls for is a move towards "fruitful stewardship" where investment outcomes have to tally on both capital and missional gains." he said.
To be fruitful stewards then, Trustees still avoid 'sin stocks' like armaments or tobacco, but also look to invest directly in enterprises that line up with the Church's mission – like investing in a social enterprise run by and for people with disabilities, a church or iwi-based social enterprise, or a social housing scheme.
Or, say if a Church wanted its assets to help care for Creation, its investments could deliver mission value through backing sustainable horticulture, forests or renewable energy while still raising the balance.
Paul Gilberd says that today's large numbers of people with urgent social housing needs mean churches' fallow land and underperforming Trust assets could easily deliver strong returns, while directing the Church's money into its mission to care for the last, the lost and the least.
Archdeacon Mere Wallace, who joined the Mission Aligned Investment Working Group from Te Pihopatanga o Te Waipounamu, had never thought to question what Amorangi investments were achieving on mission terms.
"We'd never asked, "What is our money supporting?" We hadn't imagined it could do anything different to what our fund managers thought would bring in the best return."
"This report is going to open our eyes to a whole lot of possibilities. What do we want our money to do, for who, and where?"
Mere believes that aiming to do mission with our money could see resources flowing into some of the most deserving places and creative innovations in our Church.
"We have an opportunity to use our financial strength to serve the weakest parts of our communities, and to find where poor resourcing has weakened the mission of our three Tikanga Church – and shore it up for the future." she said.
The Motion 11 report reveals some of the mystery of why some parts of our Church have come to have less Trust assets at their disposal than others.
It sets out how Anglican mission in Aotearoa New Zealand began as a partnership between Māori and Pākehā who each brought their Trust assets into the service of the Kingdom.
Whereas Māori contributed their trust assets of land, labour, indigenous knowledge and technology, security, diplomacy, food and cash resources as well as evangelists for the mission, Pākehā missionaries contributed new technologies, literacy, Gospel knowledge and CMS cash resources on the other side.
The report points out where inequities on the Church's Māori and Pākehā balance sheet today trace back to when our Church leaders chose to shift those joint Trust assets out of Māori mission and into Pākehā mission.
The report also lists examples where assets flowing back across Tikanga have powered ministry and mission, such as the move of the Ormerod Trust from Auckland to Tai Tokerau and Manawa o Te Wheke.
Another model in the report comes from Vaughan Park, where inherited land now comes under the joint ownership and oversight of both Tai Tokerau and Auckland and returns mission outcomes for not only those two, but the community at large.
Archbishop Emeritus David Moxon who serves as an Honorary Assistant Bishop in Te Pihopatanga o Te Manawa o Te Wheke, believes that shifting some of our assets more equitably towards Mission-Aligned Investment in Tikanga Maori could power a boost in the Anglican Church's ability to spread the love of God within Te Ao Māori.
"There are so many places where the Māori mission field is vast, but as a Church we are not adequately resourcing our people to be there and sow the Gospel seeds of God's aroha and hope that people are so ready to receive."
Archbishop David held up the example of Te Manawa o Te Wheke in the central North Island, where Rangatahi ministry leader Mira Elmsly-Martin and her team at Hemi Tapu in Kirikiriroa run a highly successful marae-based youth ministry.
"Four times a year, they bring 300-400 Maori young people to attend live-in marae-based Anglican hui where the Māori church ministers rites of passage, offers formation, promotes health, builds whanaungatanga and helps regenerate Te Reo Māori within the new generations. All of that work is shaped by the Gospel, and held in the context of Māori Anglican identity."
"It is cutting edge evangelism within a Māori worldview that is spreading the Gospel in the fastest growing mission field in our census – young Māori."
Archbishop David believes that Anglican trust assets could be directly funding our evangelists and teachers in Tikanga Māori to do the same great work of evangelisation today that Māori evangelists are so well-known for in our history.
"But while our shared inheritance lies fallow in Church Trusts or unused land, that kind of mission will never happen as widely or as well as it could."
In his theological underpinning of the Motion 11 Working Group report, Ven Dr Lyndon Drake underscores that same sense of urgency for change,
"Many of the assets identified have been in the church for decades, even centuries. Their presence challenges us to glorify God in how we think about them and use them. The "rainy day" savings that some of these represent is here now."
:: :: :: :: ::
The full Motion 11 Working Group draft report on Mission Aligned Investment is available on the Anglican Resources for Social Justice website here.
Due to the cancellation of the proposed December 2020 Nelson in-person General Synod Te Hīnota Whānui, the Motion 11 report will now wait till 2021 to be formally considered by General Synod Te Hīnota Whānui.