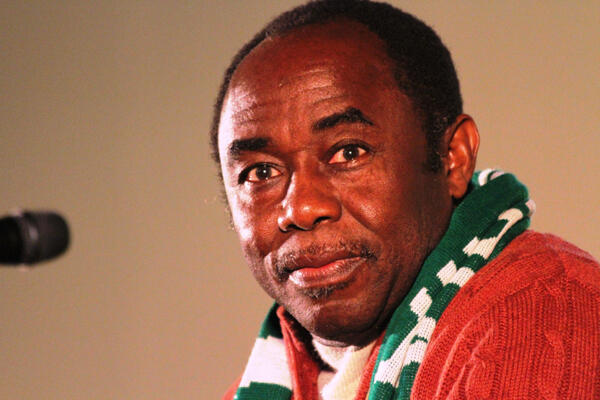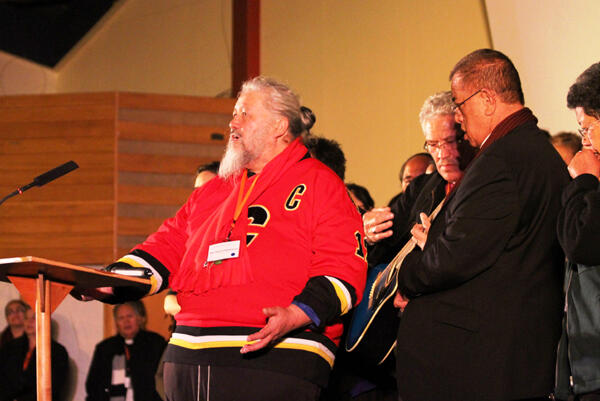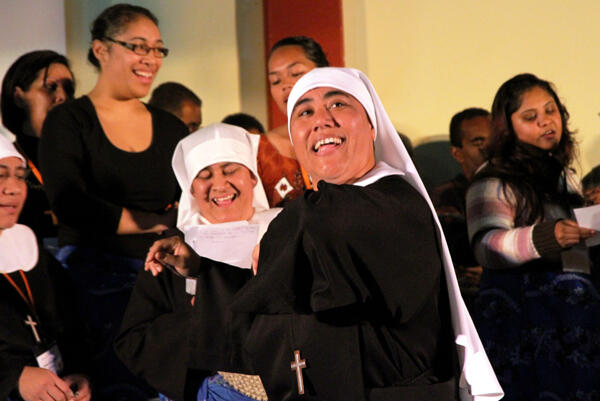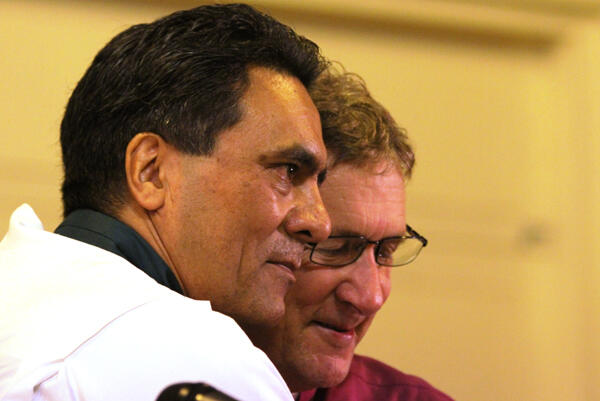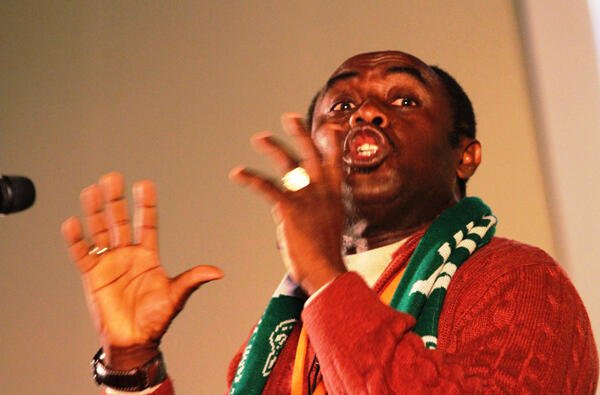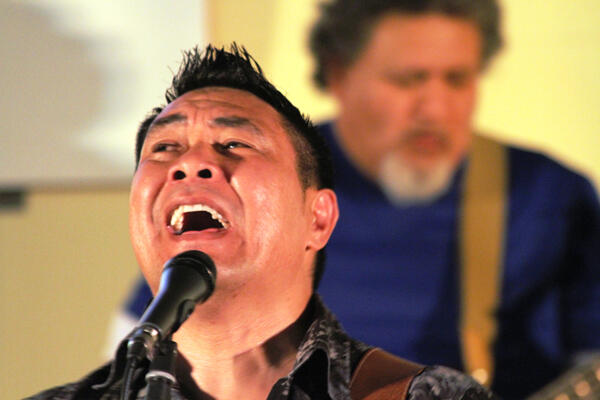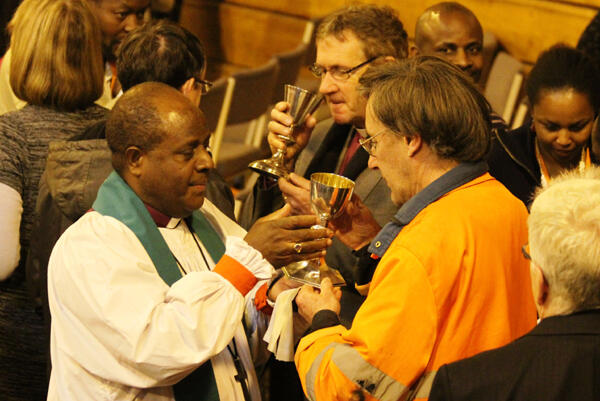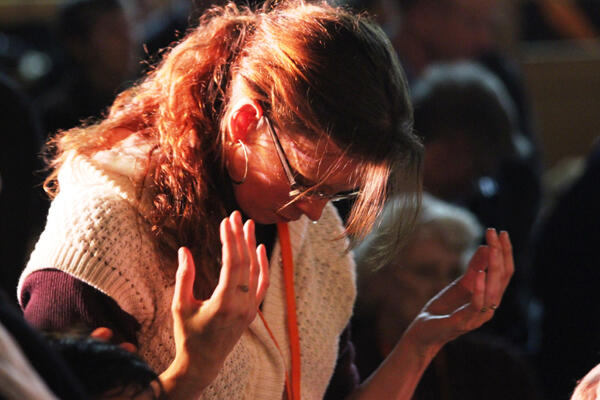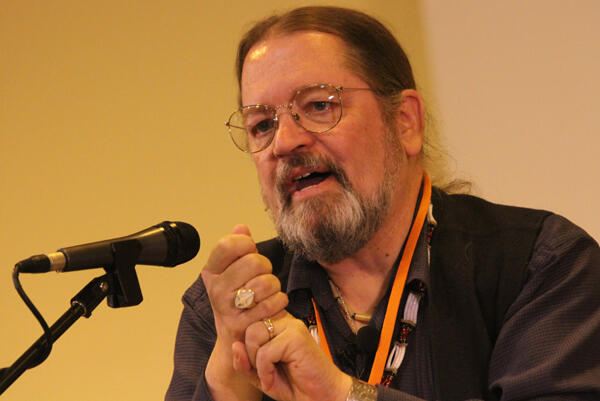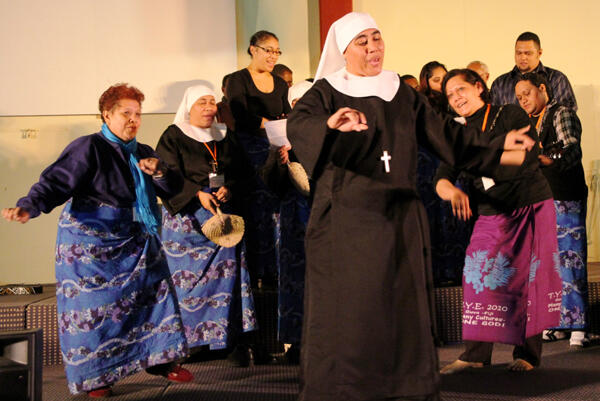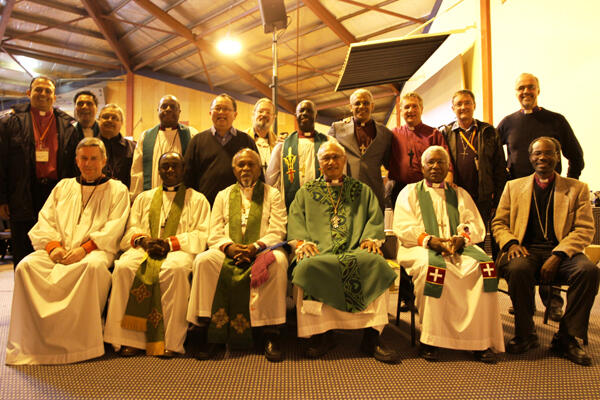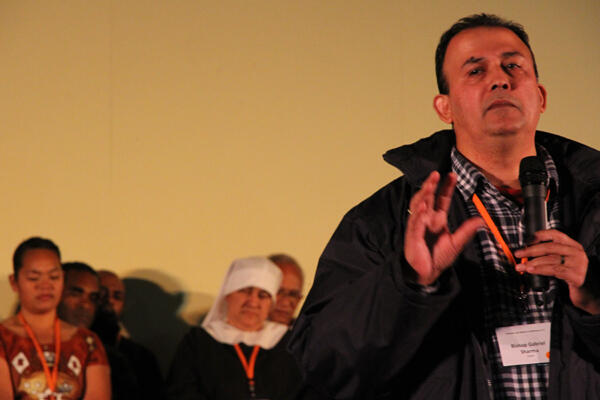 There's no time to waste. God's mission is now, and you're needed on the front line.
That call came loud and clear at last week's big Common Life Mission Conference at Waikanae.
And it's a message that's been instantly taken to heart – at least by the 70 odd SOMA (Sharing Of Ministries Abroad) visitors who dovetailed their international conference with the Mission Conference – and have now fanned out to host parishes across the country for week-long missions.
Diversity: That was another thing about the Mission Conference.
It seemed that just about anybody, or any group, with an interest in mission was among the 550 who jammed the El Rancho Camp last week.
At least a dozen mission-minded bishops flew in from Nigeria, Tanzania, India, Canada, the UK, South Africa, Melanesia, PNG, to be joined by half a dozen homegrown ones.
Heaps of other visitors represented mission societies and agencies – including, for example, Anton Ponomarev, an Oxford-based Russian (he's Russian Orthodox to boot) who is a director of the Faith2Share network, which aims to back emerging mission movements and build links in mission between what he calls the "pastoral" churches.
There was a healthy representation from the three tikanga of our own church, too.
And the way they mingled and flourished together – in all their diversity – was one of the things that warmed AMB Executive Robert Kereopa's heart.
"We'd envisaged a conference that would bring a huge diversity of people together in a safe environment, and I think the conference delivered on that.
"Tikanga Maori felt safe. Pasefika felt safe. The charismatics in SOMA felt safe to join us – and so did the Melanesians, with their Anglo-Catholic tradition."
Part of the secret, it seems, was that everybody seemed to agree about Jesus's parting instruction in Matthew 28:19: "Goand make disciples of all nations…"
That commission, according to the Nigerian keynote speaker, Archbishop Ben Kwashi, of the Anglican Diocese of Jos – and also international chairman of SOMA – is non-negotiable. It's a duty to God, to others – and to ourselves.
"Going out for the Kingdom of God," he told the conference, "is not an option. It's a privilege. And if you don't go, you will blame yourself for dishonouring yourself."
Archbishop Ben followed up his first two addresseswith another two that underlined the need to actand to stay focused.
He asked the conference goers to publicly demonstrate their commitment – and hundreds rose to their feet to do so. When the conference wrapped up on Friday afternoon, Archbishop Ben reflected on what he'd seen:
"I sense," he said, "that this conference is the start of a new beginning.
"Not only for New Zealand, but in some way for the world, because the impact of what has happened here will be felt in the world.
"I sense that the commitments made here are genuine, and God will use those commitments."
Given the tattered state of the Anglican Communion, he said he was also struck by the "amazing coming together" of folk at the conference.
"That," he said, "is God's design. When people come together around Jesus, the Word of God, serving and mission, He works among them."
Delegates energised
Everyone else I spoke to was just as energised. Not least Bishop Richard Ellena – who is on the AMB, President of CMS and Chairman of SOMA NZ, and who was chaplain to the conference.
"I'm passionate," he said, "about Tikanga Pakeha making the paradigm shift from maintenance to mission. Maintenance is not just a barrier to mission – it's the very opposite to mission."
"Over the past few days some people have begun to make that paradigm shift. I suspect all three tikanga will now be seriously grappling with the concept of mission."
The Rev George Al-Kopti – a priest in the Diocese of Jerusalem who is studying at St John's College – was encouraged by the "leadership of the bishops" and by the daily Bible studies taken by Bishop Mark McDonald, who is Canada's National Indigenous Bishop.
These had focused on freeing the gospel message of its Western cultural baggage.
"Coming from the land of the Bible," he said, "that has meant a lot to me. The job of the church is to bring this message alive in its different contexts."
There was encouragement, too, for Bob Henderson – who will take a "clarity of purpose" back to the warzones of Christchurch.
Bob is a minister at St Ambrose in Aranui, and co-ordinates the Christchurch Community Response project, which is bringing in skilled church volunteers to help repair busted homes in the eastern suburbs.
"If God is sending us, and empowering us… those of us in the earthquake zone can have confidence. We can keep stepping up."
Sepi Hala'api'api, who leads the Tikanga Pasefika youth, came to the conference with high expectations – and these were exceeded, she says.
"Young people in our tikanga are already moving out in mission," she says. "But we are still in the comfort zone. After this conference we'll be inspired to go out further."
For Robert Kereopa, the Executive Officer of the AMB, the conference confirmed a hunch he's had for some time:
"There's obviously a zest for mission in our church," he says. "We had no trouble getting volunteers to do the 101 things to make this happen.
"There's a mission-mindedness in this church which was already strong – and it's been lifted by this event."
Robert is also a fan of the personal challenge.
"The church must be willing to be shaped for mission," he says. "And that means shaping people for mission."
The final word goes to Paula Jakeman, who is the executive officer for Te Kotahitanga.
For Paula, the impact was personal.
"It was amazing," she says. "Lifechanging. Challenging.
"I believe there were messages here for the leaders of our church. And as an individual, I have the responsibility to tend the seeds that have been planted to make a difference in God's kingdom."
"I had a personal encounter with Jesus – and that is so refreshing."
She offers an analogy: "People fall in love, they get married – and as they go along the path together, things can get stale.
"They need a fresh spark, an injection of romance. For me, this conference was that spark, that reawakening."