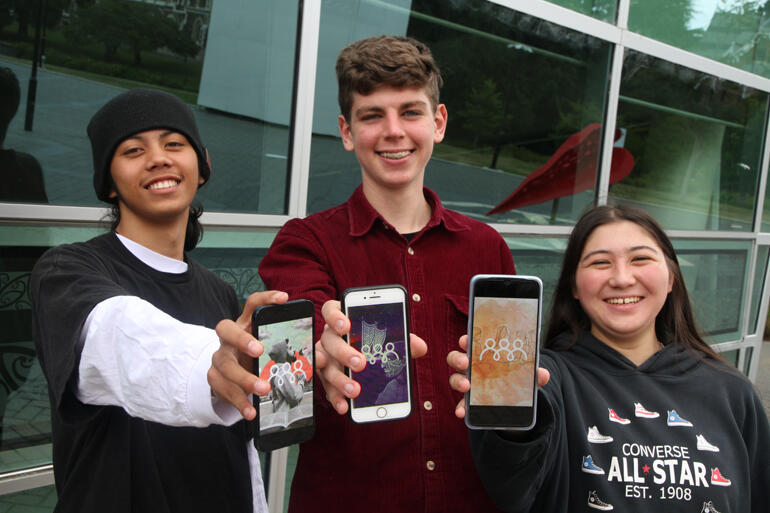 Tuia, the new smartphone prayer app hosting daily devotional prayers from A New Zealand Prayer Book - He Karakia Mihinare o Aotearoa has now been fully released as a free app on Google Play and the Apple App Store.
The Common Life Liturgical Commission's Tuia prayer app, funded by St John's College Trust, becomes the first south Pacific-made smartphone prayer resource to enter the worldwide prayer app scene.
Tuia project leader, Rev Stephen Black announced the open launch yesterday,
"I write with thanksgiving and joy to announce the completion of our new Provincial daily devotion app, Tuia. It is now five years since this project began and it has grown significantly thanks to the contributions of many committed Christians…"
Ven Carole Hughes, who was Chair of the Common Life Liturgical Commission when the Church first backed the app, enthusiastically welcomed the Tuia rollout today.
"This app brings our prayers alive and into the public arena for all generations. It gives expression to our lectionary and liturgical year in a way that is new and dynamic. It's interactive, accessible, can be utilised at any time and in any place and it enhances connections across our church and beyond." she said.
"The Tuia app has fulfilled all of the Common Life Liturgical Commission's expectations and more. Congratulations and thanks go to the whole team and particularly to Stephen Black who has driven this project from the outset, and to Benjamin Brock-Smith and the IT development team at Berry Hill Ltd."
As the app went public yesterday, Rev Stephen Black described it as a celebration of this Church's three-tikanga life. He thanked all who had contributed, particularly core team members and tikanga reps Nat Kennaugh-Lok, Benjamin Brock-Smith, Rev Chris Huriwai, Ven Michael Tamihere and Carolyn Chambers-Torovugalei; translators Fr Frank Smith and Kingston Cooper; and app artwork designers Mai Lander and Tori Veysey.
"In particular, Benjamin Brock-Smith and his team have given sacrificially to convert dreams into reality. Without their selfless commitment, this project would never have been realised," said Stephen Black today.
IT developer Benjamin Brock-Smith, who was formerly a Diocesan Youth Ministry Facilitator, was excited to see the final leg of the Tuia launch complete.
"It is wonderful to see Tuia publicly available on iOS and Android, it has been a long journey and a very ambitious project and there is a huge amount in there."
Benjamin is pleased the Tuia app offers translations of the Daily Devotions in te reo Māori and Samoan for the first time,
"One of the coolest things is the ployglot nature of the Daily Prayers, where you can swipe any text block during the prayers to see alternate translations," he said.
Benjamin said the whole Berry Hill Ltd team is grateful to have been part of building Tuia.
"We hope those who use Tuia will grow closer to God and to each other."
App users can customise the way they pray using Tuia by:
– Choosing which of the daily Bible readings they see (RCL)
– Seeing Bible readings from three translations: NRSV, NLT or Te Paipera Tapu (2012)
– Choosing from five visual themes that take their inspiration from the Anglican Communion's Five Marks of Mission: Kaitiaki-Guardian (of Creation), Kaiwhakatere - Wayfinder (toward justice), Pononga - Servant, Kaikauhau i te Rongopai - Evangelist, and Kaiwhakaako - Teacher.
– People praying with the app can:
– Create and follow prayer cycles
– Select social justice reflections for Aotearoa New Zealand
– Opt to see south Pacific devotional content from 'For All the Saints'
– Pray Night Prayer and the Examen in both Te Reo Māori and English
Another first for the app is its ability to build social connectedness through prayer. People using the app can write and share their prayers within prayer networks they belong to. Each prayer allows for comments, images and other responses.
While the app is now out across the smartphone platforms, the Tuia team envisage it will go on evolving with more languages and voice recordings to enhance its use by more people in the future.
To download Tuia on Android: https://play.google.com/store/apps/details?id=app.tuia
To download Tuia on iOS: https://apps.apple.com/nz/app/tuia/id1598032147
To view the Tuia homepage and webapp: https://www.tuia.app/