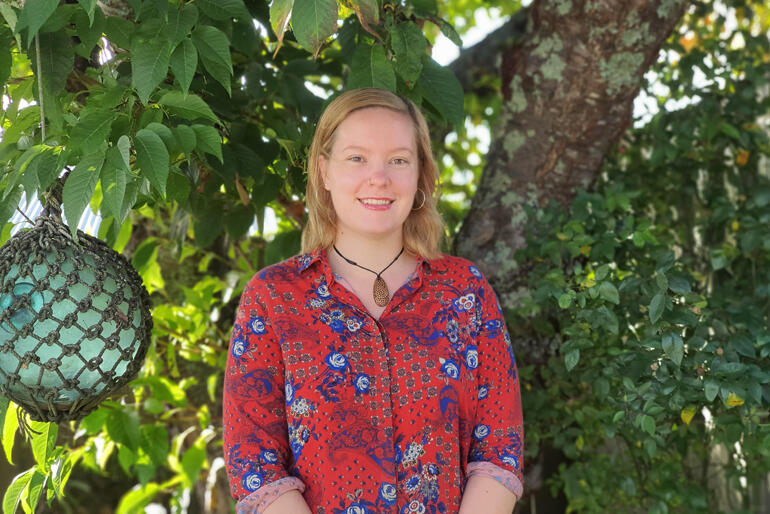 The Anglican Church in Aotearoa, New Zealand and Polynesia has appointed Kristy Boardman as the new Social Justice Unit Manager to oversee and coordinate social justice work around the province.
Kristy Boardman (25), took up the newly-established role of Social Justice Unit Manager on 1 April 2020. She brings a strong background in three-Tikanga rangatahi and diocesan youth work, social work and personal engagement in social justice action to the role.
Archbishop Don Tamihere said today that he is encouraged by Kristy's appointment, and he recognises that she comes to the job as part of a new generation of young leaders who have been formed with a three-Tikanga understanding of the church,
"Kristy also appreciates just how crucial social justice is to the integrity of our Gospel message." said Archbishop Don.
"Her training and education have helped sharpen her awareness of the acute injustices and inequities that exist within our communities, and indeed within our own Church."
"If we're going to get serious about social justice as a whole Church, then we need to have transformational conversations that involve the whole Church. Kristy can help make that happen."
As SJU Manager, Kristy will coordinate and manage the work of the Social Justice Unit, including resourcing and supporting the SJU portfolio groups working on issues connected with: Rangatahi, Disability, Environment, Housing, Women and Children, Employment, Refugees and Criminal and Punishment.
The coordination, scoping and planning side of the SJU Manager's role is one part of the job that Kristy relishes,
"My favourite way of working in this area is to find people who are passionate about a social justice issue and then to resource and empower them to do it. There are so many great people with energy and skills to serve in this part of our Church's life." she said.
As part of her support for social justice activities, Kristy will help the SJU plan and resource meetings, manage and promote materials on the Anglican Social Justice Resources website, help the Social Justice Unit Executive streamline its funding applications for social justice advocacy work around the church, and be the "go-to" person whose job is to inject energy into the church's social justice zones where they need a boost.
None of this is new to Kristy, who has proven her calibre as a parish youth worker and a shaker and mover in this Church's provincial three-Tikanga youth executive and rangatahi mental health projects, where she has kickstarted planning and coordinated diverse groups to achieve their goals.
Kristy has also put herself directly into the advocacy fray –taking part and leading in social justice projects in Aotearoa New Zealand and Fiji on environmental issues, rangatahi mental health, supporting families in economic hardship, and mentoring young people.
Kristy's primary professional qualification is a Bachelor of Criminal Justice, which she took on to help her advocate more effectively for young people she saw suffering unfair treatment in the justice system. As a parish youth worker in the Christchurch suburb of Bryndwr, Kristy mentored many young people from stressed whānau on low incomes. In that role she found herself standing between the kids she cared for, and police officers who approached them with an expectation of wrongdoing – largely based on unexamined assumptions about race and family background.
Kristy says that her study into criminal justice showed her how important good policy is, and how important it is to educate people – in order to break down the unthinking habits of institutional racism.
"I found that our young people were treated very differently to the way Pākeha would be treated by the same officers. But also, those officers, (and some who are friends), would never consider themselves racist. They just assumed and did what they saw that everybody else did."
"The only way to change those assumptions is through education, seeing and knowing what changes come from the way we view people – we need that change of view to decrease racism, to increase employment (by removing factors that lead to unemployment) and to build up the respect people have for each other." she said.
"For example, we know that the majority of people in prisons have addiction or mental health issues – and yet we are still saying it is all about their fault that they are offending."
Gaining another point of view, Kristy served in Fiji on a five-month CMS internship in 2014, where her eyes were opened to some of the challenges the Anglican Church faces there. She encountered people struggling with poverty in some areas, the huge impact of climate change and the need for ongoing resourcing, especially for education.
In 2019 Kristy spent time looking out for environmental justice, as a volunteer at the Fox River clean-up, for example, where she put in a week in the freezing rain, and building interfaith relationships as she delivered care packages to Muslim families (through the Canterbury University chaplaincy) after the March 15 tragedy.
Kristy's Christian commitment to justice came into focus early, when she took part in a Waiapu Diocesan youth programme that encouraged her to look deeply at the impact of the Anglican Communion's Five Marks of Mission in her own life,
"Out of the five marks it was the "Transforming unjust structures, challenging violence and pursuing peace and reconciliation" that inspired me the most." she said.
"As young people we have so much energy for that kind of positive change, because we can see clearly what's wrong and we want to make a difference."
Kristy has also seen the kind of challenges she has helped others deal with come close to home. In 2017 she spent a semester supporting her parents to take care of two young children temporarily in their custody while another family member took time out to come off an addiction.
"It is so important not to judge people who are struggling, but to try and be alongside them in working out solutions," Kristy said.
Kristy took up the SJU Manager role one week after Aotearoa New Zealand entered Level 4 COVID-19 lockdown in Rotorua, and she will remain based in Rotorua as SJU Manager once the lockdown eases. A new student of Te Reo Māori, Kristy is hoping to worship at St Faith's Ohinemutu once churches reopen.
To contact Social Justice Unit Manager Kristy Boardman about provincial social justice activities or plans, you can email her at socialjustice@anglicanchurch.org.nz
Follow this link to view the latest on the Anglican Social Justice Resources website