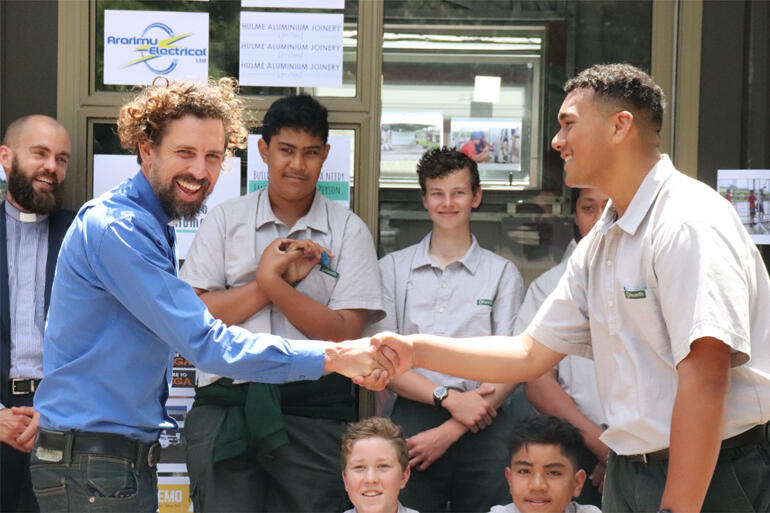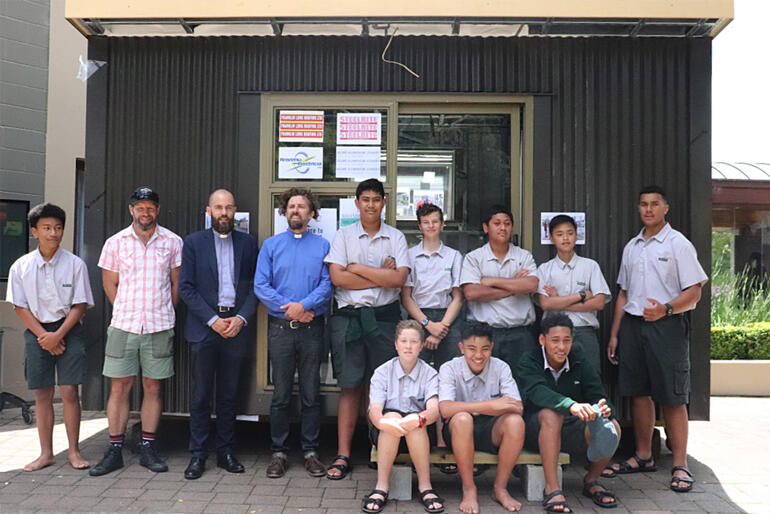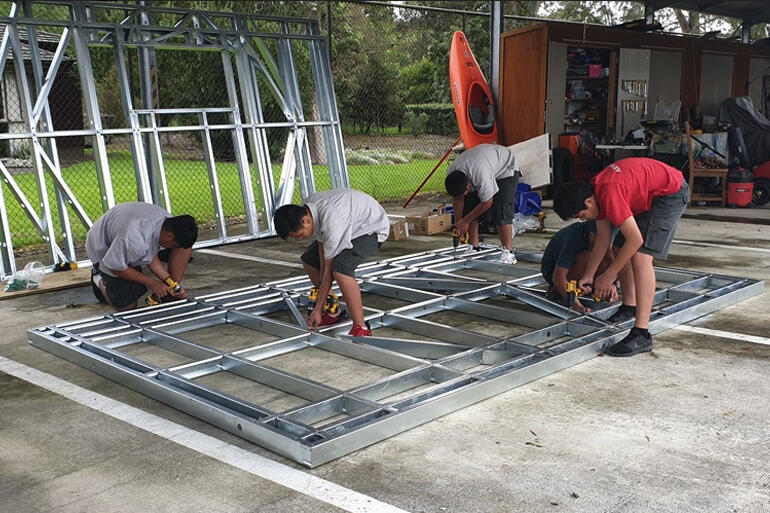 A group of Year 9 boys from Dilworth Rural Campus have constructed an insulated standalone sleepout building to donate to a local family in need.
Nine boys from the Auckland Anglican school worked together to build the sleepout as a pop-up extra room for a family struggling with overcrowding. The project was part of the Dilworth Rural Campus' annual 'Inspire Week', where teachers draw on their skills and interests to inspire students to put their Christian faith into action by making a positive difference in their community.
The idea for the building project came from Dilworth Rural Campus teacher, Dan Fieten.
"I enjoy building things and I'm concerned about the many people in New Zealand living without basic needs. So I wanted to share with the boys my passion for building and combine it with fulfilling a community need," said Dan.
As part of the project, the boys not only took responsibility to complete the whole build with their teacher's help, but they also joined him to gather in sponsorship support from local businesses by cold-calling them to ask for donated goods.
"It was great seeing that there are kind people in the world who are willing to help," said Year 9 student Josh Futi.
Dan Fieten was overwhelmed by the support from local businesses, particularly Mark Rose at Steel Rite Framing Tuakau and Warren Franklin from Long Roofing Pukekohe who each donated about $2,000 worth of products for the project.
"I didn't expect that the majority of people I contacted for sponsorship would be happy to help." said Dan. But with his and the boys' work, and the goodwill of Auckland businesses, it wasn't long before almost the whole project was funded by sponsors.
When the project set off, Dan read the students an inspiring poem, "The Starfish Thrower" which teaches that you may not be able to help everyone, but you can still make a huge difference, even to one person.
"In the poem an old man is observed throwing a starfish back into the ocean and he is criticised, because there were so many thousands and his efforts really wouldn't make any difference by throwing a few back. After throwing another back he replied, 'it made a difference to that one.'
Mr Fieten challenged his students to understand that as Christians, they participate in God's plan to reunite heaven and earth by helping to restore human dignity injured by human selfishness.
Dilworth reports that the students gained a lot from the project. Although for them it was hard work, they found a new commitment to make it happen, often working through breaks and in their spare time to get it done.
"It was cool to see the surprise at what they could achieve as a team in a short space of time," their teacher Dan said.
Student Josh Futi reported that although the project presented them with some major practical challenges – like the need to redesign the roof to fit with donated materials – the group used teamwork, patience and persistence to overcome the problem.
For Year 9 student Siaosi Tusani, a highlight was the blessing of the cabin.
"I enjoyed praying for the cabin, and to know that it goes to someone who really needs it. We should be grateful for everything we have, because other people in the world don't get the opportunities we have." he said.
To find a family who could use the new room, the students and their teacher turned to Dilworth School Chaplain, Rev Greg Worboys. He contacted Vicar of St Mary's Glen Innes and St Mary's Community Deacon Rev Hinemoa Carpenter who are involved with the Anglican Church's Housing Working Group. That group assists churches who want to play a role in tackling the housing crisis in Auckland.
Rev Joel Carpenter affirmed that affordable housing is a big issue for the people of Glen Innes, with many people in the suburb working in jobs where employers pay low wages.
"We wanted to reach out and find a way to help with the issue of housing."
"Through a partnership with Tamaki College who are our neighbours, we have been able to identify a household connected with the school that is struggling with overcrowding."
"We are so glad to be able to collaborate with Dilworth School to find a home for their amazing cabin. We give God the glory for this whole project."
Businesses who sponsored materials for the Dilworth School Year 9 sleepout project were: Franklin Long Roofing Ltd, Steelrite, Carters, Mitre 10 Mega, Ararimu Electrical Ltd, Hulme Aluminium Joinery Ltd, Insulation Wholesalers, Mammoth Modern Insulation and Jacob Demolition