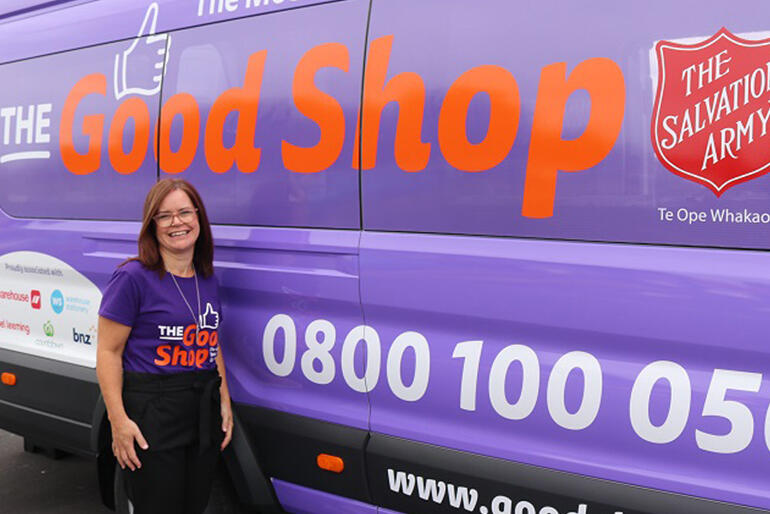 Salvation Army and other Christian social service agencies who work with vulnerable families in Aotearoa have identified that in 2019, debt is one of the major underlying causes that keeps children in this country in poverty.
According to the Salvation Army's budget advice teams around Aotearoa, problem debt is a key factor that keeps low income families under permanent financial strain, and they say that a rework of debt collection laws could ease some of that burden.
The Salvation Army's 2019 State of the Nation Report, Are We Well? Are We Safe? listed problem debt as a significant cause of ingrained poverty in Aotearoa New Zealand with "fringe lending and exploitative debt" now named as "social hazards" which can be as damaging to families' financial health as alcohol and drug addiction or gambling.
This new category arose as Salvation Army budget advisers began to see more and more people coming to food banks who were locked into repaying debts and debt collectors' fees that cut their household incomes well below the poverty line. This was often a result of their taking out short-term high interest loans in a time of need, usually of between $1000-$3000.
In the Salvation Army's report on debt collection, a Salvation Army financial adviser tells the story of a low-income client who borrowed $1000 at the age of 19 to buy her first computer, who by the age of 37 had paid significant interest to a debt collector, and was still left with more than $5000 to pay.
The report acknowledges the Government has recently made positive moves to limit the power of predatory loan dealers to charge hyper-inflated interest rates.
On September 3, 2019 – after months of lobbying from iwi, church and community groups – the Minister of Commerce and Consumer Affairs Kris Faafoi announced new measures to protect consumers by placing an 0.8 per cent per day cap on interest rates for high cost loans.
But the Salvation Army believes these first steps will not be enough to stop people falling into the high-interest small loan debt trap, instead they are calling for a broader cover-all debt collection law that can effectively limit the hold of debt collectors on struggling families.
Families with problem debt have told their Salvation Army budget advisers that debt collectors will regularly harass them at home, or phone them repeatedly when they cannot pay up – sometimes on a daily basis. Or, when debt collectors can claim against their fees by selling unpaid-for goods, they will enter the borrowers' homes and seize items – no matter who is at the address, or even whether the borrower is at home.
All this means that the stress of problem debt directly impacts children in two ways: not only do they miss out on basic needs due to debts siphoning their parents' incomes, but they have the added stress of debt collectors entering the family home to repossess items. The new law would place stricter limits on the kind of intimidating behaviour debt collectors can get away with.
Another area where the Salvation Army is calling for better consumer safeguards is in the Credit Contracts and Consumer Finance Act (CCCFA), where law changes could make it essential for all prospective lenders to assess the ability of their borrowers to repay – before being legally permitted to offer any loans.
This comes in response to "third party" loans like those made by mobile shopping trucks in South Auckland and Porirua, which sell high-priced goods to people in households that cannot afford them, by offering "credit deals" on large ticket items without assessing the purchaser's ability to repay. In response to this situation, the Salvation Army has launched a small fleet of "Good Shop" mobile vans to undercut these operators, by offering fair microcredit and budget advice alongside goods at normal supermarket prices.
But the Salvation Army says those vans can't protect everyone that's looking to solve their short-term financial woes with high-interest loans they can't afford.
That's why the Salvation Army is calling for new safeguards to be added to our laws that govern and regulate debt collection policy and practice in New Zealand.
"Maybe there is a brave, keen Member of Parliament that is willing to take this challenge on board and advance a new debt collection law," says Mr Ronji Tanielu who undertook the research behind the Salvation Army's recent report on debt collection and repossession.
The Salvation Army' is also proposing law changes that would allow low-income people to register insolvency without long-term disadvantage, implement a debtor policy for beneficiaries that follows the same fair payback schemes available to all New Zealanders through the tax system, and to increase the voice of those most affected when new policies are designed.
How to take action as a church
If you or your church want to take action to back the Salvation Army's call for better debt collection law, you can gather a group to study the problems and find out more about the Salvation Army's proposed solutions in the full Discussion Paper on Debt collection and Repossession available below:
https://www.salvationarmy.org.nz/article/debt-collection-and-repossession-aotearoa
To submit your ideas on the issue of debt collection in Aotearoa you can email letters and submissions to: Minister of Commerce and Consumer Affairs Kris Faafoi
To direct people you know to an alternative short-term loan that avoids the risks that are currently in the market, you can suggest Salvation Army community loans, or Ngā Tangata Microfinance, which offers loans up to $3000 for borrowers who are over 18, and is backed by the Salvation Army, Child Poverty Action Group, Presbyterian Support and Anglican Church social service agencies through the New Zealand Council of Christian Social Services.