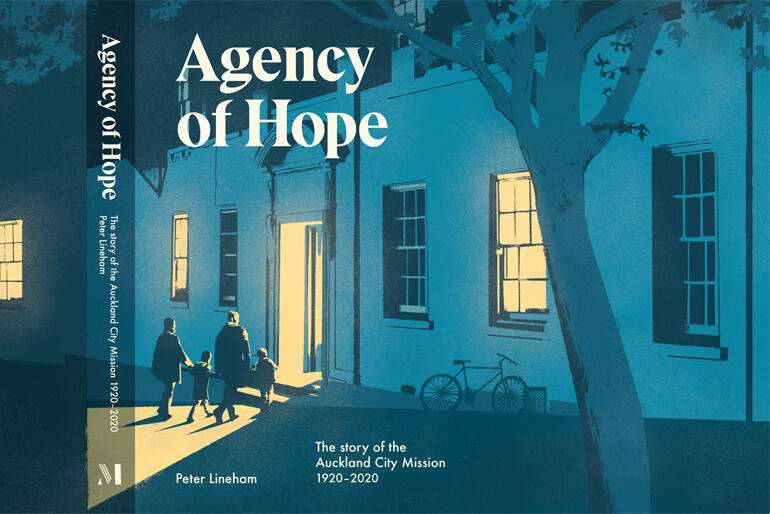 The newly launched history of Auckland City Mission, 'Agency of Hope' is a book for anybody interested in the history of Auckland, social issues or indeed how an organisation can adapt as society changes,' says Auckland City Missioner Chris Farrelly.
The new history reveals how the Mission has long been synonymous with acts of humanity, kindness and compassion — reaching out to serve to the city's most vulnerable people.
Auckland City Mission historian Peter Lineham's book Agency of Hope takes readers behind the scenes of this remarkable organisation, whose mandate has always been to work on the front line with those most in need.
The Mission's own story has been a colourful and, at times, chequered one, as it struggled to remain financially viable and to balance pastoral and social work.
Peopled with interesting characters, including its flamboyant founder, Rev Jasper Calder, Peter Lineham's lively commentary commemorates the work of the Auckland City Mission in its centenary year.
Supported by scores of church men and women, volunteers, benefactors and fundraisers, the Mission is beloved by many and over the decades, its food parcels, shops, shows, fairs and holiday camps not only catered to peoples' basic needs, but also provided entertainment and gave them hope.
Agency of Hope also reveals those times when the mission's drive to serve led it to radical and unexpected choices. As author Peter Lineham says, 'There are some bold moments in the Mission history when it set out against the conventions of the day to reach out to needy and neglected communities, for example, the moment when it created a place of respite and support for AIDS patients at a time when no one would even touch them.'
The role of the Mission in 2020 has never been more crucial, as more and more unpaid and underpaid New Zealanders face the inevitable consequence of entrenched poverty. Today the Mission continues to successfully serve the most urgent needs of Aucklanders without discrimination, whether they're experiencing homelessness, hunger, poverty, mental health or addiction issues.
"The Mission's centennial is a time for reflection as well as looking to our future. Agency of Hope is a remarkable book that delves deep into our history. Peter has woven a wonderful timeline of milestones and brings to life many of the people involved in the Mission's story." says Auckland City Missioner/CEO Chris Farrelly.
Auckland City Mission was established in 1920 by Reverend Jasper Calder. Under Reverend Calder's leadership, the Mission quickly grew to become one of Auckland's most influential social service providers — and still is today. The services they offer have developed over time to reflect social changes, but their purpose remains to help people in desperate need. No two clients' stories are the same and the people who come to the Mission for help come for many different reasons; some are isolated elderly, others are rough sleepers or people living in cars and inappropriate housing. Others are battling addictions, living with mental health issues, or struggling to feed their families over a period of unexpected crisis.