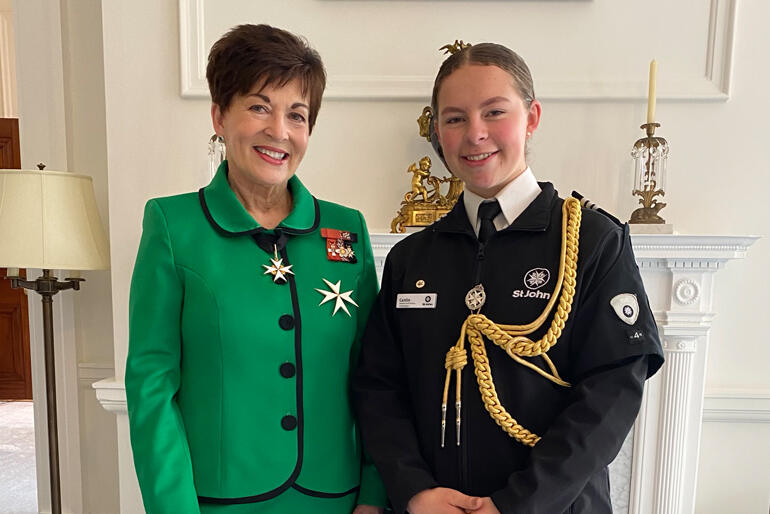 Waiapu Anglican youth Caitlin Hedge (17) has been selected to take up a significant leadership role within the country's largest youth organisation in 2021 as the St John National Cadet of the Year.
In her role as National Cadet of the Year, which officially begins on January 1, 2021, Caitlin will be responsible for supporting the Cadets of the Year across the country and providing a youth voice as a member of the national governing body, Priory Chapter.
Caitlin reports she has remained interested in Cadets since she first took part aged six, because of the great people she has met and the opportunities she has gained through taking part.
"St John is like one big whanau. No matter where you are, there is always someone willing to learn about who you are and support you with your endeavours, as well as someone who is willing to have a laugh with you."
St John New Zealand's National Youth Manager, Kerry Mitchell, says St John prides itself on being a programme focussed on leadership, first aid and community service.
Like others, he was impressed with Caitlin's open, empathetic working style and collaborative leadership skills that he observed during a project to develop resources for the St John waiata and himene this year.
Those skills joined with Caitlin's proven record as a team leader in the central North Island St John division got her the top spot.
"Her wonderful personality shone through as part of that project. She has also engaged in leading and encouraging many other young people during this Covid-19 year."
Caitlin was formally presented to the Prior of St John in New Zealand, Governor General Dame Patsy Reddy at an investiture at Government House in November where she received a Grand Prior's Award.
The Order of St John dates back to the establishment of hospice care for sick pilgrims in Jerusalem in 1070 during the crusades.
Caitlin's dad, Bishop Andrew Hedge, who is a volunteer St John Ambulance Officer himself and who first introduced her to St John, says that today there is a natural connection between the church and St John based on their shared values, which is why so many clergy take part in St John.
"The motto of the Order – 'Pro Fide, Pro Utilitum Hominum' (For the Faith, In the Service of Humanity) – speaks volumes."
"St John is also a point of connection with supporting those who work on the frontlines of emergency and out of hospital medical care – realising that this in itself is work that is making a positive impact on our community, often for those marginalised by society, as well as the sick."
Leaders of St John in Aotearoa New Zealand include prominent Anglicans Archbishop David Moxon who is St John's Priory Dean and John Whitehead from the Diocese of Wellington who is the current St John Chancellor.