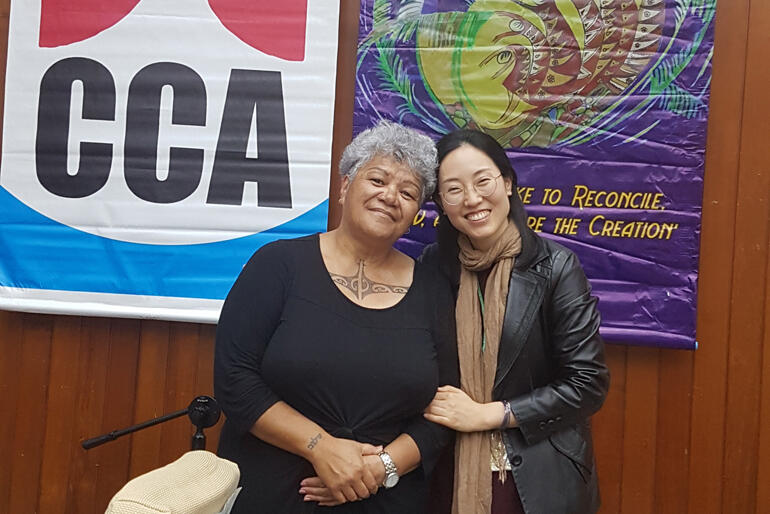 This November I joined ver 250 women representing many countries and denominations from all over Asia gathered at the inaugural Asian Ecumenical Women's Assembly (AEWA) in Hsinchu, Taiwan.
The theme of the conference was 'Arise! Be Awake to Reconcile, Renew and Restore the Creation!'
Among the delegates were four representatives from Aotearoa, New Zealand: Rev Jacynthia Murphy (for Te Runanga Whakawhanaunga o ngā Hāhi: Māori Council of Churches) Siniva Vaitohi, Uila Moala and Amelia Hoglund (for New Zealand Methodist Women's Fellowship).
In solidarity with our sisters in Christ we were blessed to take part in this enlightening, compelling, truthful, thought-provoking, and inspiring assembly as we tackled the many atrocities so many women throughout Asia, and further, experience on a daily basis.
Archbishop Dr Willem Simarmata, CCA Moderator, opened with a powerful observation, "I see the reality of our global Christianity, especially in Asia, that the churches have been transformed into 'churches of women'. The power of women is extraordinary in determining the future direction of Christianity."
Archbishop Willem's views were powerfully echoed by past and present CCA General Secretaries, Rev'd Dr Henriette Hutabarat Lebang and Dr Mathews George Chunakara.
"The expected outcome of AEWA is not merely to address or talk about gender representation within churches, but to reflect and strategise ways in which church and society can be sensitised." said Dr Mathews.
"It is our collective task to create conditions for identifying, motivating, building and enabling a range of women leaders to hone their talents and bear formidable challenges."
Improvements in the status of women are more evident in some places than others. Transformations have come through strengthened institutions, legal systems and civil societies.
However, in many parts of Asia it is still less inclusive, more unequal and women are devalued in many societies. In places, society has become completely oblivious to the effects of inequality resulting in women being diminished to nothing more than an object or commodity for others' sexual pleasure or gain.
At the opening service Rev Dr Henriette preached on Isaiah 32:9-20 and its 'disturbing call to repentance', stating that the complexity and interconnectedness of today's problems affect everyone.
"The whole creation is suffering, due to the greed of a few people who exploit all others and nature beyond its limit," she said, citing growing polarisation, competition and pervasive individualism as causes.
"In this Asian Ecumenical Women's Assembly, we are called by the Prophet Isaiah to pause for a while, to look at the face of our world today, the suffering of many people due to injustices," said Dr Lebang to the participants.
Taiwanese indigenous theologian, Vavauni Ljaljegean reminded the assembly that restoration cannot occur while injustice continues.
"As reconciliation is the mission of God, it is God's positive action directly participating in all broken relations. The aim of reconciliation is to reveal the truth which is obscured, to heal those who suffer from the realities of injustice, and to transform those wounded to be recovered in the love of Christ," she said.
Vavauni introduced three perspectives to understand 'voiceless Tamar' from Genesis 38: personal-family, social and theological.
"Tamar suffered from the loss of dignity and no one heard her cry. Indigenous Taiwanese women are marginalised in their families too. No one caring for their suffering," she said.
National Council of Churches in Pakistan speaker, the Rev'd Romella Robinson presented on the reality that 'honour killing' is fast becoming a societal norm in her country.
Rev Romella is one of only two ordained female ministers in Pakistan, who endure bullying, ridicule and fear every day. She is supported by a husband and four sons whom she will raise to respect women as equal children of God.
President of the Uniting Church in Australia Dr Deidre Palmer said that while many churches are inclusive in their theology and approaches to ministry, there are still sisters in Christ, and those in other religious communities, and in wider society who experience discrimination.
"We are called to stand in solidarity with them - advocating for equality and justice for all women." she said.
Dr Palmer elaborated upon the need for renewal of the participation of women as disciples, apostles, and leaders in the Church, which had been present in the Jesus movement and the early years of Christianity. She stressed that renewal emerged in the partnership of women and men, and that includes listening deeply to one another.
Dr Sawako Fujiwara, a feminist theologian from Japan, added
"Reconciliation has to be understood not just as a biblical-traditional category … but as a principle that guides Christian life and service."
"Thus, the brokenness of our communities [along gender lines] needs to be discerned and tirelessly addressed by women."
She urged women to reconcile with their sisters first, then to share what they witness with their brothers, and finally to be catalysts for the reconciliation of the whole community.
"We need to ensure safety and security of all communities, regardless of gender or sexual identity." she said.
AEWA heard interfaith voices from four panellists who drew from the ethos and values of their respective religious traditions.
Dr Dewi Candraningrum, an Islamic theological scholar, shared her reflections as a feminist Muslim woman.
"Feminist spirituality is a grassroots religious movement inside and outside established religion that reclaims power, value and dignity of women who strive for equality. It is a commitment to bringing about in oneself and in the world an alternative vision of justice and equality for all." she said.
Dr Ranjini Sampath, a Hindu spiritual practitioner and human rights activist, defined spirituality as the state or quality of being concerned with one's human spirit or soul as opposed to material or physical things. "The hallmark of a spiritual person is someone whose highest priority is to be loving to the self and others. A spiritual person cares not just for fellow human beings, but for the whole creation. A spiritual person knows that we are all one, and consciously attempts to honour this oneness."
Venerable Shih Chao-hwei, a Taiwanese Buddhist nun, talked about nurturing spirituality to eliminate suffering and attain happiness. She said, "Meditating on the idea of loving kindness is to open channels of one mind with deep observations, to go beyond yourself, and to get through the barrier that lies between yourselves and others, to share your happiness with the whole of creation."
Sr Elaine Seow, a Roman Catholic religious sister from Verbum Dei, shared her insights in a series of delightful anecdotes.
"The impulse to nurture one's spirituality stems from the human existential need for 'something more', from the longing for something transcendental. In this process, the transformation of the self leads to the transformation of the community." she said.
Sr Elaine noted that reconciliation, renewal, and restoration were stages in achieving higher levels of spirituality, with each stage necessitating one to courageously allow more of God's love to transform oneself. It is in this manner that one feels ultimately fulfilled.
Close to our Māori whakairo heart was the presentation from the Rev'd Irene Umbu Lolo, a young theologian from Indonesia's remote Sumba region.
"The patriarchal social and cultural systems put men in primary positions with special rights as owners and leaders, while women are categorised as second-class citizens and their lives are controlled by men," she said.
However, Sumba's women weavers respond with non-violence and resist in a conciliatory manner. They have proved that they are problem-solvers and peacemakers using weaving as a restorative process.
"It is the process which entails empowering those who are part of it to restore their communities, restore nature, and restore their own inner peace." she said.
The act of collective creation is vital to the process of peaceful restoration, she said, offering this image and process as a gift to weave into our contextual theologies.
The assembly culminated in a spectacular cultural evening of which I offer you a pictorial account. I am deeply blessed to have spent time with women from Pakistan, Cambodia, India, Korea, Japan, Malaysia, Indonesia, Philippines, Myanmar, Taiwan, Sri Lanka, Iran, Thailand, Bangladesh, Vietnam, Sumba, Timor, Nepal, Tanah Papua, Lao, China, and Australia, and Tonga.
Many thanks go to our hosts, the Presbyterian Church in Taiwan for their hospitality and warmth at their Bible College and the Christian Conference of Asia organisers and staff for their efficiency in ensuring all our logistical, spiritual, and physical needs. The assembly was extremely well managed for our participation in bible studies, worship, presentations, and group work. The generosity and kindness were exemplary.
The memories and friendships will forever be embedded in my heart.