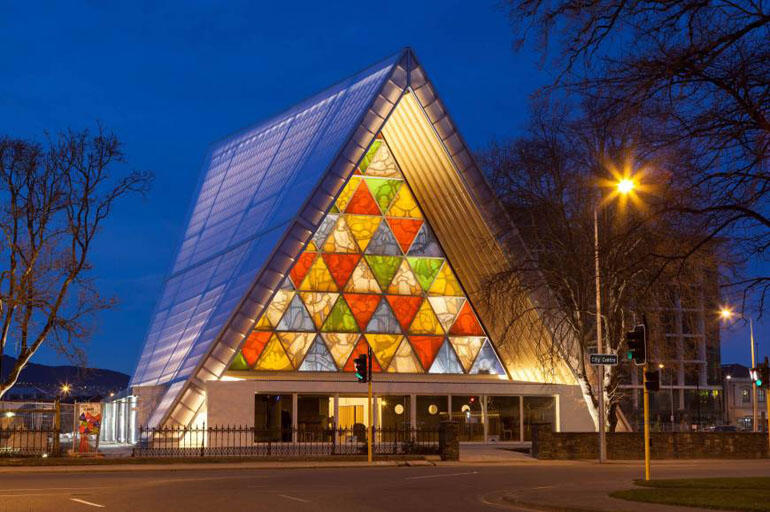 Shigeru Ban: Cardboard Cathedral by Andrew Barrie (Auckland University Press, 2014; 250 pp; $59.99 RRP).
It's a harrowing story that we know too well: a recounting of broken buildings, broken hearts, broken souls…
The Christchurch earthquakes of 2010-11 devastated the city centre, suburbs and rural parts of Canterbury, taking many lives and reducing cherished landmarks to rubble.
None is more sorely missed than the Anglican Cathedral in the heart of the city. And the old pile is still mired in controversy involving the Anglican Diocese, passionate community interests and ongoing legal challenges.
This book tells how a "cardboard" Transitional Cathedral rose from the ruins in just over two years. Fittingly, a cardboard key was handed to Bishop Victoria Matthews to mark completion in August 2013.
It's an easy read and contains concept drawings and an excellent photographic record, in sepia and colour, of the entire building process. Cardboard paper for illustrations adds a nice touch.
As a cathedral "regular" with no technical flair, I've come to a new appreciation of the extraordinary story behind the Transitional Cathedral.
Cathedrals I recently visited in Europe ooze history dating back as far as the 11th century. Their purpose is to inspire the human spirit and enable people to gather before God in wonder and awe.
But in order to survive, they also have become fee-charging museums for tourists, offering ornate religious paintings, statues, plaques, flags and souvenir booklets.
Simplicity and intimacy
Christchurch's Transitional Cathedral offers something uniquely different: beauty, light, simplicity and intimacy. It is innovative and modern, Pacific rather than European in design, an A-frame housing one big room.
The atmosphere is soft and warm, with no distractions from the past. No flags. No tombs. No statues. No pillars. And certainly no museum.
Roofed in translucent polycarbonate, it has a simple cardboard cross at one end and a multi-coloured triangle at the other, evoking the Rose Window in the damaged Cathedral in the Square.
Cardboard tubes soar from floor to ceiling. Cardboard also has been used for the cross, altar, choir stalls, pulpit, donation boxes and noticeboards.
A raw concrete floor seats 700 people on low-cost plywood chairs (with cushions, thankfully), while white side-curtains mask eight shipping containers that provide offices, side chapels and storage.
This is the first civic building completed since the earthquakes, and it has already hosted a wide variety of worship services, civic events, concerts, private functions and other community engagements.
Originally conceived to last 10 years while the Square rebuild took place, it looks to be good for at least 50 years – maybe longer. But as Dunedin's Bishop Kelvin Wright recently pointed out, every cathedral is transitional. Nothing lasts indefinitely, even in Europe.
The man behind the Transitional Cathedral is Japanese architect Shugeru Ban, who over 20 years has developed a global reputation for disaster relief in Rwanda, China, India, France, Italy, Sri Lanka, as well as his homeland.
His paper log houses and other temporary structures are outlined in this book. No surprise that he recently won the Pritzker Prize, 'architecture's equivalent of a Nobel'.
Ban chooses to design for ordinary people, rather the privileged, and prefers products that are light, economical, distinctive, crisp, practical and ecologically sound.
He charged no fee for designing Christchurch's Transitional Cathedral, on condition that it's used for civic as well as religious events. His initial sketch in June 2011 closely matches the finished product two years later.
Architect's commitment
The scale of his own commitment is reflected in the fact that he made 20 trips to Christchurch to oversee progress. And yet the project was a team effort involving local architects, engineers, project managers, contractors, sponsors and supporters.
A number of companies worked at cost – inspiring in itself.
Of course there were plenty of challenges: finding a suitable site on unstable ground, overcoming concerns about liquefaction, strengthening the roof skin and foundations to meet rigid new compliance codes, covering ever-increasing costs, and remedying storm damage.
In the end the cathedral cost $7 million, without the annexe that was meant to house a café, shop and meeting rooms. Quite a loss.
But there it is. A striking design. A symbol of hope and restoration in a broken city. A building inviting all-comers to gather and worship in the best cathedral tradition.
And it all started with an email to Ban from the Rev Craig Dixon, Cathedral Development Officer at the time: "Come and see for yourself, as soon as possible."
Thanks to Professor Andrew Barrie's fine new book, that invitation still applies to anyone living in or visiting Christchurch.