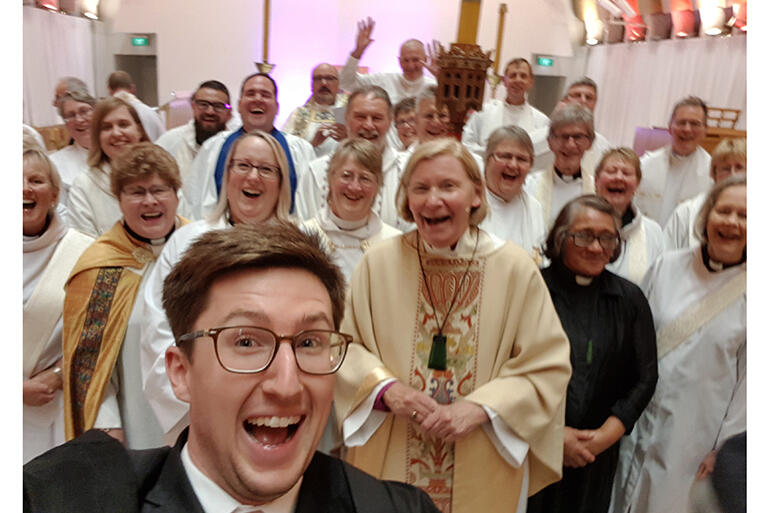 Bishop Victoria Matthews said farewell to the Diocese of Christchurch at a Choral Eucharist in the city's Transitional Cathedral last evening.
Following the service there were some informal 'thankyou's' and the Bishop received a pounamu taonga (gifted by the Province, and presented by Archbishop Philip Richardson) and an embroidered stole (from the Diocese). The Transitional Cathedral staff also presented Bishop Victoria with an 'emergency kit', consisting of a hard hat, hi-vis vest and first aid kit...
Looking back on her 10 years' service, most people will remember the earthquakes and the cathedral debate. Perhaps fewer realise that she was bearing the burdens of hundreds of Cantabrians whose parishes, vicarages, churches and halls were left stricken by the quakes. And fewer still will know that the Bishop lived for much of her time in Christchurch in a sleep-out, because her own home had to be demolished.
She freely confesses that some of her favourite times were the ones she spent with young people - and she said that she cherishes her memories of presiding at "midnight mass" in tents at Easter Camps. She will be missed next Easter.
Her keen concern for social justice issues and for providing excellence in theological education will also be part of her legacy.
Our prayers go with Bishop Victoria as she goes back to Canada to visit family and friends, and seeks to discern where God is calling her next.