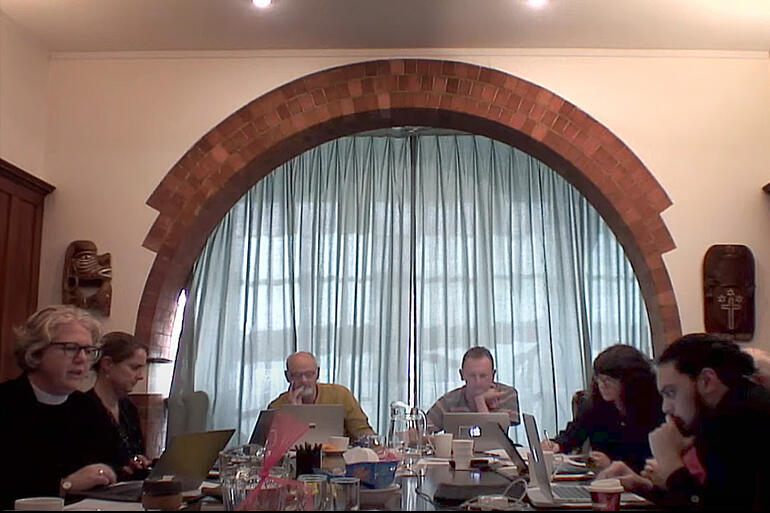 The virtual General Synod Te Hīntoa Whānui meeting on 25 July formally approved a provincial three-Tikanga Social Justice Unit to support, strengthen and resource social justice action and education in the Anglican Church.
"This signals the completion of a journey of transformation in the way we enable social justice work across our province." said Rev Clare Barrie, who moved the Bill to install the Social Justice Unit in church law.
"This embeds a much more grass-roots-oriented structure that has been taking shape for some years," said Rev Clare, speaking on the network and expert advisor-based system of supporting social justice advocacy that has been redesigned and tested over the six-year period since General Synod Te Hīnota Whānui 2014.
Clare Barrie thanked the Rev Dr Paul Reynolds for his work as interim Social Justice Portfolio Groups Coordinator in 2018, as well as social justice administrator Natalie Lok. She also recognised Archbishop Philip Richardson, Anthea Napier, Rev Canon Michael Hughes and Rev Jacynthia Murphy for their work to keep up the pace of social justice work through the SJU redesign phase.
Anthea Napier, of Te Pīhopatanga o Te Upoko o Te Ika, who is both a former Social Justice Commission member and an adviser for the Social Justice Unit's new three-Tikanga design, says the SJU model makes stronger connections with social justice actors at all levels of the Church. She says the Social Justice Unit now resources Bishops and Archbishops as speakers in public debate, as well as Amorangi, Diocesan and parochial justice groups, while drawing on specialists who can inform and guide the church through their work for social transformation.
"The new SJU structure allows our Church to react to current justice issues and to be proactive where the Church believes it can lead and educate." said Anthea today.
"Examples of this are our lead in Climate Change consciousness and action in Climate Resilience, Social and Ethical investment and Housing that are all currently being led by experts and advocates throughout the province."
Anthea also believes the SJU model can work in well with Anglican social services – so that the Church's social justice aims matches the way we deliver social services and vice versa, as in the example of Te Taanga Manawa social services hub in South Auckland.
The Social Justice Unit continues to share study and action planning resources through its Anglican Resources for Social Justice website, which highlights the work of the provincial social justice portfolio groups on women and children's rights, employment issues, crime and punishment, rangatahi/youth issues, refugee rights, disability ministry, environmental justice, housing and turangawaewae (living well with autonomy and dignity).
Anthea Napier concluded her comments on the new Social Justice Unit with a challenge to the Church,
"In the end, the Social Justice Unit will only be an effective voice for our three-Tikanga Church if we all support it and ensure our voices are heard – especially striving for equity of representation across our three-Tikanga." she said.
"I believe that if we can connect the mahi, the expertise and the spokespeople best able to share our messages and insights on these social justice issues, then our Church in Aotearoa, New Zealand and Polynesia will make a real difference in improving the conditions of people's lives."
The website and portfolio groups are coordinated by the Social Justice Unit manager, Kristy Boardman, while a three-Tikanga social justice subcommittee of the General Synod Standing Committee governs the provincial Social Justice Unit.
To find out more about the work of the provincial Social Justice Unit, or to become involved in its work, you can contact the Social Justice Unit Manager, Kirsty Boardman at socialjustice@anglicanchurch.org.nz
The Social Justice Unit confirmed under Canon 34 by General Synod Te Hīnota Whānui on Saturday acts as the provincial hub enabling this Church to work towards its justice goals as expressed in the Anglican Marks of Mission ACC 4 and ACC5:
– to transform unjust structures of society, challenge violence of every kind and pursue peace and reconciliation, (ACC 4) and
– to strive to safeguard the integrity of creation, and sustain and renew the life of the earth (ACC 5)