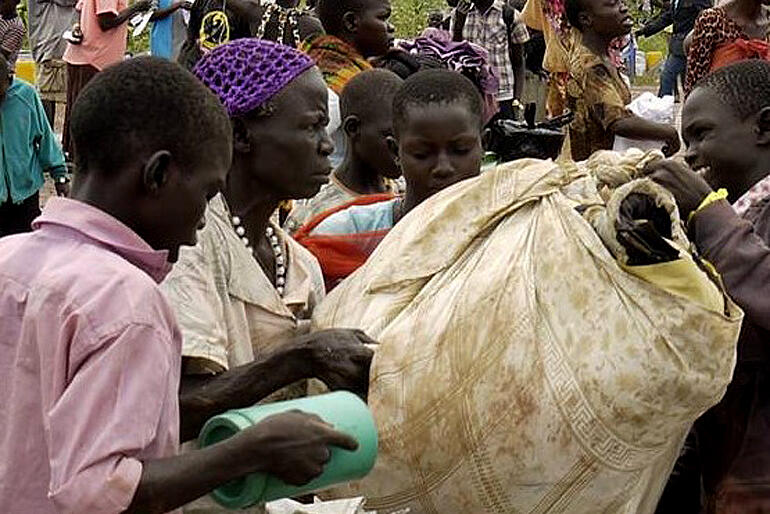 Christian World Service partners, the Action of Churches Together (ACT) Alliance is putting funds from Kiwis' giving directly into providing food, shelter and emergency supplies for people fleeing the recent violence in South Sudan.
CWS partner Maridi Service Agency in Western Equatoria assists people who have fled fighting in more volatile areas of the country, which has seen tens of thousands of South Sudanese escape their home regions after a new round of fighting broke out on 7 July. CWS donated funds will also assist refugees who have fled south to Uganda.
Hundreds of people have been killed in the area around the capital city, Juba and earlier in Wau city, in the northwest of South Sudan.
Peace agreements between President Salva Kiir and former vice president Riek Machar have proved unstable, leading to this civil war as fighting broke out in December 2013.
The latest flare up is the most recent in a string of violent outbreaks.
The combination of war, widespread corruption and the near collapse of the oil industry that provides 98% of the country's earnings are proving disastrous for ordinary people.
The constant threat of violence, frequent attacks, rape and widespread uncertainty mean crops have not been planted leaving 4.8 million people in need of food.
Insecurity has displaced more than 1.6 million people, half of whom have fled to neighbouring countries.
Since early July more than 30,000 have arrived at refugee camps in Uganda where churches are working through the ACT Alliance to manage the Elegu border crossing. Thousands are awaiting shelter and in a network of refugee camps at Adjumani.
90% of the new arrivals are women and children according to their reports, militias continue to burn houses, murder, rape, and force men and boys to join in the violence.
Donations to Christian World Service with the title "South Sudan Crisis Appeal" go directly to where they are needed most. Please donate here