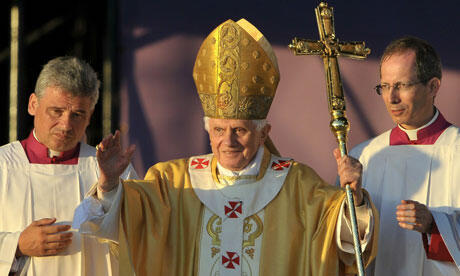 Benedict XVI used the first papal state visit to Britain today to launch a blistering attack on "atheist extremism" and "aggressive secularism", and to rue the damage that "the exclusion of God, religion and virtue from public life" had done in the last century.
The leader of the Roman Catholic church concluded his speech, made before the Queen and assembled dignitaries at the Palace of Holyroodhouse in Edinburgh, with the argument that the Nazi desire to eradicate God had led to the Holocaust and a plea for 21st-century Britain to respect its Christian foundations.
"Today, the United Kingdom strives to be a modern and multicultural society," he said. "In this challenging enterprise, may it always maintain its respect for those traditional values and cultural expressions that more aggressive forms of secularism no longer value or even tolerate.
"Let it not obscure the Christian foundation that underpins its freedoms; and may that patrimony, which has always served the nation well, constantly inform the example your government and people set before the two billion members of the Commonwealth and the great family of English-speaking nations throughout the world."
The Pontiff's speech set the wide-ranging tone for his four-day visit: despite attacking atheism, he paid tribute to the UK's historic achievements and offered "a hand of friendship" to all its people.
After touring the streets of the Scottish capital, which were lined with 125,000 people, and having lunch with Cardinal Keith O'Brien, the leader of the Roman Catholic church in Scotland, the Pope travelled to Glasgow where, beneath a cloudless blue sky, he celebrated mass in front of a congregation of around 60,000 in Bellahouston Park.
The Pope's comments on secularism and atheism came in marked contrast to the conciliatory and contrite words he offered victims of Catholic sexual abuse.
In a 15-minute long briefing to journalists aboard the papal plane this morning, Benedict described paedophilia as an "illness" whose sufferers had lost their free will.