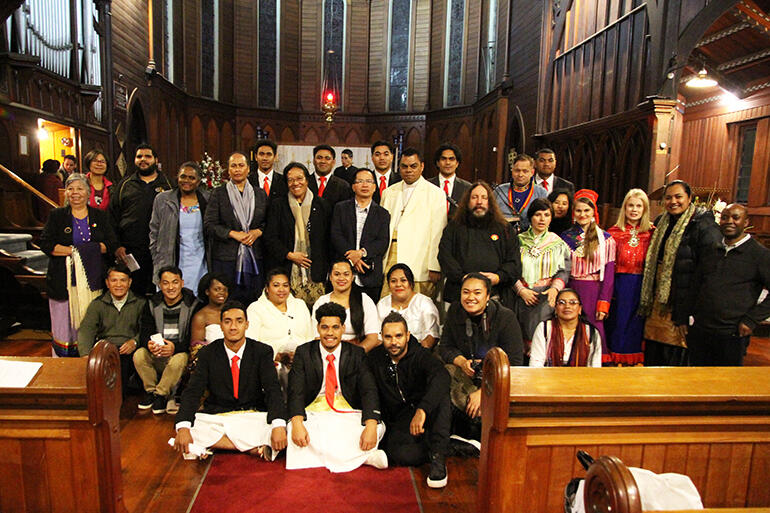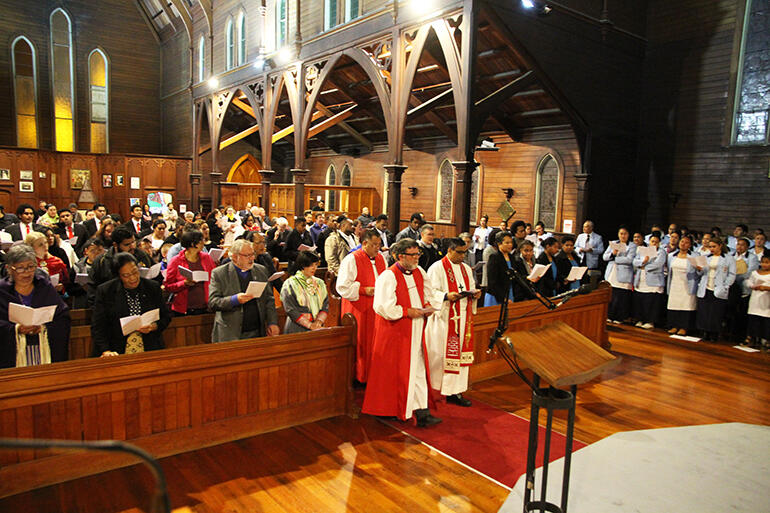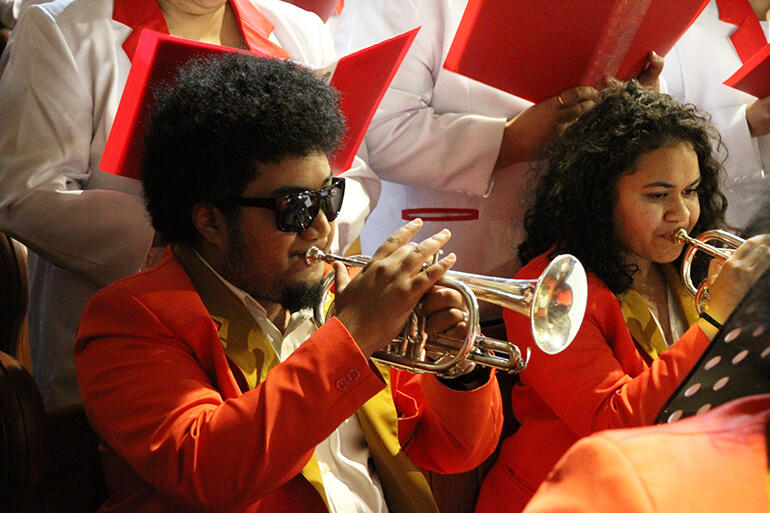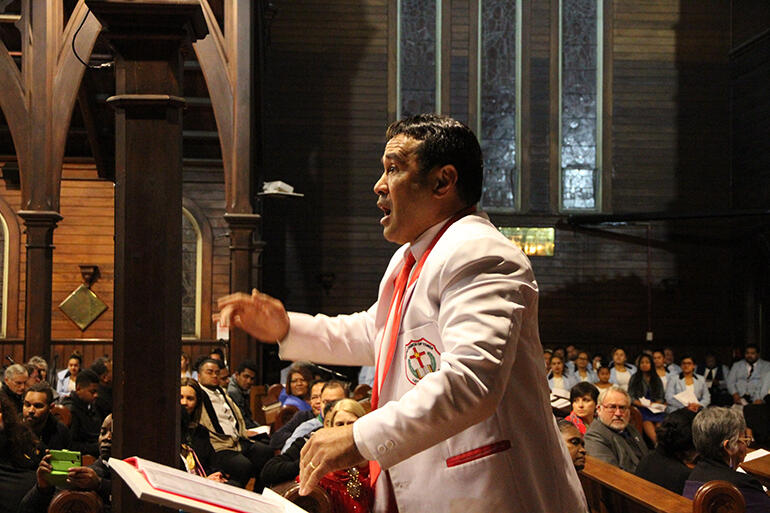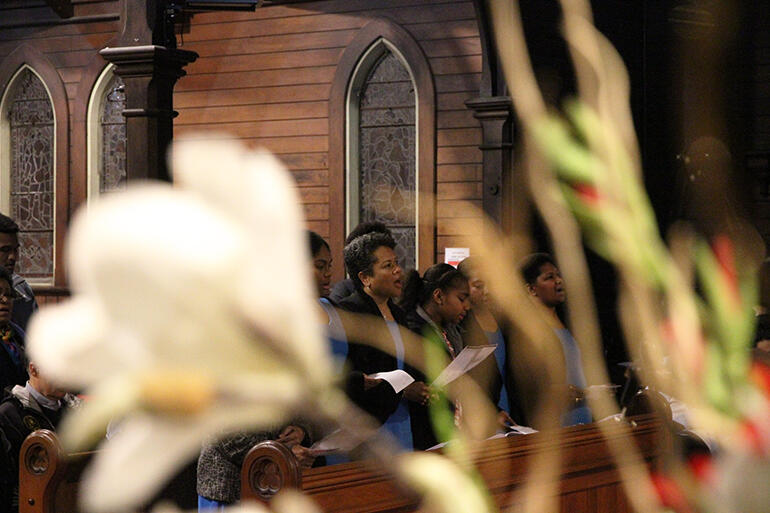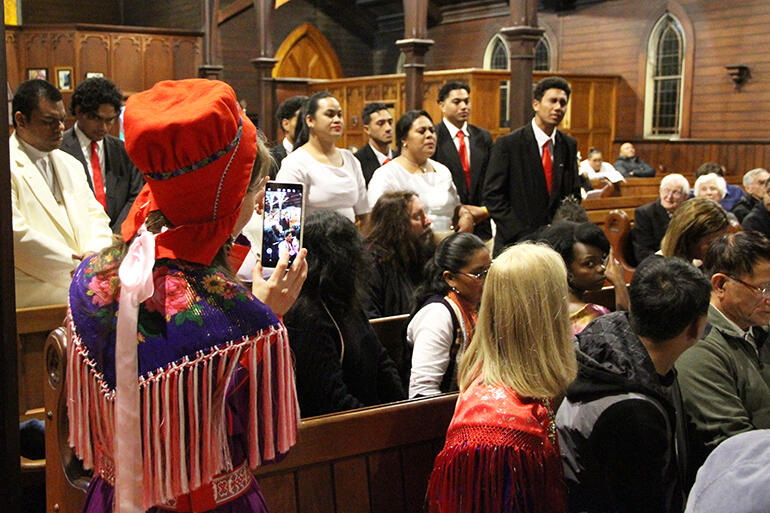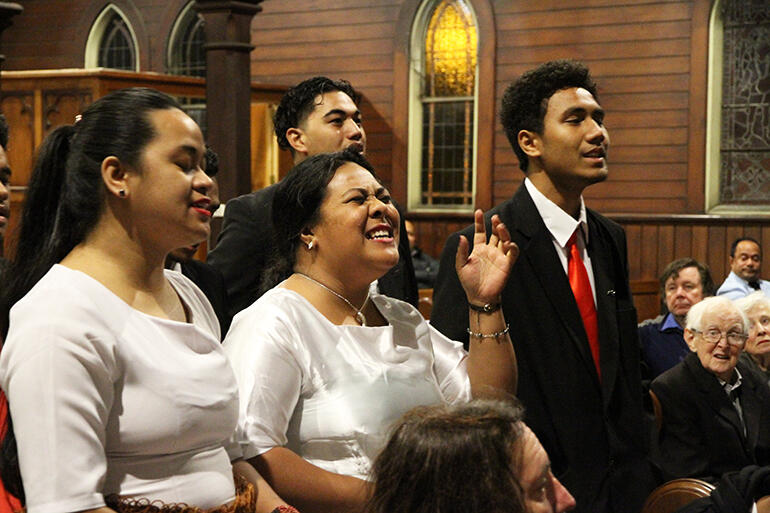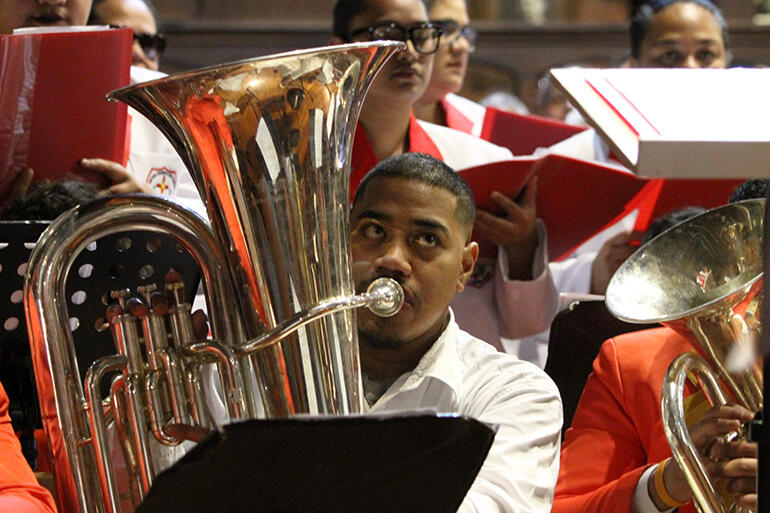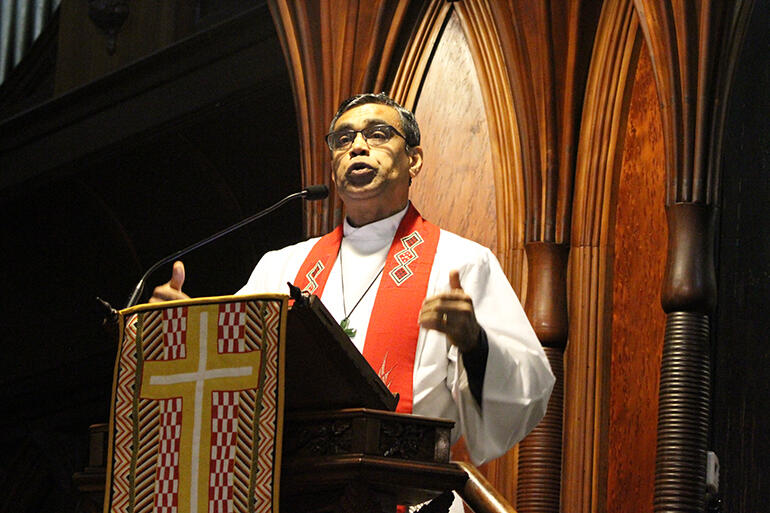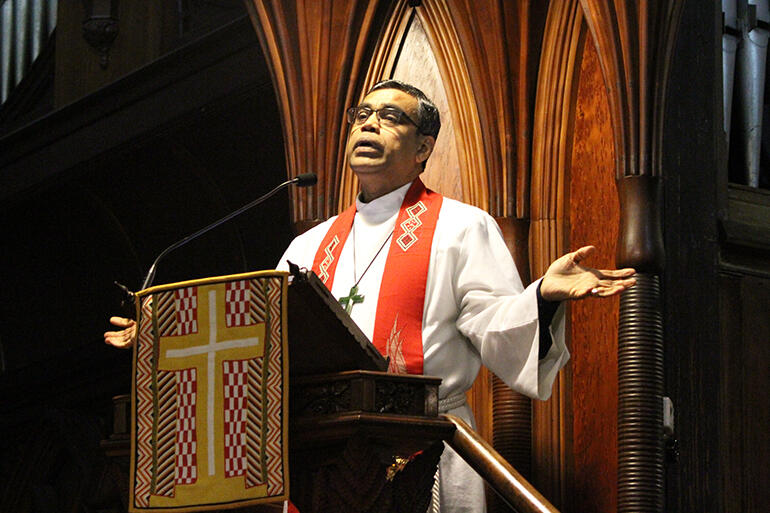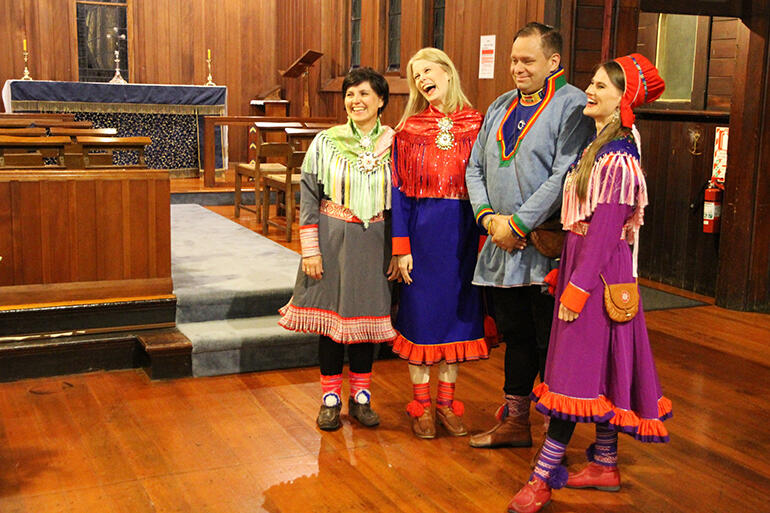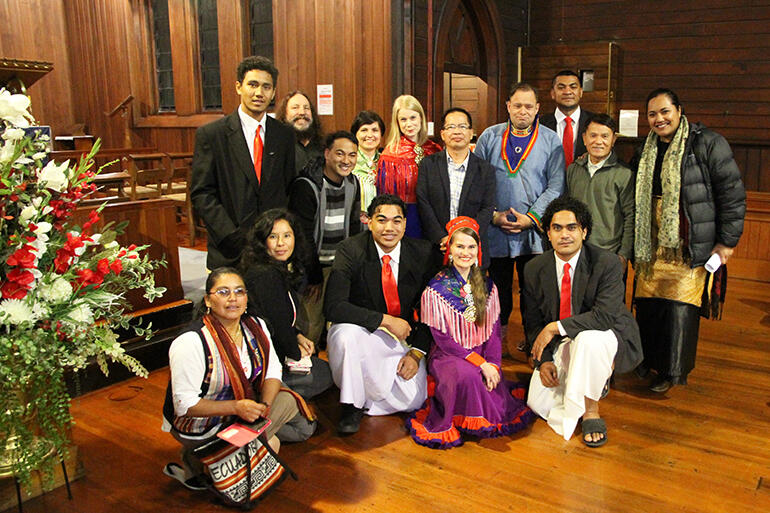 More than 200 people gathered in the Church of the Holy Sepulchre last evening for an ecumenical service to mark the 70th anniversary of the World Council of Churches – and to close, in worship, a WCC Indigenous Global Ecumenical Gathering which was held in Rotorua on Friday and Saturday.
About 70 First Nation delegates from Canada, Ecuador, Bolivia, Burundi Australia, Aotearoa New Zealand, Finland and Norway – as well as from Tonga and Fiji – gathered for the Rotorua hui, and on Sunday afternoon they bused to Holy Sep, where they were joined by Aucklanders who have kept the home fires burning during what has been called 'the ecumenical winter.'
Bishop Kito Pikaahu, who was both host bishop for the Sunday service – as Pihopa o Te Taitokerau – and Chair of Anglican Indigenous Network, welcomed all visitors to the service with a mihi whakatau.
International WCC delegates led prayers and gave readings – while Tongan, Samoan and Fijian choirs undergirded the worship with their singing, which was accompanied by brass and by keyboards – and, at other times, a cappella.
Archbishop Philip read the gospel – John 17: 18-26 "The glory that you have given me I have given them, so that they may be one, as we are one, I in them, and you in me, that they may be completely one, so that the world may know that you have sent me and have loved them even as you have loved me."
And The Rev Prince Devanandam, who is President of the Methodist Church of New Zealand, dwelt on that passage in his sermon.
He reflected first on the beginnings of the WCC, which met first in Amsterdam in 1948, with the then Archbishop of Canterbury, Geoffrey Fisher, declaring that the subscribing churches – all 147 of them, back then – "committing to stay together".
The WCC has since grown to become a global body of 349 churches.
"On the one hand," said Rev Prince, "we celebrate the increased numbers.
"On the other, we must be sad for the number of divisions in the body of Christ..."
Those multiplied divisions, he suggested, meant that church risks becoming "a private enterprise":
"Anyone can start a church," he said "or choose to go to a church that will fulfill his or her expectations.
"It's like 'what will we have for dinner?
"Chinese? Indian? Vietnamese? Italian?
"Or KFC?
"One can choose the Christ of his or taste. We cannot see the words "Kentucky Fried Christ" – but it is there for your taste.
"Amidst this reality, we are striving to do what Jesus prayed: "that they may all be one. As you, Father, are in me and I am in you, may they also be in us, so that the world may believe that you have sent me."
#
Rev Prince also told the story of Vedanayakam Samuel Azariah, who was an evangelist who pioneered the Church of South India, which was planted in 1947, and which was the first united church in the world.
Bishop Azariah had earlier warned that "the exceeding riches of the glory of Christ" could only be realised by all working, worshiping "and learning together the perfect image of our Lord and Christ."
"Only when that happens," said Rev Prince, will Christians be able to make the world believe their claims, and succeed in "bringing the presence of Jesus back into our Christianity."
#
"Over 70 years WCC has brought 349 churches under its wings, but the journey ahead seems too long.
"How many of them will form unions to bring this number down to one Holy, Catholic and Apostolic Church?
"Though we are many, if we can work together as one, we will achieve this. If not, we will cease to exist on earth.
"Let us thank God for the 70 years in which the work of WCC began…
"And as we thank God for these achievements let us dedicate ourselves to live and work on Jesus Christ's prayer that "they may become completely one, so that the world may know that you have sent me and have loved them even as you have loved me."
#
The Rotorua hui – which was held at Te Papaiouru Marae in Ohinemutu, and hosted by Te Pihopatanga o te Manawa o te Wheke and the Anglican Missions Board – began with a hui for indigenous youth last Thursday.
The full Indigenous Global Ecumenical Gathering kicked off the following morning.
Bishop Rahu Katene, as host bishop, then led the delegates to Wairere Falls, the 150-metre waterfall at whose foot Tarore was murdered in 1836.
The remainder of Friday and Saturday were anchored by sessions which explored: "The Global Indigenous Landscape."
The delegates moved through this landscape under three headings: "Realities & Lament"; "Hope & Action" and finally: "Celebration & Vision."
They also heard regional global updates, a report from the indigenous youth pre-conference hui – and in the later stages, they spent two sessions "Harvesting" outcomes and developing "Action Plans."
On Sunday morning, after worship at St Faiths, Ohinemutu, the gathering began to work up conference statements and recommendations – and a reference group has continued that work in Auckland today.
Those statements and recommendations will be forwarded to the World Council of Churches, and form part of the agenda of the next WCC General Assembly, which will be held in Germany in 2021.
Those statements and recommendations from the Rotorua gathering are also expected to be made public shortly, and Taonga will post these when they come to hand.