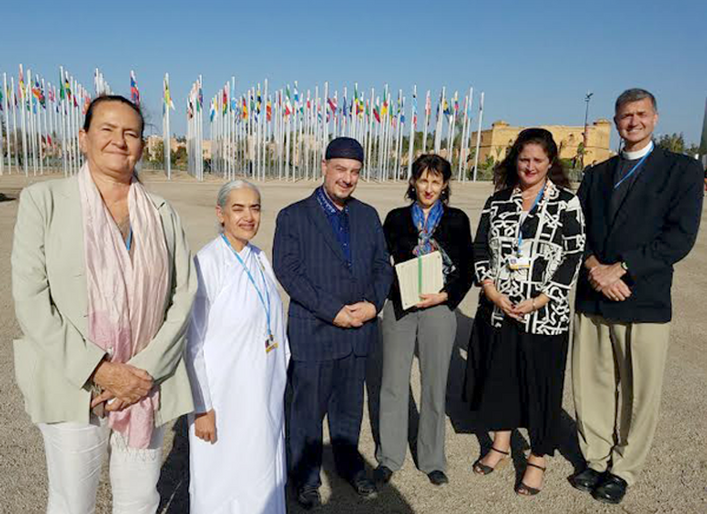 At the UN climate talks today, the UN Secretary General's Climate Change Support Team received the COP22 Interfaith Climate Statement, signed by more than 230 eminent religious leaders from 44 countries.
The Statement calls on nations to justly manage transition to a low carbon economy. It also urges governments to shift trillions of investments in fossil fuels into renewable energy, in line with the Paris Agreement and UN Sustainable Development goals (SDGs).
The Statement aligns with the Secretary General's call to redirect investments into clean energy, including clean energy access.
"Markets now have the clear signal they need to unleash the full force of human ingenuity and scale up investments that can generate low-emissions resilient growth." said the UN Secretary General to 500 global investors at the 2016 Investor Summit on Climate Risk.
The Interfaith Climate Statement was drafted and distributed in collaboration with more than thirty global faith groups.
Signatories to the Statement include: His Holiness the Dalai Lama; Msgr. Marcelo Sánchez Sorondo, Chancellor of the Pontifical Academy of Sciences; Rev Dr. Olav Fykse Tveit, General Secretary of the World Council of Churches; Sayyid M. Syeed, Islamic Society of North America; Archbishop Desmond Tutu.
Other signatories include: senior Buddhist, Muslim, Hindu, Jain, Sikh, Eastern Orthodox, Roman Catholic, Anglican, Episcopalian, Baptist, Pentecostal, Lutheran, Quaker, Unitarian Universalist, Indigenous and other spiritual leaders.
In support of the Statement and marking the world's first public divestment announcement from a Muslim institution, the Islamic Society of North America (ISNA) in a major announcement on 10 November committed to divest from fossil fuels and encouraged its two constituent organizations and five national affiliated institutions to do the same.
At the Summit of Religious and Secular Leaders on Climate Change, Ban Ki-Moon said the potential of the faith sector to have an impact was enormous, describing them as the
"third largest category of investor, that can establish green religious buildings, invest ethically in sustainable products. And set an example for the lifestyles of billions of people, whose actions can encourage political leaders to act more boldly in protecting people and the planet."
He went on to say that the world's faith and religious communities owned up to eight percent of the world's habitable land, and five percent of commercial forests. The faith sector also contributes to more than half of the world's schools, and according to the Pew Research Center offers moral and spiritual guidance to approximately 84 percent of all people.
The interfaith delegation that handed over the Statement included ISNA representative Imam Saffet Catovic; Sister Jayanti, European Director of Brahma Kumaris World Spiritual University; Ciara Shannon, a co-founder of the Global Catholic Climate Movement and Rev Fletcher Harper, Executive Director of GreenFaith.
"This is an important milestone to advance engagement by high-level faith leaders around the Paris Agreement and the Sustainable Development goals." said Fletcher Harper at the handover,
"It is important to highlight that faith communities …are united in their concern to respond to the climate crisis, to care for the most vulnerable and … to bring distributed, renewable energy by 2030, to the 1.1 billion people globally who lack access to electricity."