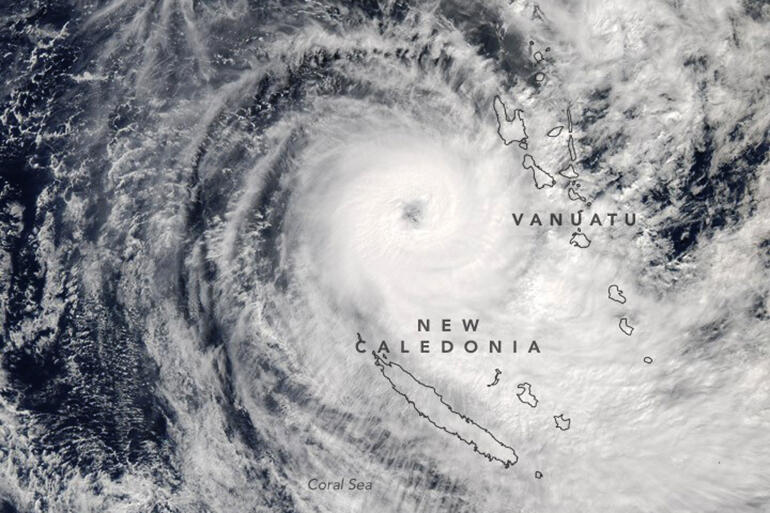 Anglican Missions[1] is launching an Emergency Appeal in support of the victims of Tropical Cyclone Donna.
Donna, a category 5 cyclone, battered Northern Vanuatu last weekend with wind-gusts nearing 300kmh.
While Donna is now weakening and moving away from the country to the south-east, early reports from Vanuatu speak of trashed infrastructure, damaged buildings and destroyed crops and food gardens in a country which is still recovering from Tropical Cyclone Pam in 2015.
Government officials, the Vanuatu Red Cross, churches and other agencies are starting to assess the extent of damage done by Donna.
They will report and collate their information over the next few days, although getting a full picture from the worst-affected areas will be slow because continuing poor weather is preventing boats and planes reaching some outlying remote islands.
This damage and needs assessment will form the basis of a coordinated response – though past experience of South Pacific cyclones suggest people will quickly need clean drinking water, safe shelter and food.
On Monday evening (May 8), the Government of Vanuatu estimated that 1,200 people were sheltering in evacuation centres in Torba Province and 1,000 in Sanma Province, both in Northern Vanuatu.
Anglican Missions Board CEO Robert Kereopa has contacted the General Secretary of the Church of Melanesia, Dr Abraham Haurisasi, and is in touch with Bishop Patteson Worek, of the Diocese of Banks Torres, Vanuatu and Bishop James Ligo, Port Villa, Vanuatu and New Caledonia.
The AMB will provide updates on its website as information comes to hand.
Robert Kereopa says prayers for the people of the Diocese of Vanuatu and New Caledonia "are very much appreciated. And if you or your parish would like to donate to this Appeal, please refer to our website.
For any other queries please contact the Anglican Missions Office: Email: info@angmissions.org.nz Phone: 04 473 5172.
[1] The AMB now chooses, as a matter of policy, to refer to its mission activities as 'Anglican Missions' – while grouping its governance and admin work under the title: 'Anglican Missions Board.'