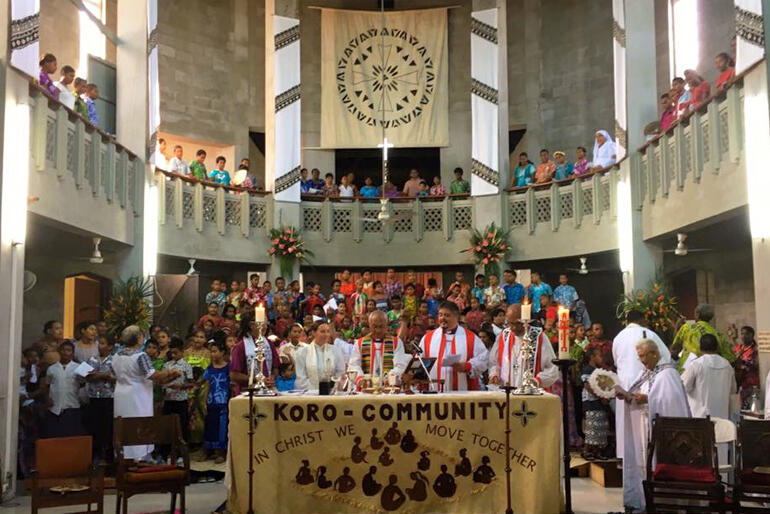 Tonga is just weeks away from having its own Anglican bishop.
The 37th Synod of Diocese of Polynesia – which wrapped up in Suva yesterday – made the necessary changes to diocesan legislation to allow the synod to add new episcopal units.
Having done that, it resolved to a) establish the Archdeaconry of Tonga as such a unit, and b) ask the diocesan bishop (Archbishop Winston Halapua) and the diocesan standing committee to begin the process of appointing a 'Bishop in Tonga.'
That's likely to happen within a couple of months.
The diocesan canon provides that for the appointment of an episcopal unit bishop (as distinct from the diocesan bishop) the diocesan standing committee will be the electoral college – unless the synod chooses to add other voters.
It didn't, so the diocesan standing committee will schedule a meeting soon to elect that Bishop in Tonga, and possibly a new bishop for Vanua Levu & Taveuni.
Once the standing committee has made their nomination (or nominations, plural), the standard sanctioning process will kick in: the bishops will be polled (simply as to whether they know of any reason why the nominee should notbe elected) – and, assuming the bishops are on board, then the members of General Synod will be balloted on a yes/no basis.
In 99 percent of cases, the nomination makes it through that sanctioning process, and the nominee is declared the bishop-elect.
The final stage is the actual ordination and installation of the bishop/s-elect, and where Tonga and Vanua Levu & Taveuni are concerned, those dates have yet to be set.
Samoa and American Samoan next
The just-ended Suva synod also set in train a process whereby Samoa and American Samoa will become an episcopal unit of their own, with their own bishop – but in their case, the process will take longer, and involves an extra step.
The Suva synod passed a resolution which approves "in principle" that the archdeaconries of Samoa and American Samoa become an episcopal unit in their own right, "mandating the standing committee to closely work with Samoa and American Samoa towards its establishment."
So more work is needed there, and the passage of another motion at a later synod to set up the episcopal unit – as happened with Tonga this time.
The earliest that could now happen is May next year – which is when the Diocese will convene an extraordinary two-day synod to nominate Archbishop Winston's successor as diocesan bishop.
In his charge to the synod, Archbishop Winston announced that both he and the Vicar General, Bishop Api Qiliho – they will both turn 72 shortly – will retire in August next year.
The May 2018 synod has been called specifically to nominate Archbishop Winston's successor, and that successor will be either installed, or ordained and installed (if they're not already a bishop), before the end of next year.
Five in one
Once the May 2018 synod comes around, then, the Diocese of Polynesia will have four episcopal units – with the prospect of a fifth to be enacted at that gathering:
Viti Levu West; Vanua Levu & Taveuni and the Diocese of Polynesia in Aotearoa New Zealand were set up in 2005. Tonga has just been established by the 2017 synod, and Samoa and American Samoa will be established next year, and most likely at the special May synod.
(In Anglican terminology, 'episcopal units' are regions with their own bishop within an overarching diocese, and the episcopal unit bishops are under the authority of a diocesan bishop – in this case, the Bishop of the Diocese of Polynesia.)
Changing of the guard
The present bishops in the Diocese of Polynesia are Archbishop Winston, who is the diocesan bishop; and Bishops Api Qiliho and Gabriel Sharma.
All three were ordained together as bishops in April 2005, and each served as episcopal unit bishops under the late Archbishop Jabez Bryce. Archbishop Jabez died in February 2010, and Bishop Winston was elected to succeed him both as diocesan bishop and archbishop.
Bishop Gabriel served as Bishop in Viti Levu West from 2005 until 2013. In January that year his wife, the Rev Ana Sharma, died, and Bishop Gabriel took leave. He is now pursuing doctoral studies at St John's College in Auckland.
Bishop Api Qiliho served as Bishop in Vanua Levu & Taveuni from 2005 to 2013.
Upon Bishop Gabriel's departure for New Zealand, Bishop Api also assumed episcopal oversight for Viti Levu West. He later suffered a heart attack, and he is recovering in New Zealand, where his wife, Taomi, has recently completed her doctorate.
Bishop Api has represented the Diocese of Polynesia in New Zealand during his convalescence there.
Both Archbishop Winston and Bishop Api were at the synod that's just ended.
Five bishops on hand?
When the Diocese of Polynesia convenes its special synod in May next year, it could have five bishops in attendance – Archbishop Winston, Bishops Api and Gabriel, plus the newly-elected bishops in Vanua Levu & Taveuni, and Tonga.
This year's synod saw 115 representatives of the diocese gather from Tonga, Samoa, American Samoa, New Zealand and Fiji.
Bishop Justin and Jenny Duckworth and Bishop-elect Ellie Sanderson from Diocese of Wellington were also present, and they ran two days of discipleship training for the synod reps over the weekend preceding the convening of the synod.
Bishop Justin also preached at the synod's opening service, in Suva's Holy Trinity Cathedral.
The Bishop of Tairawhiti, the Rt Rev Don Tamihere, was also on hand at the synod, as was Bishop Kito Pikaahu, the Bishop of Tai Tokerau.