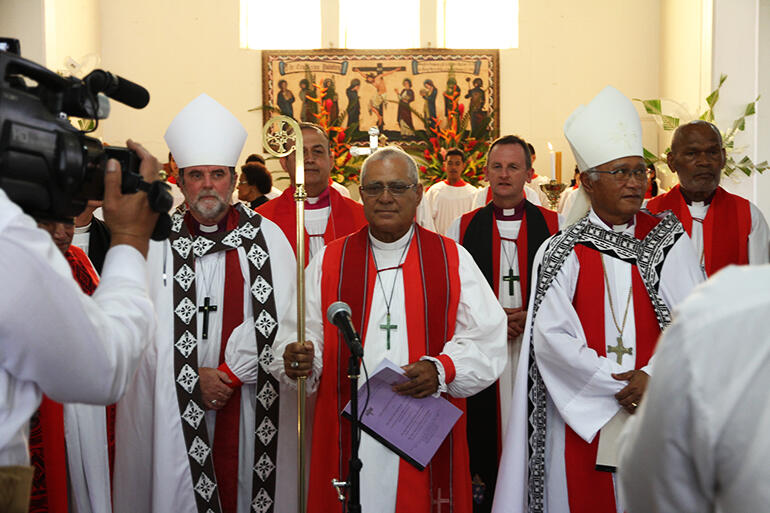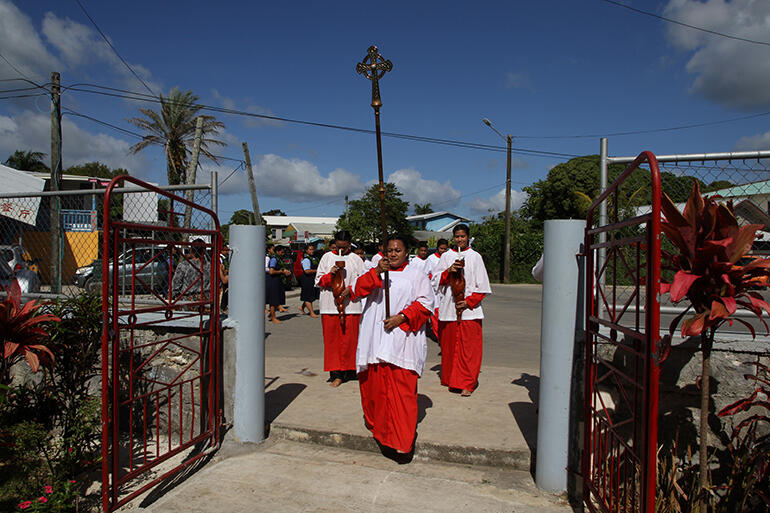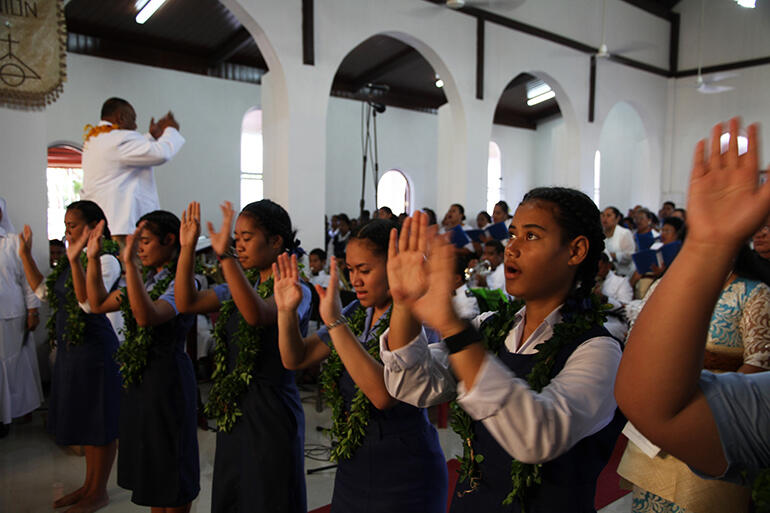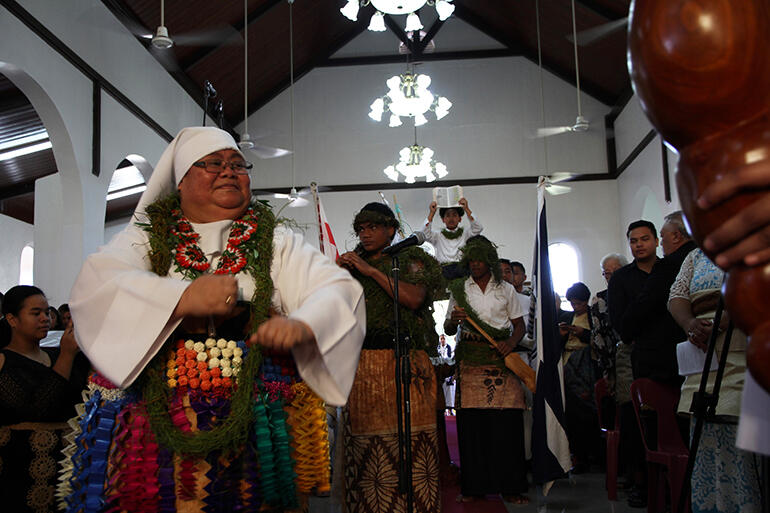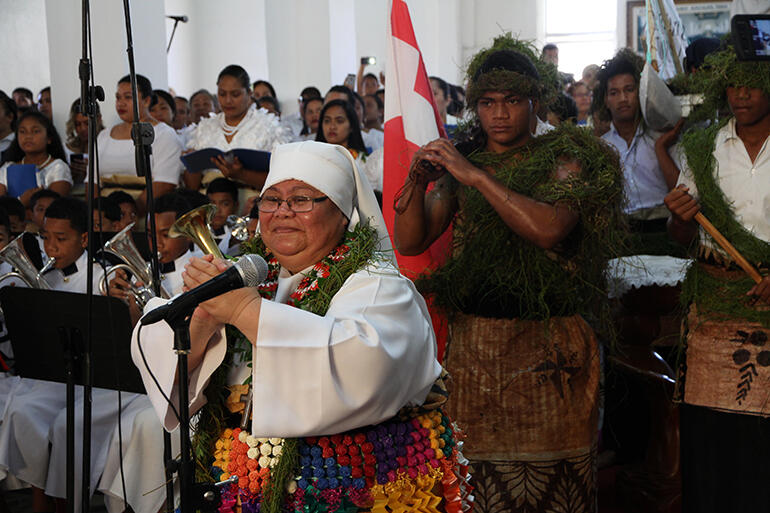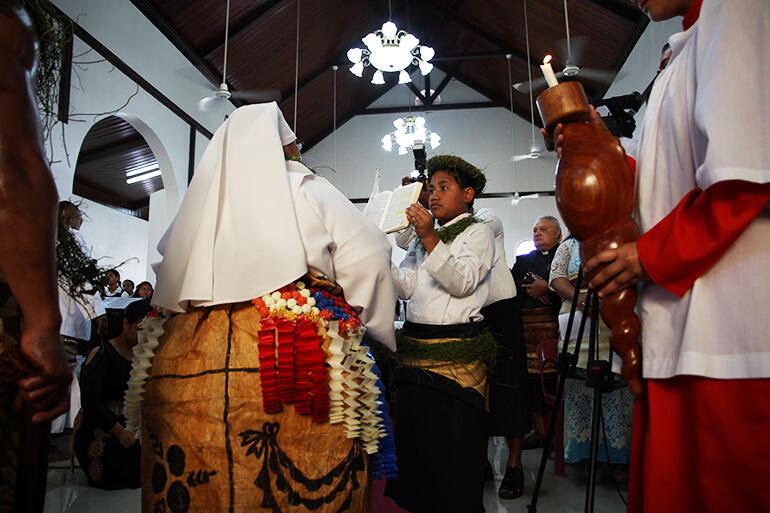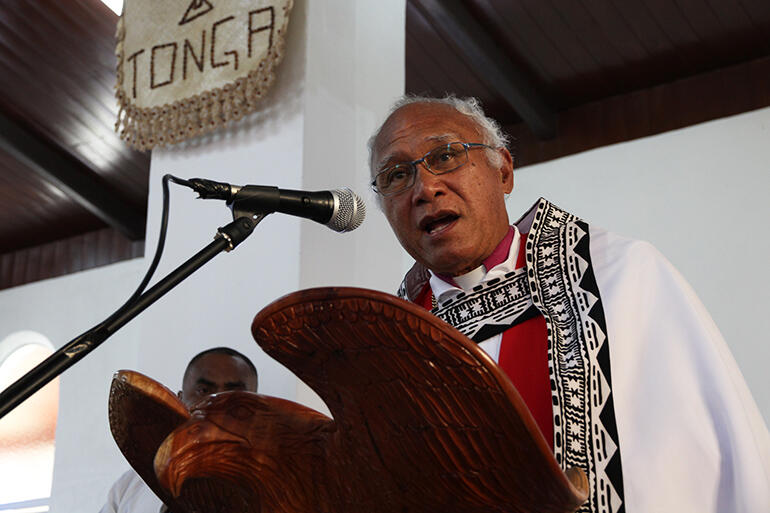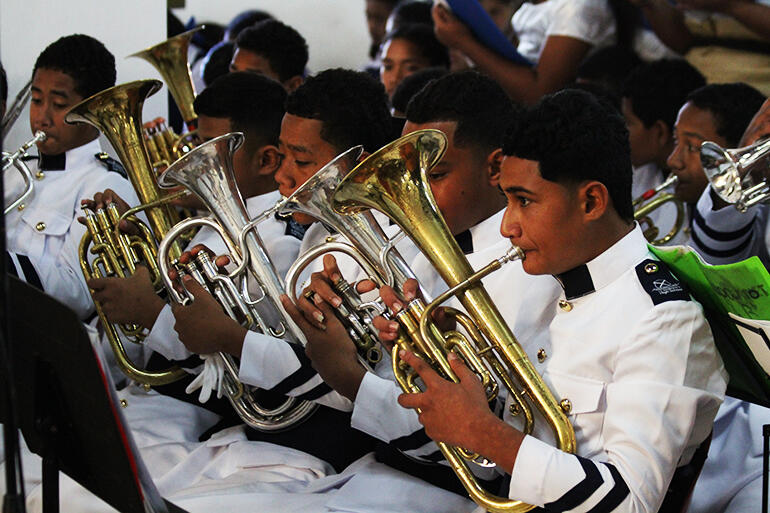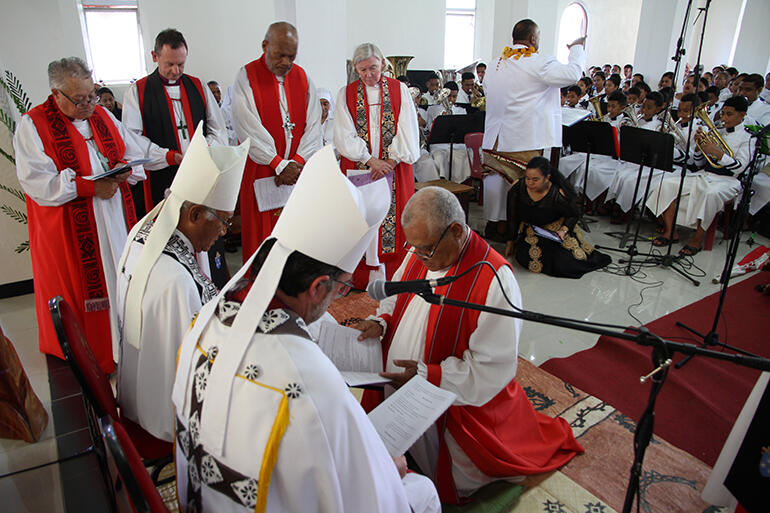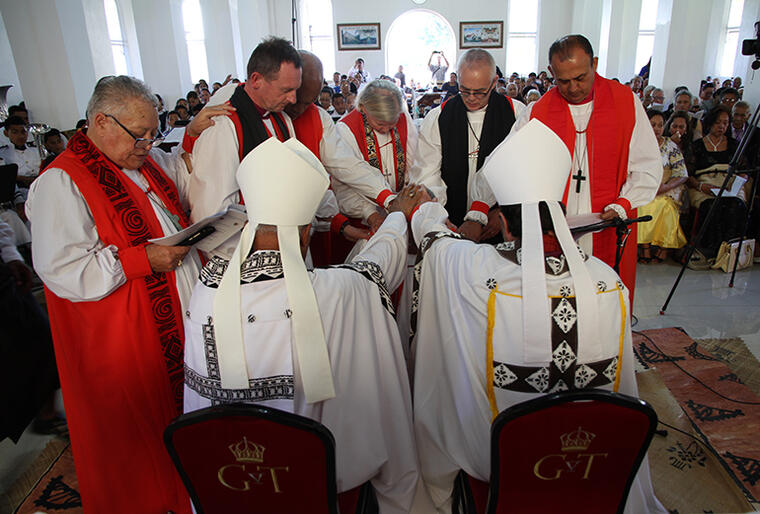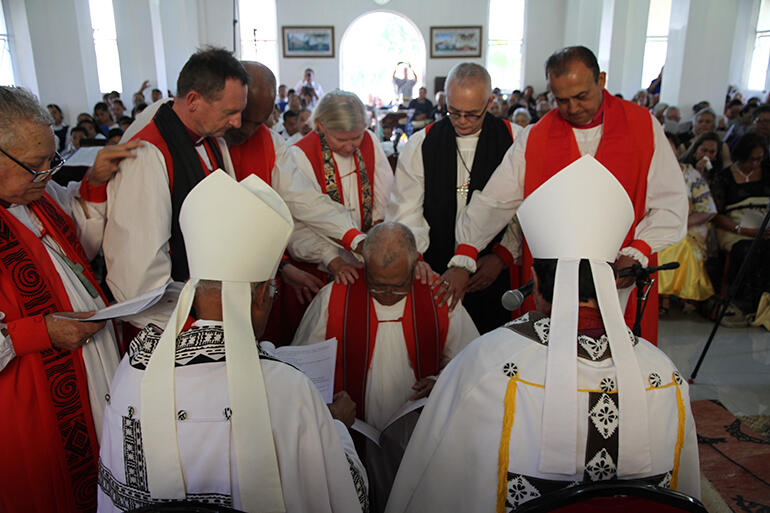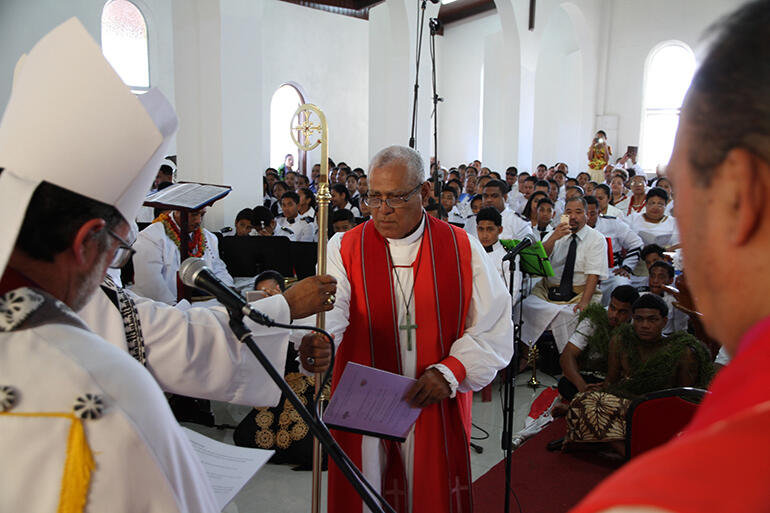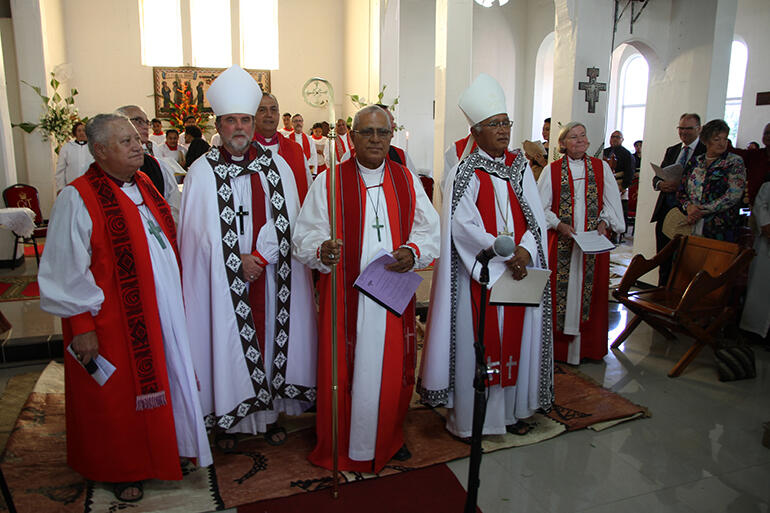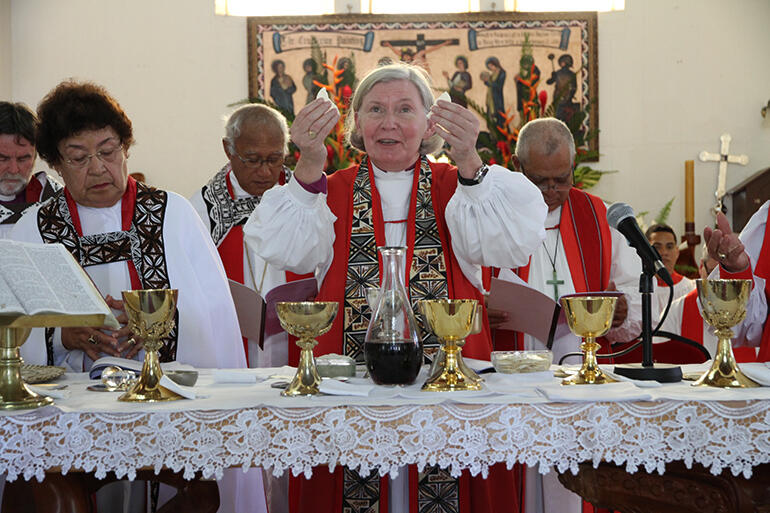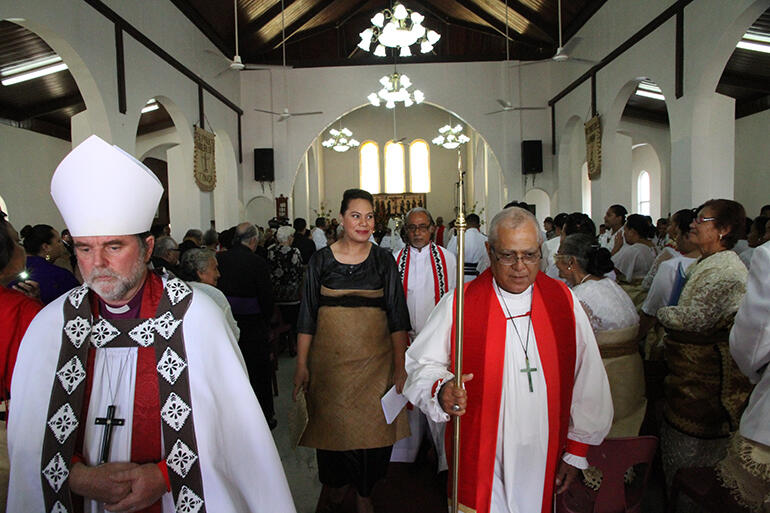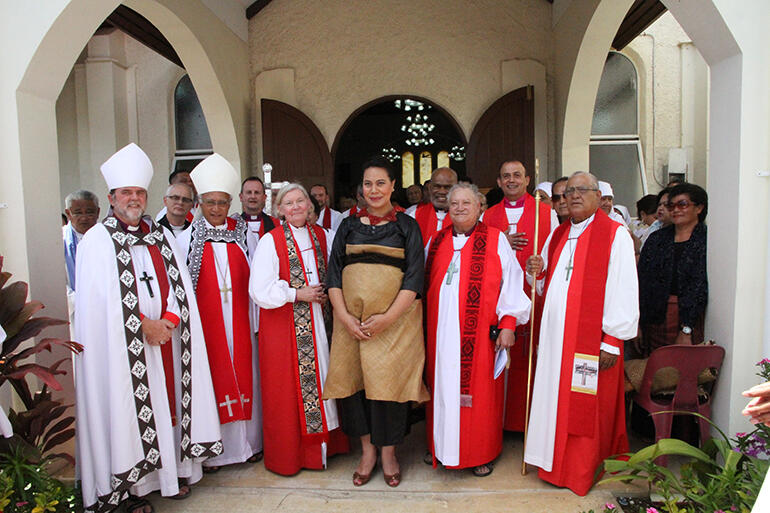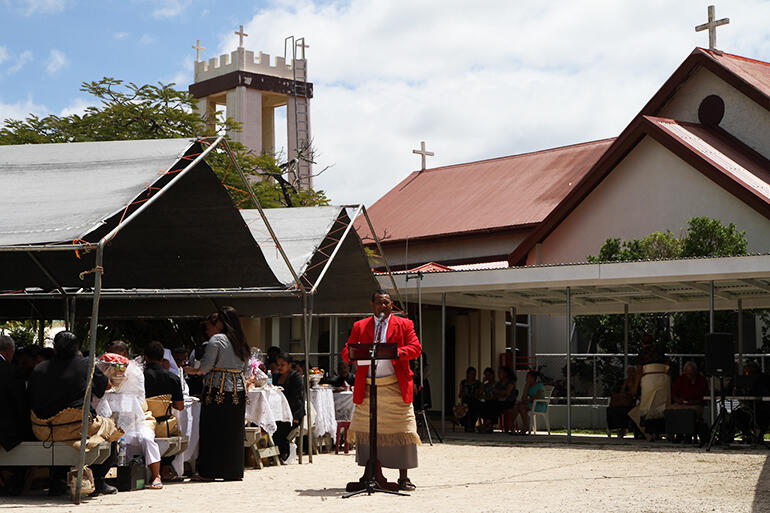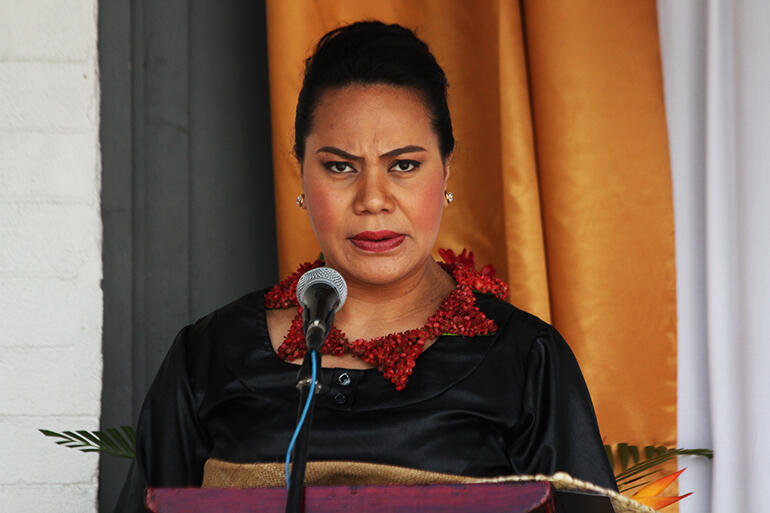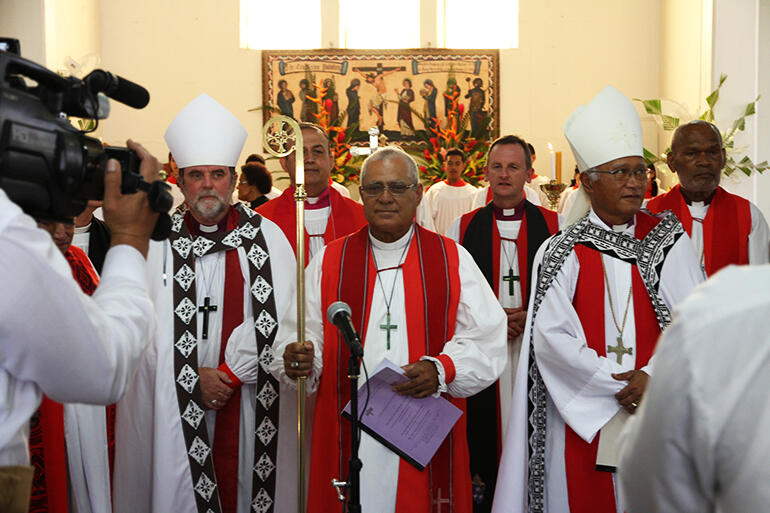 An overflow crowd of about 300 people squeezed in and around St Paul's Nuku'alofa yesterday to witness the ordination of the Rev Dr 'Afa Vaka, who has become the first Anglican Bishop of the newly-constituted episcopal unit of Tonga.
It was a rich, festive occasion, with waves of outstanding choral music driven along by the outrageously good St Andrew's High School brass band – whose rendition of Zadok the Priest could raise the dead – with Tongan Anglican well-wishers jubilant that they now have one of their own, living among them, as their leader.
And while Tongan Anglicans are clearly delighted to have the newly ordained Rt Rev 'Afa Vaka as their new bishop, there was also a strong sense that this was about more than the man chosen.
This was about the fulfilment of history, the fulfilment of yearnings that go back more than 100 years.
As Archbishop Winston Halapua explains, Tonga was an unusual Anglican mission field – in that the first Anglican missionary to Tonga was a bishop.
The English bishop Alfred Willis arrived in Tonga in 1902 from Hawaii, and remained there till 1920. Then, in the mid-1960s, Archbishop Winston's father, The Rt Rev Fine Halapua, served as a suffragan bishop in the Diocese of Polynesia.
But when he retired, that was it.
So for the last 50 years, Tonga – this distinct entity in the Pacific, with its own language, its own culture, its own traditions, and its own love for its monarchy – has been without a bishop.
"The significance of today," said Archbishop Winston, "is that the mission of God, for the people of Tonga… the leadership of that work is now being taken up by a Tongan, living in Tonga.
"The mission here was started by a bishop. And in the middle was a bishop… then a 50 year gap… and now there is this bishop.
"And there won't be any more gaps."
Archbishop Winston points out that all of Tonga's major churches are led by Tongans – "even the Roman Catholics have a Tongan cardinal – and all the constitutions and canons of these churches are written in Tongan language."
"So what has happened here today is for the mission of the church, for its integrity, and relevance.
"Today, we're no longer dreaming about this day coming.
"Update: this is the 21st century. People are happy – and nothing will stop this mission."
#
Archbishop Philip Richardson says that every time he's involved in an ordination service – whether that be to set apart a new deacon, priest or bishop – he has "a sense of the sacredness, and the uniqueness of the moment.
"But you couldn't really say about this ordination, as you might in some, that this was 'Afa's day.'
"It wasn't. It was the Anglican Church in Tonga's day.
"It was the Anglican Diocese of Polynesia's day.
"It was the Anglican Church of Aotearoa, New Zealand and Polynesia's day.
"Because this was the culmination of so many people's efforts, dreams and hopes.
"And Bishop 'Afa is such a worthy embodiment of those efforts, hopes and dreams.
"Because he's humble, he has a servant heart, and he loves the people. He's the right kind of leader.
"Sometimes you get the sense that a person is occupying all the space that is available.
"That's not 'Afa at all. This was a big community experience. It was beautiful."
Archbishop Philip also says the tribute paid later by Bishop Api Qiliho to Archbishop Winston and his wife Sue was well placed.
He said the other bishops in the Diocese of Polynesia recognised that Archbishop Winston had toiled for years to help bring the episcopal unit of Tonga to pass.
"As someone who's had to establish an episcopal unit myself[1]… I know it takes more energy than you can imagine.
"Winston has done so much work to enable this to happen."
#
Bishop Victoria Matthews – who presided at the Eucharist, with Bishop Richard Wallace – was another who is convinced of the rightness and significance of Tonga's establishment as an episcopal unit, and by Bishop 'Afa's ordination.
She was impressed too, by the "deep, deep spirituality to Tonga – you can tell by the fact that Sunday is given over to worship. We might think that comes from another age: but let me tell you, there's something really beautiful about this.
"That Sunday observance is probably better for family life, it's probably better for community life – they have much to teach us. And if we're smart, we'll listen."
Bishop Victoria says she was also "blown off my feet" by Sunday's choir, and the music.
"Both by the brass band, which is splendid, and also quite fun, but also just by the sheer depth in the music: they believe what they are singing.
"It's so important when we sing together, and we sing together well. I say that as someone who is not musical – but I know glorious music and singing well together is central to the faith."
#
And what about the man himself?
"It was a divine occasion," says Bishop 'Afa. "And it was marvellous.
"Like I said in my speech, today made us feel like we were touching the heels of heaven.
"It was a time of connecting our hearts, our thoughts, our minds… and it's like we've turned an old page, and we're opening a new leaf.
"And the people, and those from overseas who came to be with us?
"They have stolen my heart.
"I never thought I would live to see a day like this.
"But God has made this happen. My mind is far away from the way He thinks... His ways are not our ways. His ways are higher than our ways.
"Now I confirm again, that Jesus is living. God is our God, and He's living, and He's watching over us."
And the future?
"Looking at the people tonight," he said, "and the happiness they have, that indicates a time of growing together.
"And drawing together from a spring that flows down from heaven."
#
[1] In 2010 The Diocese of Waikato was formally renamed 'The Diocese of Waikato and Taranaki'. Archbishop Philip leads the Bishopric of Taranaki.