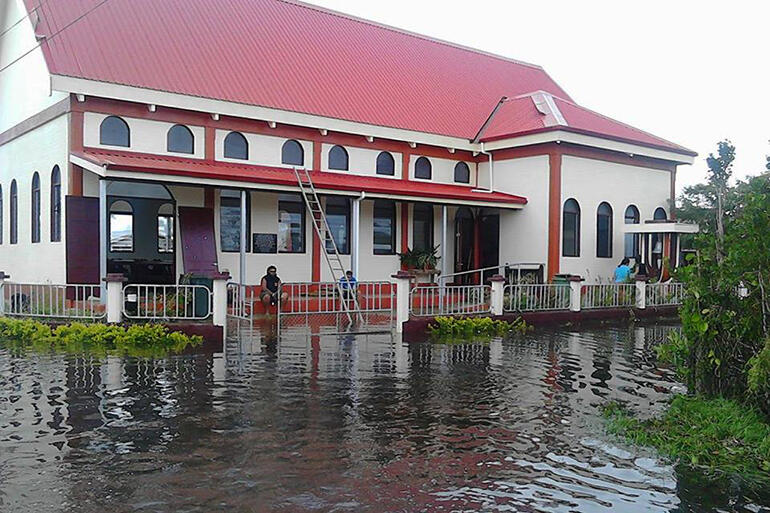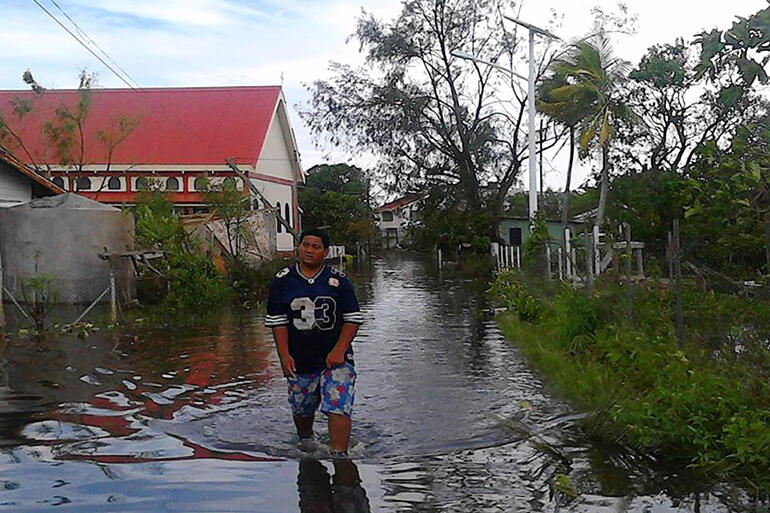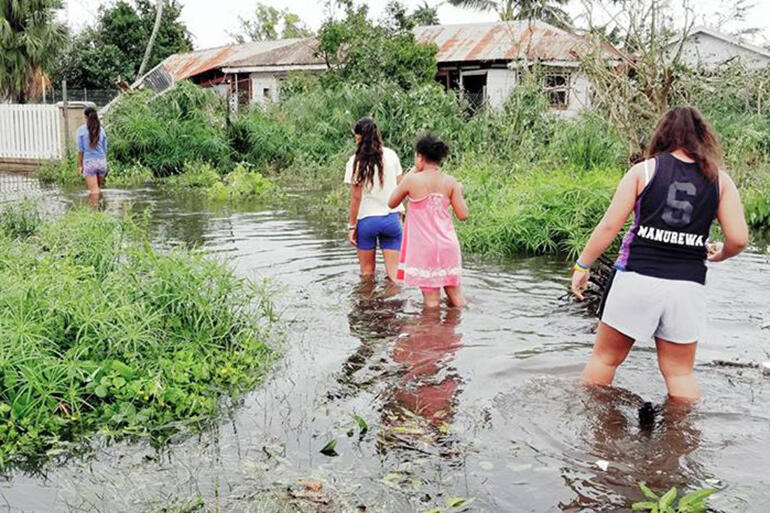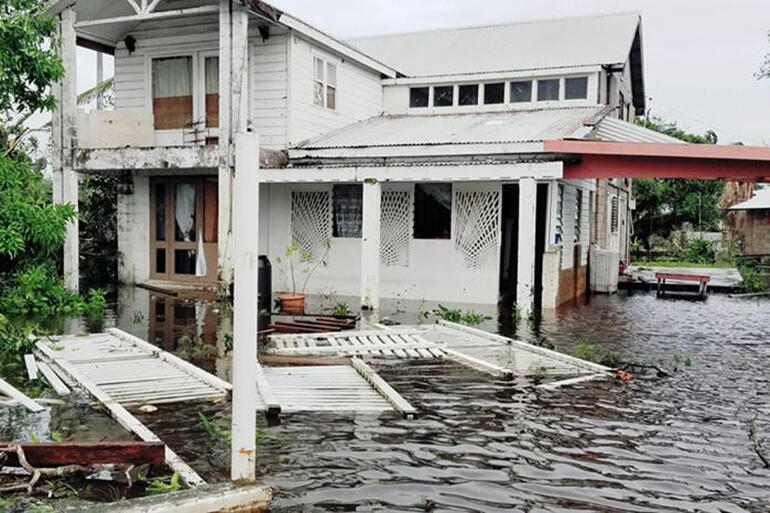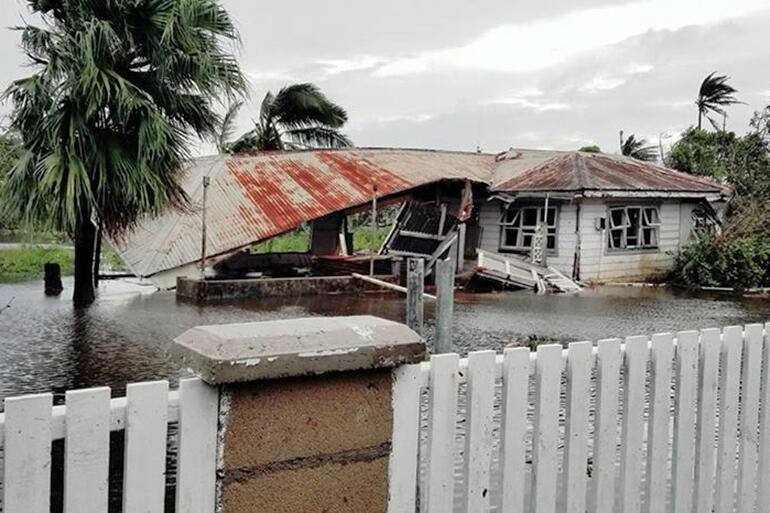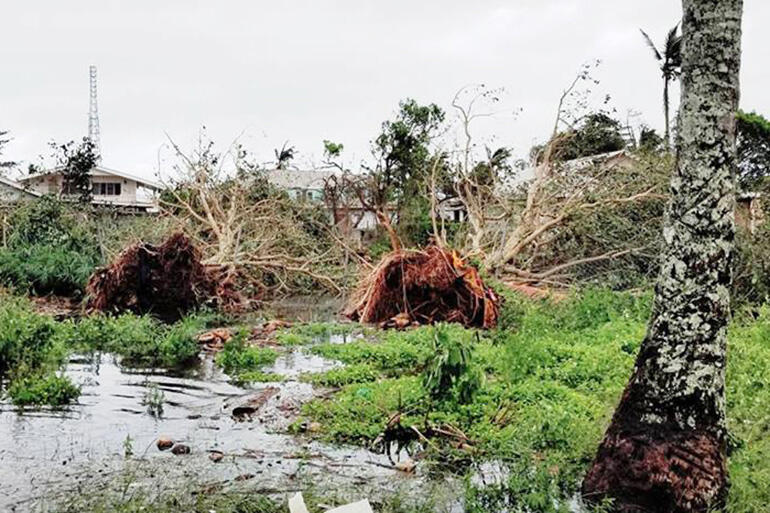 Several Tongan families took refuge in Anglican church halls in Nuku'alofa last night, and could remain sheltering there for several days, says Tonga's Anglican Bishop, the Rt Rev 'Afa Vaka.
They did so to escape Cyclone Gita which roared into Nuku'alofa last night, causing widespread damage to homes and to public buildings.
In anticipation of the forecast threats Bishop 'Afa invited at-risk families to seek shelter in the halls of St Paul's (Nuku'alofa's downtown proto cathedral), All Saint's Fasi, St Matthias, and St Barnabas, Mataika.
Several families took up that offer – and Bishop 'Afa says he spent last night shuttling back and forth between the bishop's house and the hall at St Paul's, to check that everyone was OK there.
Bishop 'Afa says Cyclone Gita's 230kmh plus winds were the worst he's ever experienced – and he lived through Cyclone Isaac, which struck Tonga in 1982, and which killed six people, and left thousands homeless.[1]
Gita's fiercest blast struck at about 10pm, he said – by which time the electricity had been cut (as a precautionary measure) and Nuku'alofa lay in darkness.
For several hours the winds roared, he said – and gusts ripped roofs off houses, brought down trees, destroyed a Catholic church, and took the Tongan Met Office and the national radio station off air.
Bishop 'Afa said he could hear iron scything through the air – the roof was ripped off his own car port – and the sounds of trees creaking, snapping and being uprooted.
Today in Nuku'alofa has dawned calm, he says, with alternating sun and cloud.
Even so, Bishop 'Afa expects the families who've sheltered in the church halls to remain for a few days, while they assess damage to their homes and make them liveable again.
The Anglican Missions Board is assessing needs in Tonga, says its Operations and Projects Officer, Michael Hartfield.
He is in contact with several other aid agencies in New Zealand and Australia's Anglican Overseas Aid and Anglican Board of Mission to assess how best to co-ordinate and direct aid.
Meanwhile, Cyclone Gita is now tracking towards southern Fiji – and strengthening as it moves. It's expected to become a Cat 5 cyclone by this evening, with winds of almost 300kmh expected to hit the islands of Ono-i-Lau and Vatoa in the Southern Lau group.
Archbishop Winston Halapua is presently in mid-air, returning from Los Angeles to Nadi.
[1] Cyclone Isaac struck Tonga on March 2, 1982. The island groups of Ha'apai and Vava'u were hit worst. Six people were killed, 45,000 became homeless and 95% of the livestock was killed. The ferocity of Isaac's winds and storm surge was such that the island of Tatafa was cut in half by a 16 metre-wide channel.