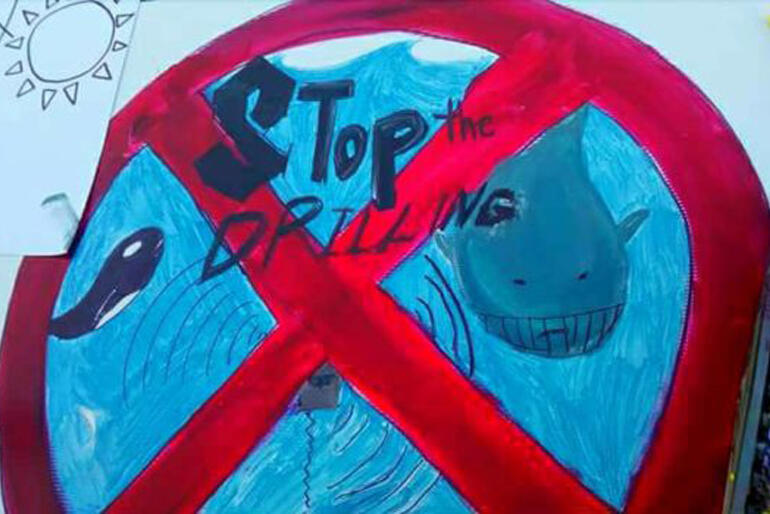 Wellington Anglicans are calling on Christians to demonstrate against new fossil fuel exploitation at an upcoming Petroleum Conference in Wellington next Monday and Tuesday, 26-28 March.
"We are inviting Christians who care about climate change to stand alongside other groups and oppose any new gas and oil exploration permits in Aotearoa New Zealand," says Wellington's Anglican Advocacy Enabler Kate Day.
Two days ago, the Dominion Post newspaper published an open letter from a group of 65 scientists, environmentalists, union leaders and public figures urging Jacinda Ardern and her government to put protecting the climate first.
"Together we pledge support for the New Zealand government to end oil and gas exploration now, as a vital step in addressing climate change." say signatories to the letter, which included Bishop of Wellington Justin Duckworth, Christian World Service Director Pauline McKay and A Rocha Christian environmental NGO Co-director, Dr Andrew Shepherd.
"The climate science is clear." the letter states, "If we are to avoid catastrophic impacts, the world cannot afford to burn even existing reserves of fossil fuels, let alone seek out and burn new reserves."
This action comes as part of a wider commitment from the Diocese of Wellington to support action against climate change as a justice priority.
Wellington diocese has taken steps to mitigate its own impact on carbon emissions by: voting to divest from fossil fuels; endorsing the Zero Carbon Act campaign; employing a climate advocate and establishing a network of 30 parish 'catalysts' for environmental action. In one case, that saw Newlands-Paparangi parish planting 5000 trees in five years.
In a move to prevent harm at its source, Wellington's climate advocacy team have identified next week's petroleum conference as a critical moment when ordinary Kiwis can push back against fossil fuel industry stakeholder pressure.
Previous governments have used these conferences to present ˈblock offers´ to the oil and gas extraction industry, which means handing over fresh areas of Aotearoaˈs land and sea for fossil fuel exploitation. To date, Prime Minister Jacinda Ardern has not ruled out this option.
The petroleum conference website reveals that organisers of this year´s forum are aiming for more of the same,
"New Zealand's oil and gas sector is poised for action and ready for growth" it states, "exploration activity is progressing and there is genuine excitement about the opportunities available and the development underway."
"All this makes for a crucial moment to peacefully protest" says Wellington's Kate Day, We need to show our Prime Minister that Christians care about our global neighbours affected by climate change, and do not want any more of our land or sea opened up for oil and gas exploration."
How to get involved
If you're in Wellington:
• Attend the briefing event, at 7:30pm Sunday 25 March at Level 2, Anvil House, 138 Wakefield St. Here you will get helpful information about how and why Christians will join the protests.
• On Monday 26 March, join this peaceful rally. Meet at Frank Kitts Park at 12:15 then walk to TSB Arena to hear speeches.
• Next Tuesday, 27 March, come down to TSB Arena anytime between 7:30am and 3:00pm. Sit quietly in our prayer space, or join the peaceful protest by standing and holding one of signs saying "love our neighbours, end oil". Sign up here for information.
If you're outside Wellington:
1. Watch Kate Day explain the background to the petroleum conference in a short video.
2. Message the Energy Minister, Hon Dr Megan Woods by email (m.woods@ministers.govt.nz) or Facebook message her, asking her to rule out new permits for oil and gas. Here's a message you can adapt:
"Dear Minister Woods, I've heard that you have not ruled out new permits for oil and gas exploration in 2018. Please, put a moratorium on new permits immediately. I agree with our Prime Minister's statement that climate change is this generation's nuclear free moment. That means urgent action is needed. As a Christian, and a global citizen, I urge you to lead this action now, by ruling out any new permits for oil or gas exploration."
3. Share Anglican Advocacy Wellington's Facebook posts to let people know Christians will protest the Petroleum Conference. See if you can generate discussion.