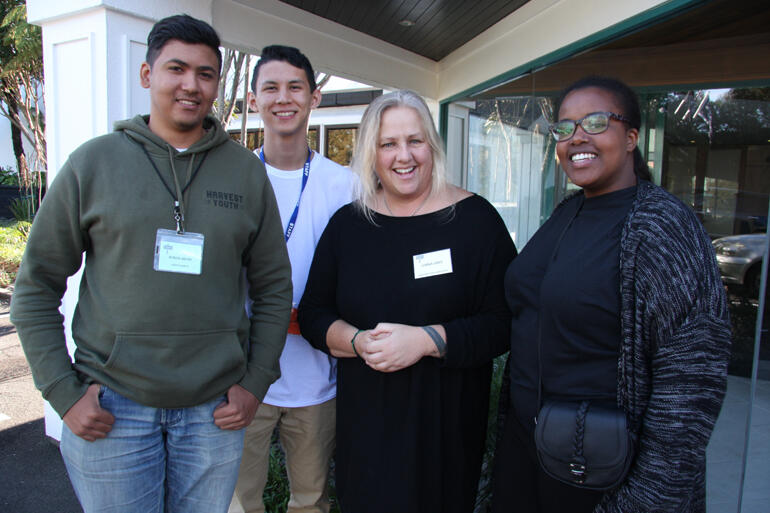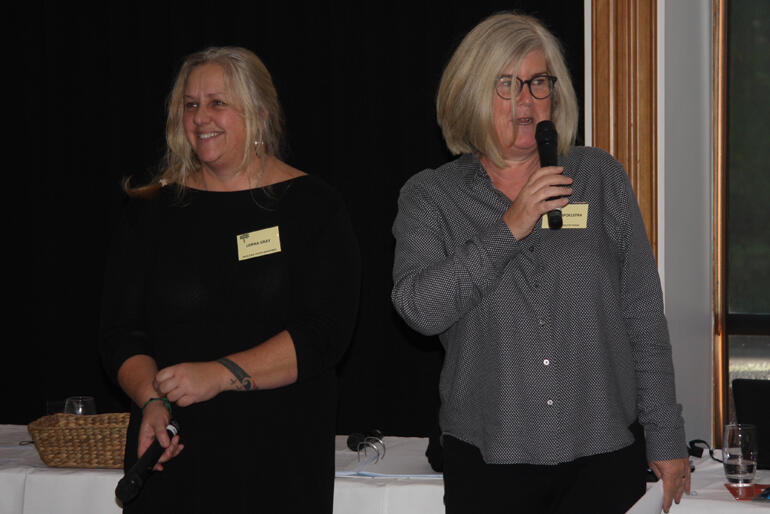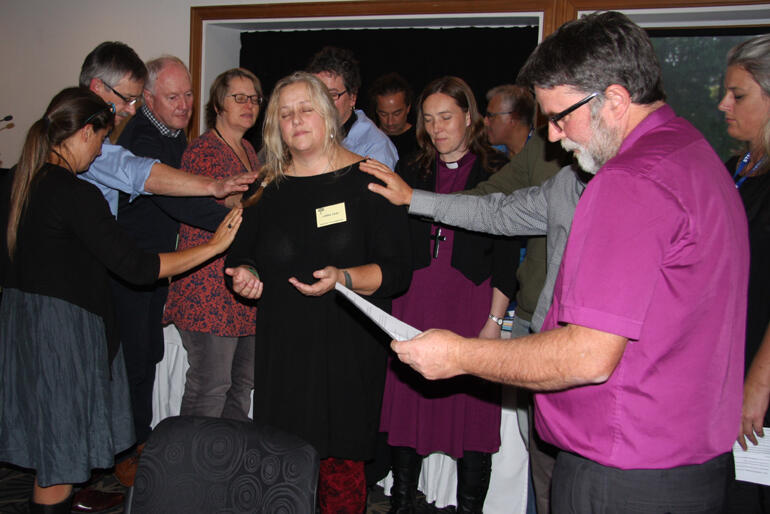 One of the high points of today's IDC meeting came this afternoon with the induction of Lorna Gray as the Tikanga Pakeha National Youth Facilitator.
Lorna has been involved with youth ministry, in one way or another, for more than 30 years.
And till now, she's chosen never to stray far from Strathmore, which is one of Wellington's grittier suburbs.
Lorna trained as a nurse in the mid-1980s, then moved into psychiatric nursing – then trained as a youth pastor.
In 2008, she co-founded the Eastern Southern Youth Trust – we'll say more about that in a minute – and then, about seven years ago, Lorna and some friends planted the Strathmore Community Church.
That's taken off like a rocket – it's outgrown all of Strathmore's community venues – and it's now entered a covenantal relationship with Diocese of Wellington, and St George's Seatoun is now its home base.
#
Lorna throws more light on her journey, this way:
"I started out as a registered nurse. Then I moved into psychiatric nursing.
"It bothered me that there were adolescents in the mental health services.
"It bothered me more that I couldn't share Jesus with them.
"And the New Zealand statistics for youth suicide really bothered me.
"The best solution for anyone without hope is Jesus.
"And not being able to talk about Him – it just really felt not right."
So Lorna changed course. She trained, formally – through Carey Theological College – as a youth pastor, then did that ministry for 10 years in a couple of Wellington Baptist Churches.
#
But Lorna became increasingly concerned that lots of young people would never find their way in to church.
"I love the church," says Lorna. "God calls it His bride. So, it's something of immense value.
"But it's sad for me that there are all these layers of care available within church, within youth ministries… but there are a whole lot of young people out there who need Jesus, who need those layers of support, who would never walk through the front doors of a church."
So Lorna teamed up with another youth pastor and together they formed the Eastern Southern Youth Trust.
That's a network of Christian youth workers who took it upon themselves to penetrate deeply into Strathmore to reach hurting young people.
"ESYT was always meant to be a bridge and a vehicle," says Lorna, "where people could experience the hands and feet of God's love, really.
"It was all about letting the Kingdom come, rather than necessarily putting bottoms on seats. Or in pews. It was never a numbers game.
"It was always about introducing people to God's Kingdom."
Lorna and her friends have been operating out of Strathmore[1] now for 25 years.
They've lived there. Their kids have been through kindy and school there, and they've shared homes there.
"It got to the point," she says, "where a number of us felt called to plant a church there.
"So that's what we did. About seven years ago we planted Strathmore Community Church."
#
So how did SCC forge ties into the Anglican world?
Well, along the way, Lorna and her friends made connection with the Ngati Awa River monastery.
They'd take young people – who had been drifting into Wellington city in weekends, drinking and getting into trouble – out to Ngati Awa in the weekends.
The people there, she says, "have been unbelievable. They opened their lives, and their home to us, and every Friday we would take our kids out there and just let them breathe.
"And that would interrupt their pattern."
"For us, that was the beginning of something special."
At the same time, the SCC people were making links St Aidan's Miramar, and St George's Seatoun – and discovering that some saints in those churches had been praying for Strathmore for 40 years.
"So, for us to be walking with them now", says Lorna, "is really special, born out of years of prayer.
"I love the phrase: Your Kingdom come, your will be done, on earth as it is Heaven.
"Because this is illogical, this partnership. It just isn't a natural fit.
"But it is.
"And for me, I just think this is His Kingdom, right there."
#
So why did Lorna choose to apply for this job?
Well, in a way, that goes back to her days as a youth pastor.
A couple of years ago, Lorna took stock – and saw around her, in Strathmore, "an extraordinary group of people" in their mid-20s to their late 30s, doing effective, life-changing ministry.
Lorna realised that the lives of this "extraordinary group" were shaped when they were teenagers.
And many of these teenagers had been in her orbit when she was a youth pastor.
"They've gone off, done other things – and they've come back and are investing back into the Kingdom.
"So if I can use my gifts and experience to enable others to help others go and do that... then I think it's now time for me to do so."
#
Lorna's new role, of course, as National Youth Facilitator for Tikanga Pakeha, will take her far beyond Strathmore's few square kilometres.
She'll be focused on youth ministry and youth training right across the seven Pakeha dioceses. She'll relate to the seven diocesan youth facilitators, the Toru Youth Commissioner (Jax Clark) the NZCMS Youth Mobiliser (Kirsten Cant) and the Anglican Schools Office.
She'll be on the move, encouraging, challenging, resourcing and deepening our church's understanding of youth ministry wherever she can.
That's what her job description asks of her.
Lorna puts that task in her own words:
"For me, it's about connection," she says. "Connecting has so many layers to it.
"There's connection with God, first of all.
"Connection with the church. Connecting the church and youth ministry together.
"But also, connecting with the community.
"Also, enabling structures that enable people to stand tall.
"But also enabling structures where God's spirit can be encountered.
"I am very aware that there is a lot happening already.
"Decades of extraordinary have gone before us, and I'm on a big learning curve.
"But if there's anything I can do to undergird, and serve, so that we can spread His Kingdom further across this nation, I will."
[1] "It's the most complex place I've ever seen," says Lorna. "It's got one of the wealthiest school in New Zealand, I think - Scot's College – and it's got multi-million-dollar houses on one side of the street, overlooking the golf course, by the airport. And on that same street, you have supported accommodation and subsidised housing where people are living in extreme poverty."