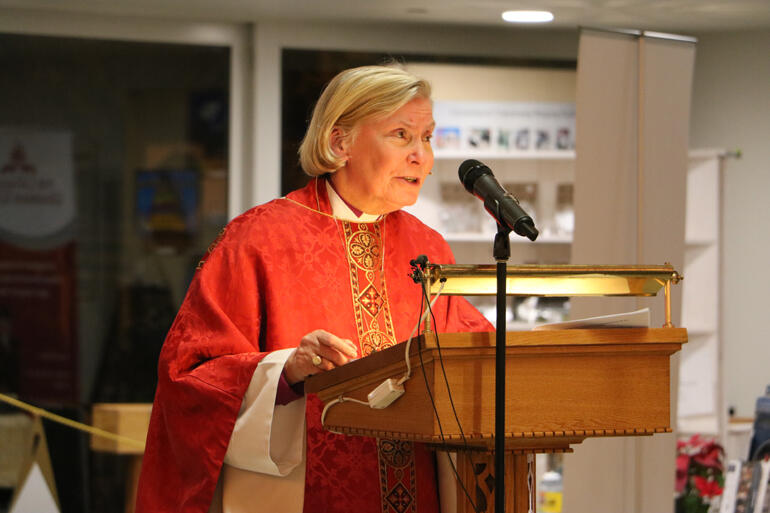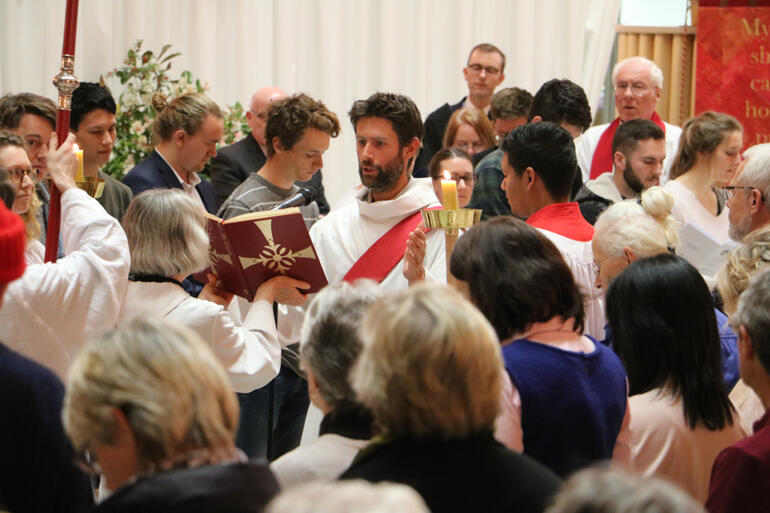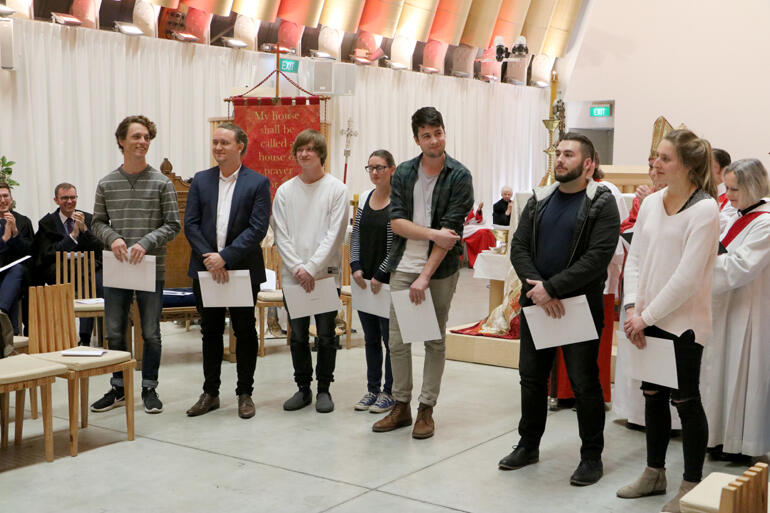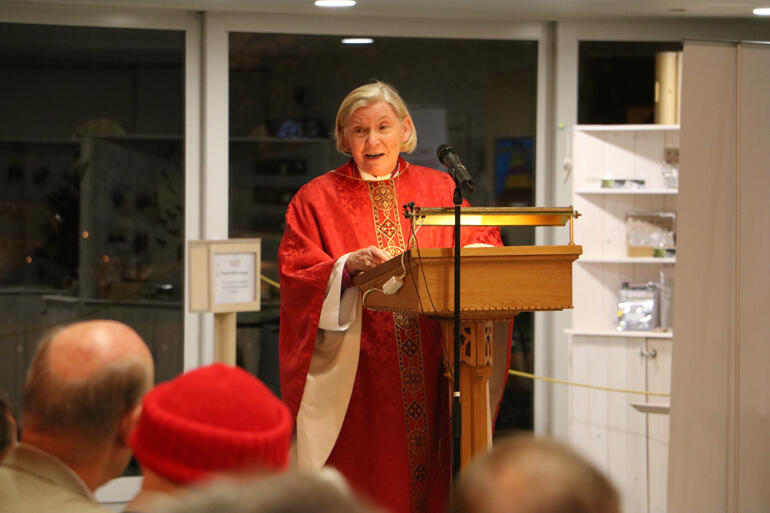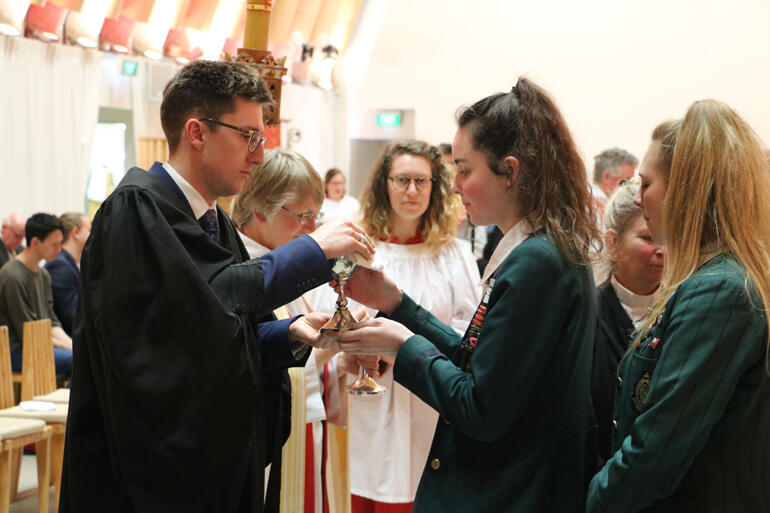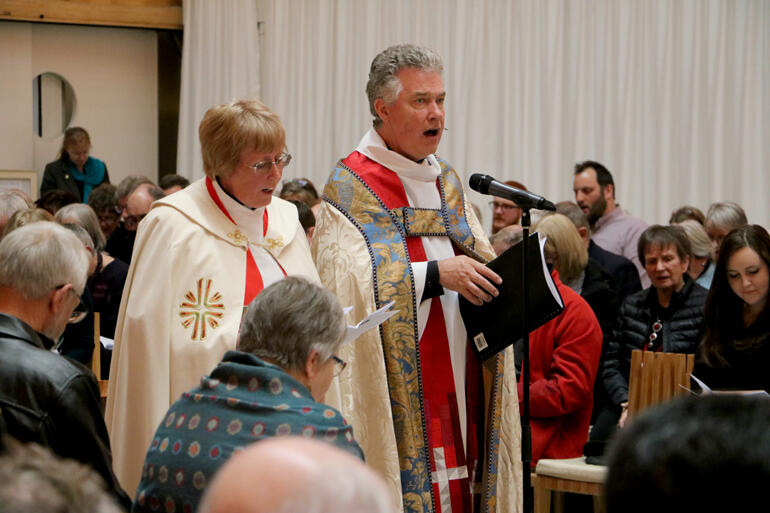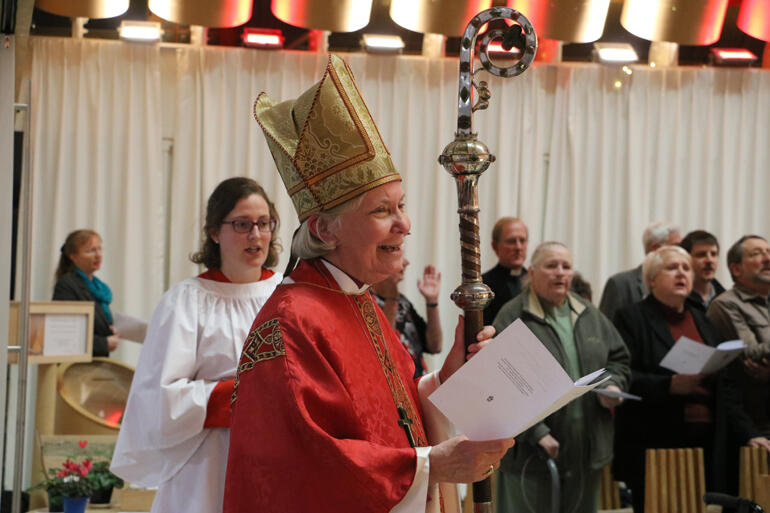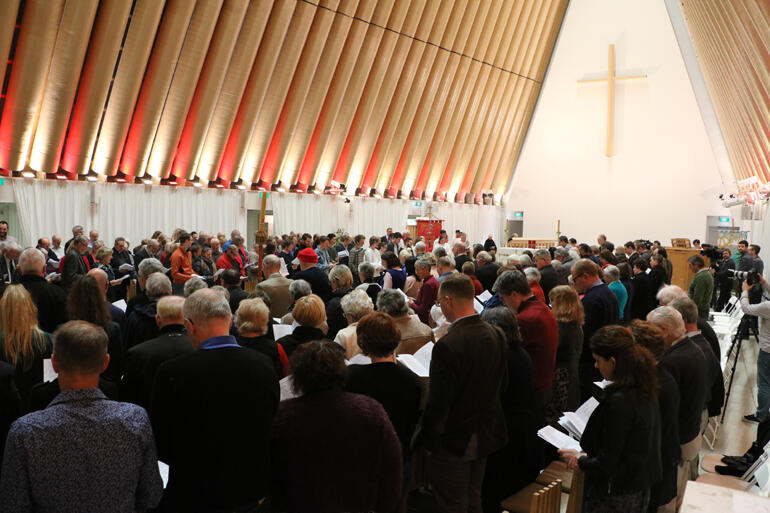 Up to 300 worshippers gathered in Christchurch's Transitional Cathedral this evening for a festival Eucharist to open the 2017 Christchurch Diocesan Synod.
Alongside its usual business, this year's Christchurch synod will decide on whether to restore, replace, or give away the earthquake-stricken Cathedral in the Square.
Bishop Victoria Matthews began her synod charge with a reminder that although this year's synod will make an important decision about the historic Cathedral, that will not change the face of city or church in a hurry.
"There's nothing fast about a cathedral." she said.
"None of the Cathedral options mean we will wake up next year and suddenly find a functional building in the Square."
Instead Bishop Victoria wants her diocese to prioritise its primary task as the body of Christ:
"Let us remember we are a Gospel people saved by Jesus Christ." she said
"Each and all of us, transformed by Christ, then live for others and gradually whole communities are in turn transformed by both social justice and social service.
"That is who we are in Christ and it is what we do."
Bishop Victoria turned synod's attention to the major issues she believes should be exercising and energising Anglicans in Canterbury: realities such as child poverty, youth mental health, high Maori imprisonment rates, penal reform and the housing crisis.
All these things are where the church's energy should be, said Bishop Victoria, pointing out that the last eight years since the earthquakes have seen her spend more time on managing and administering properties, than in her previous 31 years of ministry.
Diocesan Social justice enabler Rev Jolyon White agreed, as he looked forward to the next two days' work,
"I hope that the time we spend talking about the Cathedral, its role and purpose, will help us to think about our role and purpose as a church – and that it will galvanise our commitment to ministry with the marginalised."
Bishop Victoria came back to the three options before synod for the Cathedral in the Square:
Option A which directs the full reinstatement of the building, taking up the Government grant and loan, Christchurch City Council loan and Great Christchurch Buildings Trust fundraising pledge, together with the Church's cathedral insurance pay-out.
Option B which directs demolition of the ruined cathedral – and the construction, in its place, "of an inspiring new cathedral".
Option C which would see ChristChurch Cathedral gifted to the Government for the people of New Zealand.
A procedural motion will come before synod tomorrow to request speaking rights for Nicky Wagner, the Minister Supporting Greater Christchurch Regeneration, and for Lianne Dalziel, the Mayor of Christchurch, so that they can address Synod, prior to synod's debate on the three Cathedral options over the course of the day.
In order to help its members select their preferred direction for the Cathedral, synod will also be asked to suspend its usual process of voting in houses of laity, clergy and bishops to vote in a 'one synod member, one vote' ballot, the results of which would be announced on the afternoon of Saturday 9 September.
Before tonight's Eucharist Vicar-general the Ven Canon Helen Roud expressed her hope for synod to enter its decisions prayerfully,
"I have encouraged people to come to the conversation completely open to the Spirit, with open hearts, ready to listen to one another and to God." she said.
Miriam Crowther, a youth leader from Shirley echoed that call,
"My ideal outcome of this synod is that whatever happens we have remained gospel-centred, and were respectful of others' differing opinions."she said.
Another newly-licenced youth leader at this evening's service, Fendalton's Phil Parkes, wants to see his church end the synod with a message for the world,
"Whatever happens, I want us to be united as a church, and united in showing God's love to the world."