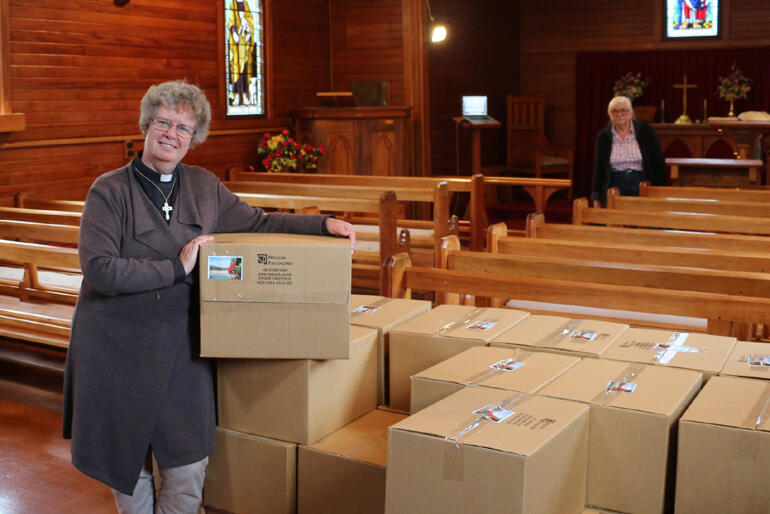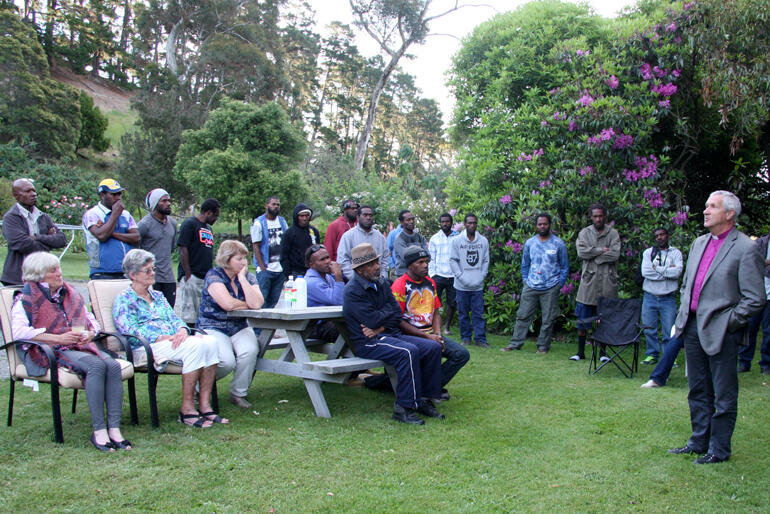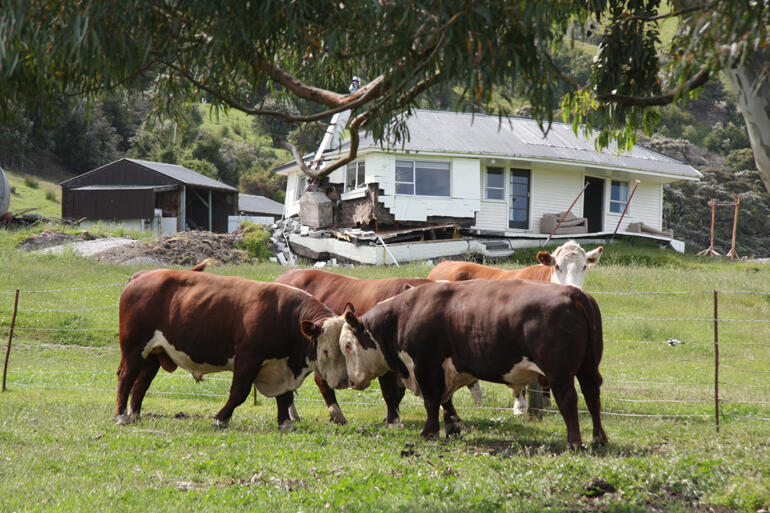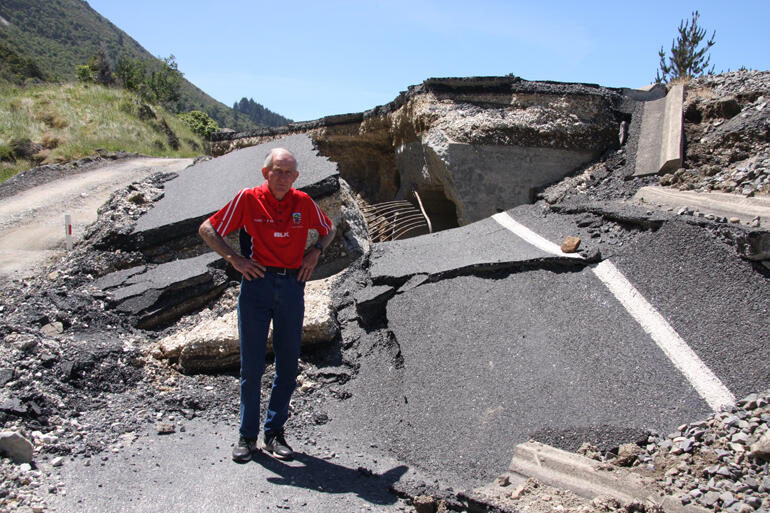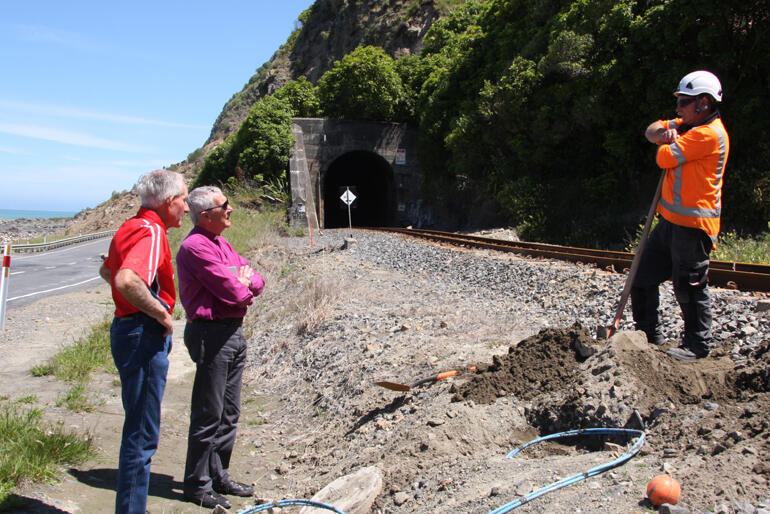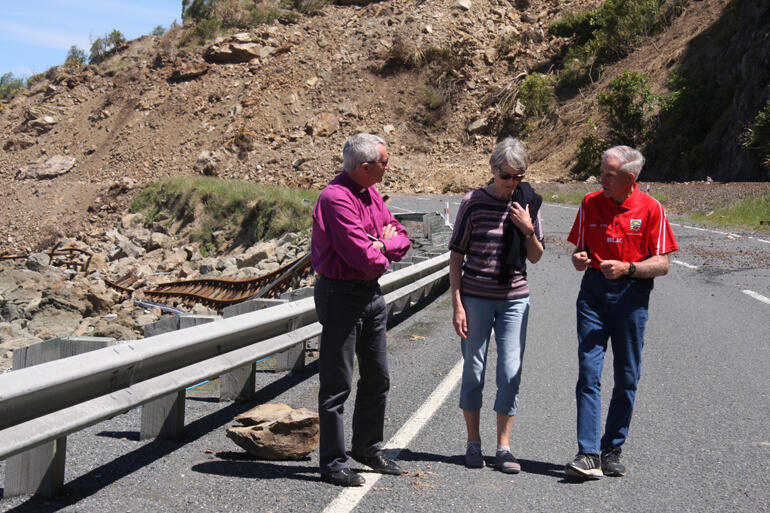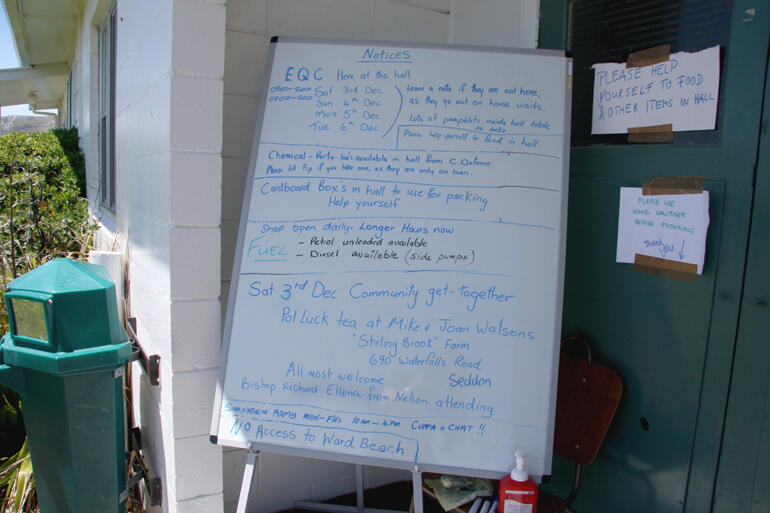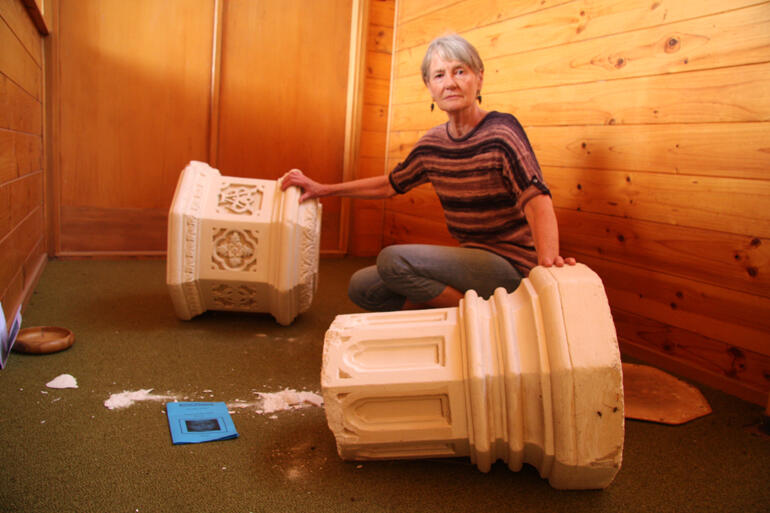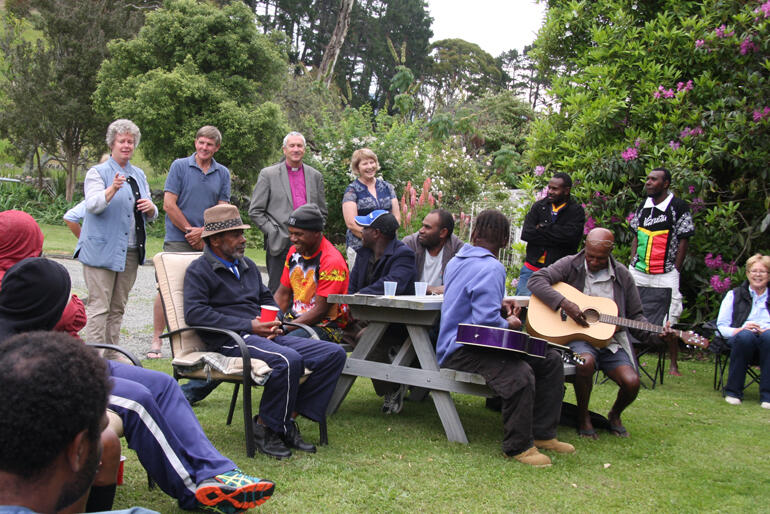 Today the first of 300 Christmas hampers will go out to earthquake-shaken families across southern Marlborough, with labels that read: With love from the New Zealand churches.
The hampers are an idea of Seddon-based vicar the Rev Dawn Daunauda and lay leaders from her quake-harried parish, the Awatere Christian Joint Venture (CJV).
Over the next ten days the Awatere CJV team will deliver the hampers to households between Ward and Clarence townships, and fly others up the Awatere Valley, where roads are blocked off by slips.
The Awatere CJV serves small towns and rural districts south of Blenheim and north of Kaikoura, taking in Seddon, Ward and the nearby Awatere Valley. That location puts them alongside the Hurunui-Kaikoura 7.8 magnitude earthquakes' main faults, which ripped open across the district at 12.02am on November 14, 2016.
The hampers going out today include Christmas treats, plus extras made up of donated cans and packets no longer needed as emergency supplies.
Also in each pack are a vial of Health 2000 herbal stress relief pills. That's a nice touch, says Dawn, for people coping with aftershocks, and the ongoing uncertainty of dealing with broken buildings, blocked transport links, deferring insurers and the EQC.
"We have a very broken and displaced community here." said Ward parishioner Pip Thomson this week.
"Some people are living in caravans, others in a shed, another in a horse float. People have left broken businesses or jobs that have been lost, others are staying in town, or with in-laws."
On weeks two and three following the big quake, Pip put her hand to the wheel each day at the Ward Town Hall, where Civil Defence had set up its emergency compound.
While emergency services worked, Pip, whose 110-year-old wooden home survived the quake, quietly plugged the background gaps – grabbing dirty tea towels to wash, getting rid of piled up rubbish sacks and keeping the hall's lights and appliances ticking over. And while she was there, Pip ran a white board of up-to-date information– which at times, became the only source of local information people had.
The tough thing is that most of the people problems are invisible in rural districts.
When the two big shakes hit Seddon and Grassmere back in 2013, local residents switched on their radios to find out what had hit them.
But all they heard that time was, "Wellington this, Wellington that," says Dawn.
"That's hard on people, because when an earthquake strikes, it's easy to feel forgotten. Sometimes all we need is a familiar face, and to know that others know what we're going through."
That is how Catherine Gullidge felt on the night of the quake.
Catherine, who plays the organ at St Peter's Ward, was on her own in her farmhouse that night. She remembers the awful sound as the earthquake, which was way above the force of Christchurch's worst, wrenched her house this way and that.
It was so loud, she heard none of the breakages in her house. Not even the wardrobe that crashed down, blocking the door of her bedroom.
"I just heard this terrific hurdy-gurdy noise.
"First it started the house rocking – and then suddenly it was like something plugged the electricity in… and then it really got violent."
Right around Ward and Awatere that night, people were holding onto their beds, trying not to fall out.
"When you are alone in an earthquake like that one," says Catherine, "there are times when you wonder if you're the last person left on earth."
But in November, it wasn't long before Catherine heard farmer Kieron Hinksman's voice calling through the dark "Are you alright?"
Yes, she was fine.
Soon, Kieron was through the window, and with another farmer, Joe Douglas, they got Catherine's doorway free so she could step outside into the night.
"Then whose lights should I see coming up the drive?" recalls Catherine. "It was Dawn… and it was so good to see her. That's the first time I've had a visit from the vicar in her dressing gown."
That story shows what being faithful is about in Awatere right now, says Dawn: being there for people, bringing them together, listening, and letting them know the church cares.
That's why Dawn invited her bishop to come and hear what Awatere folk are facing.
On December 3 Ward district farmer Malcolm Taylor loaded his 4-wheel drive with Bishop of Nelson Richard Ellena and his wife Hilary, as well as Malcolm's wife, the Rev Miriam Taylor, and took them to some of the worst-hit Marlborough zones.
They introduced the bishop to exhausted and jittery locals, and others who were coping well. They talked with workmen repairing phone lines, amidst hillsides collapsed into valleys, flat roads turned into terraces, and twisted railway lines thrown along a coastline whose seabed had transformed overnight.
They stopped by St Oswald's Wharanui – a beloved little stone church south of Ward, which escaped the 2013 shakes unharmed but now stands broken and red-cordoned, facing a battle to reopen.
Further south, Kaikoura parish's St Michael's Clarence was cut off from the south by slips blocking State Highway One. The 1971 church came off lightly with only toppled contents, and for now comes under Dawn and Awatere CJV's wing.
Along the way, Malcolm shared quake stories from relatives and old farming mates: of frayed nerves, financial worries, damaged buildings and land.
For example, many farmers may have to pay thousands of dollars in extra freight costs if they send their stock south along the inland route.
Others have lost large amounts of land. One hill, productive pasture-covered land a month ago, is now limestone cliffs and piles of earth.
Another farmer friend had 44 flat paddocks before the quake. Now there are seven. Another lost 12 breeding rams, buried by slips, and saw a flock of 200 lambs reduced to 40 overnight.
"I can hardly comprehend what I have seen today," said Bishop Richard, as he spoke to the crowd at a barbeque near Seddon on the evening of his visit.
The near-60 parishioners and friends gathered at Mike and Joan Watson's home at Stirling Brook listened in as Bishop Richard spoke of the power of Creation that he had seen that day.
But he also praised the Awatere parish and their community,
"I can see the Spirit working here." he said. "In the way you have looked out for each other… in the way you have made sure to see your neighbours are OK and looked for ways to help them.
"Now when you are in our prayers, we know what is happening here.
"And remember, that whatever happens, God will be with you through it all."
"He will never leave you."
The bishop's listeners that night included vineyard workers from Vanuatu, who make up a significant part of the seasonal workforce at Awatere.
While earthquakes are not foreign to Vanuatu, for many of the men, especially those with wives and families to think of, the earthquakes rattled them plenty.
But they were on the frontline of care too, firing up the barbie and providing cups of tea for all-comers not long after the worst shaking had stopped on that terrible night.
In fact, since the big 2013 shakes, Awatere's churches have made working together their way of life.
Today Seddon's Christians worship each week in the same wooden Catholic Church of the Immaculate Conception. Each Sunday, between 8am Catholic mass, and 9.00am Christian Joint Venture service, the two communities build friendships over morning tea.
And they've brought that value of being there for each other, regardless of differences in belief or practice, into the way they relate to people outside the church.
That's why in the week after the big shake, Dawn Daunauda wanted to gather the community together, just to be there for each other.
So, with the backing of Ward's go-to locals, Candi Callaghan and Di Litchfield, she planned a big get-together for the Sunday after the 7.8 quake.
Through the Blenheim minister's association, Dawn drew in support from the Brethren and Elim churches, who provided bulk food, equipment and staff for a community barbeque at the Civil Defence centre in Ward.
"People really appreciated that meal," says Dawn, "Not only the locals, but everyone – including the Red Cross, Council members, Volunteer Fire Service and Civil Defence staff."
"It brought everyone together, and gave everyone the chance to hear from each other. And it helped the emergency services find out what the real needs were. Everyone was there.
"And when we offered a prayer before the food, we simply said: this is a gift from 'the church.'"
That's an important distinction Dawn makes, says Di Brown, another Awatere CJV stalwart.
"We don't do things as this church, or that church anymore." she says. "We do what we do as "the church."
"And when we see ourselves like that, people outside the church see us that way too."
When Bishop Richard wrapped up his thoughts in Seddon last Saturday night, he praised God for the Awatere community and the way they had pulled together when the worst hit.
"You inspire us." he said, "You have shown a determination to care for each other no matter what is happening for you."
"It is very clear to me that God is doing something new here… something the whole church can learn from."