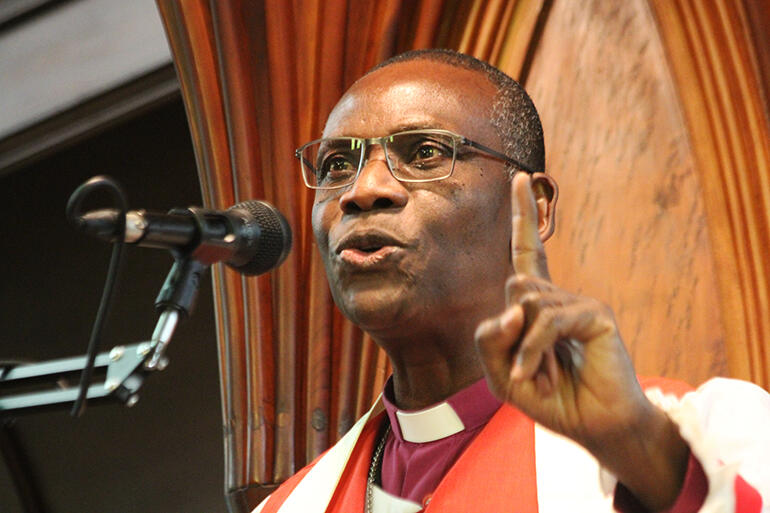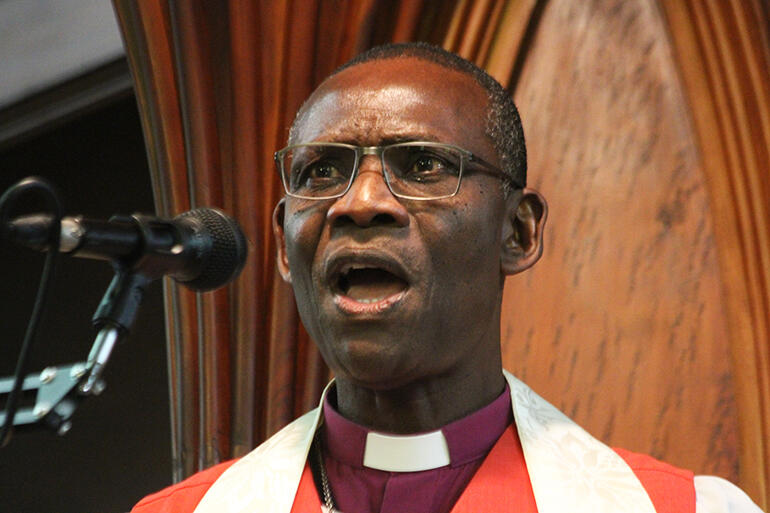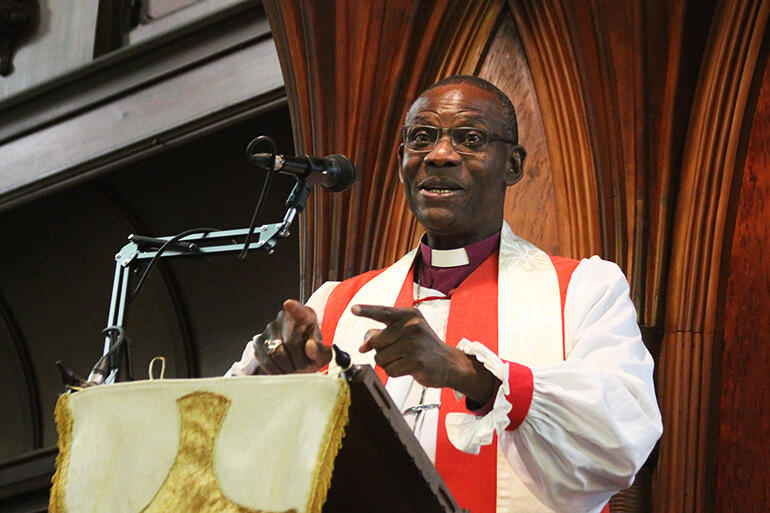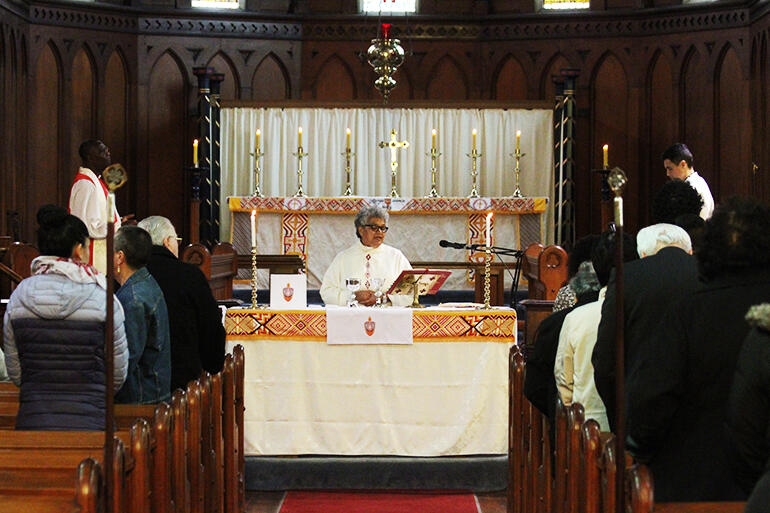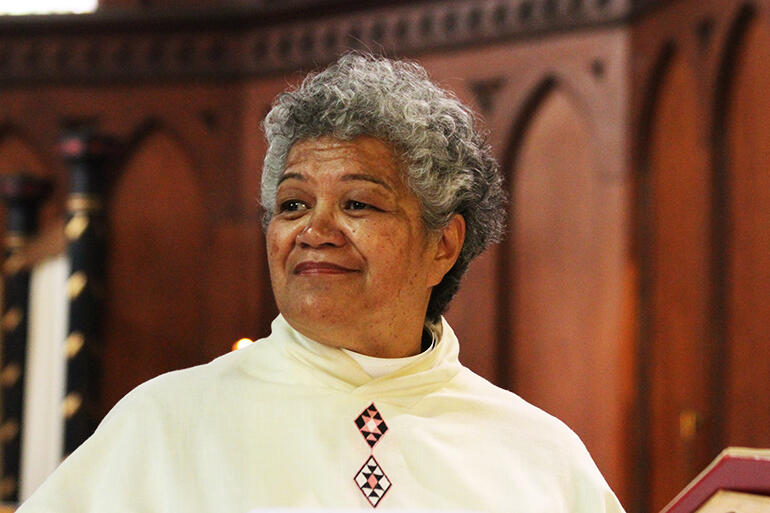 Archbishop Josiah Idowu-Fearon, the Secretary General of the Anglican Communion, has begun a seven-day fact-finding visit to New Zealand.
He's here to glean insights into the workings of the three tikanga church, and to learn what may be relevant, and exportable to the communion at large.
Archbishop Josiah, who is Nigerian, but now based in London, flew in to Auckland on Saturday.
He preached at the Church of the Holy Sepulchre (the Tikanga Maori 'cathedral' in Auckland) on Sunday morning – where he spoke on the theme of The Transfiguration, as recorded in Luke 9: 28-36.
In particular, he focused on the voice that came from the cloud, as recorded in v36: "This is my beloved Son, listen to Him!"
"So why don't we do just that?" asked Archbishop Josiah. "Why don't we take him at his word?"
He suggested that we don't completely ignore him – but practice the art of selective listening. "We pick and choose the words we want to hear," she said, "and gloss over the others."
Where's the comfort in that?
We take comfort from the uplifting sayings – but turn a deaf ear "to the things that are contrary to what we want to hear."
He cited Matthew 10:37 as an example: "Anyone who loves their father or mother more than me is not worthy of me, anyone who loves their son or daughter more than me is not worthy of me."
"How many of us parents find comfort in that?
"What we do is interpret His words in way we can live with. Here is one of the most difficult teachings of Jesus:
'You have heard that it was said: 'Love your neighbour and hate your enemy'. But I tell you: Love your enemies and pray for those who persecute you, that you may be children of your father in heaven." (Matthew 5:43-45).
"Listen: how many of us can listen to that without adding our own word of explanation – taking into account all the terrorists and back-biters we have known?
"Friends, we take the words of Jesus and apply them in such a way as to fit our own preconceived beliefs and values – and this is the danger!
"When you pick and choose which teachings to emphasize; when you interpret Jesus' teaching in such a way as to support your own presuppositions – what you end up with is a Jesus of your own making.
OK: what's the answer?
"And a Jesus of your own making, however well intended, can never transform you into the image of Christ, and make you whole!
"So what, then, is the answer?"
"What we can do is to listen to Jesus more intently, and hear him more clearly.
"Read the gospels in their entirety, slowly, paying particular attention to the words of Jesus – not just the ones you are comfortable with – but all of them. Take them at face value, and give them equal weight.
"Listen to Jesus' words, then put them into practice, as the Holy Spirit enables you.
"Don't be surprised if they feel uncomfortable at first, if they don't fit – at least, not right away.
"The good news is, the more you listen, and apply them to your everyday life, the more you will feel comfortable, and (His words will) begin to shape the way you think and act. St Paul calls this: 'Putting on Christ.'
"These virtues do not come naturally – you have to work at it.
"In conclusion: When Jesus speaks, listen to Him. Take his teachings to heart. Apply them in such a way as to put on Christ. As you do, you'll become more like Him.
"You'll be transformed into His likeness. So that when others see you, they'll see a reflection of Him, and be drawn closer to His grace and love."
The Secretary General's NZ itinerary
Tomorrow Archbishop Josiah will fly to Wellington, where he attend the bicultural meeting of the church to be held in the Wellington airport conference centre. He will then spend the evening with Archbishop Winston Halapua.
On Tuesday, he will call at the Anglican Missions Board offices, then move on to an all-day 'National Dialogue for Christian Unity' meeting in Wellington.
On Wednesday, he will visit Parliament with Archbishop Philip – who is leading the Parliamentary prayer that morning – then return to Auckland to spend time with staff and students at St John's College, before meeting in the afternoon with members of the Progressive Network, and then the Women's Network.
That evening, he will attend the Sir Paul Reeves Memorial Lecture at Massey University's Albany campus with Archbishop Philip.
On Thursday, he will travel to Nelson to spend time with Bishop Richard Ellena, and on Friday afternoon he will fly to Wellington, and link up again with Archbishop Philip, who is addressing the AFFIRM conference in Waikanae that evening.
He will return to Auckland with Archbishop Philip on Saturday morning, and take part in a communications editorial group meeting that morning – before flying out to London that afternoon.