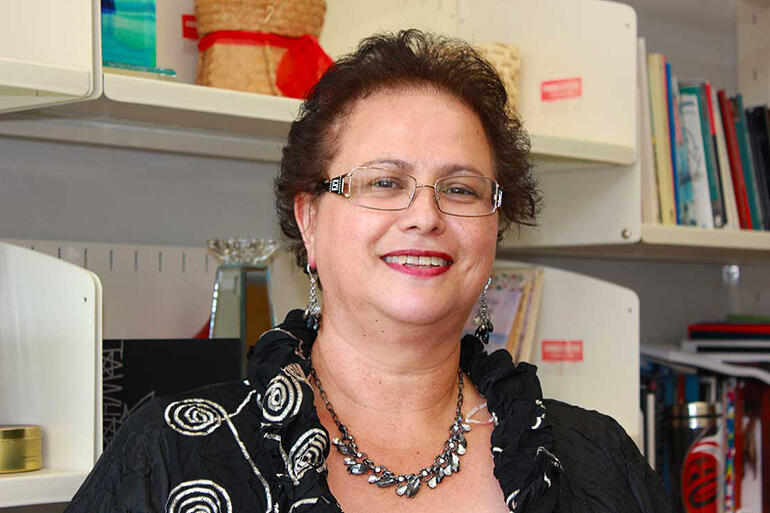 The church's new way of tackling social justice work is a radical departure from the old – which hinged on the efforts of one person, the social justice commissioner.
This new way broadens the social justice responsibility out to a range of seven "portfolio groups[1]" – each focused on one concern, such as homelessness, the wellbeing of rangatahi, or the need for prison reform – each filled by expert volunteers in that field.
Dr Lily George, who has Ngāpuhi, Ngāti Hine and Ngātiwai ties, is one of those experts.
She's stuck her hand up for two of the groups: one looking at issues confronting rangatahi[2], and the other taking a critical view of crime and punishment[3] in New Zealand – and she's well placed to bring real insights to both.
In March this year Dr George became the Research and Innovation Manager for the Western Institute of Technology in Taranaki – having studied, tutored, lectured and researched at Massey University's Albany campus for the previous 22 years.
She gained her doctorate in social anthropology in 2010 then explored, in depth, the experience of a dozen Māori women who had served time in prison.
Her findings – around the need to recognise the trauma all these women had suffered in their formative years and through much of their lifetimes – contributed to new approaches to rehabilitation by the Corrections Department.
Then, in 2014, in the wake of a spate of youth suicides in Northland[4], and continuing high youth suicide rates throughout the motu, she got involved in two Māori youth suicide prevention projects[5].
She told Lloyd Ashton that these projects have been challenging and rewarding – and what she learned took her back to forks in the road of her own life.
Tena koe, Lily: In terms of your work on youth suicide… have you been able to draw on your own growing up and reflect on what worked for you?
Definitely.
I grew up in a very small rural village, in the bush, in the Bay of Islands.
There was poverty, and several different kinds of abuse going on around my family, and within my family.
And certainly, as a teenager, at one stage or another, I saw suicide as an option.
But I've been very fortunate – in that at significant points in my life, I've had someone step forward and say: 'I believe in you.'
That started when I was four, with the local teacher recognising that I was ready for school.
Then that teacher told my mum that I wasn't being challenged enough in his school.
I needed more competition, he said. I needed to be in a bigger school.
So I went to Opua School for Forms 1 and 2. And there was also a teacher there who helped me to see that I had some talent, and who supported me.
College was difficult – but I got through. I left home at 16, and moved to Auckland, to a job in a hospital laundry.
But the matron there recognised that I could do better, and she gave me a job as a nurse aide.
Later, I ended up working in the lab of the hospital back home.
I only decided to go to university when my marriage broke up.
But even then, I only went to do a year-long social work certificate course.
I still didn't have a clear sense of who I was, and what I was capable of.
But my lecturers encouraged me to do a degree. Then to do postgrad study and then a doctorate.
In my career too, I've had people step forward and say to me: 'Look: I believe in you. You should do this.'
So that encouragement has been really important for me.
Some of the young people I work with now are on trajectories to prison. Others will continue in the struggles of their parents and grandparents.
That's the reality.
And if we don't step in, and support them while they're young, they've got this life of struggle ahead of them.
I can see the potential that they have.
But they don't know they have that potential, and will never realise it – unless they have someone who is willing to step forward for them, to encourage them, to stand beside them, and to walk with them.
What about the women who had served time in prison?
Same story there, too.
One of the major findings of that work, was seeing the untapped potential that those women had.
And the transformation that could be enabled for themselves, their families and their communities – if they had the right kind of support.
I got into that work because I was tutoring a whanau development paper at Massey University.
And one of the women who came along there had been in prison, but was now running a community programme. I'd never really thought about our people in prison before then.
But I really got to know her and thought: 'Wow. She's amazing.'
It was being able to see her ability.
And the potential she had for still more growing.
Why did you become involved with research into youth suicide?
I really wasn't intending to do that.
I wasn't even intending to work with youth.
But when we had this awful spike in rangatahi suicide in the North in 2012, I came to see the absolute necessity of this kind of work.
The statistics are awful.
But it wasn't just the terrible statistics.
What really hooked me into this was seeing the absolute potential of our young ones.
I realised, too, that what they need… is really quite simple.
They need to feel loved, to feel secure, and to have some purpose in life.
Because suicide is often about losing a sense of all of that. Losing a sense of self, and losing hope. And if you lose hope… then death can become a viable option.
I guess one of my hopes for this youth/rangatahi group is to raise awareness of issues facing our youth today.
But it's not just about raising awareness. It's about finding solutions.
And it's also about working with our rangatahi to develop those solutions, to help them realise their potential.
To do that we need to be able to understand where they are, and to understand the context that they're living in.
#
In recent years there's been a lot of money put into suicide prevention among our rangatahi.
But last year, there was a 33% increase in suicide completion in Northland.
So whatever we're doing, it's not working.[6]
We're still missing it, somehow.
I think one of the things that has to happen is that those of us who work in this area need to come together, and I think that's partly what these portfolio groups are about: greater collaboration.
But the other thing is recognition, especially in terms of Māori youth suicide, that this is not actually about suicide.
It's about poverty. It's about deprivation. It's about marginalisation.
And all those other wider issues that create the context within which our young ones see suicide as a viable option.
You hear politicians talking about suicide – and often they talk about it in terms of mental illness.
But it's much wider than that.
It's because of the circumstances of these rangatahi, and the context they find themselves in.
They lose hope. If you grow up with no faith in education, you don't see that you're going to get a good job, or be able to have the good things in life, you lose hope ­– and then what is there to live for?
How did these Anglican portfolio groups come onto your radar?
I know Paul Reynolds (who is both the full time Social Justice Kaihautu for Te Hui Amorangi ki te Upoko o te Ika, and co-ordinator of Anglican Social Justice).
Paul used to be a Maori health researcher, and that's the field that I research in. We know each other through those networks, and he also comes from the north.
But to me, part of being a Māori person who has developed the kinds of skills I have...
You have to give back.
You have to be willing to put those skills into service for your communities.
That's an obligation that we have.
Thank you, Lily. Before we close, is there anything else you'd like to say about your hopes for what these portfolio groups can achieve?
I'm really hopeful that they can achieve great things.
There are some interesting people on the groups, from a wide variety of backgrounds, and strengths.
I think this is an amazing initiative that the church has put together, and there's certainly potential to make a true impact.
#
Footnotes:
[1] The seven groups will focus on the following subjects: Refugees; Crime and Punishment; Youth/Rangatahi; The Environment; Employment; Housing, and Women and Children.
[2] Other members of this youth/rangatahi group include: Phoenix Hepi, who does suicide prevention work in Wellington (for Speak Out and Lifeline Aotearoa); Zion Tauamiti, who works for the Christchurch health and social services provider He Waka Tapu, and who is on a national Maori youth suicide prevention taskforce; Ben Birks Ang, from the New Zealand Drug Foundation, and Odyssey Auckland; Rev Tric Malcolm, the Wellington City Missioner; Bardia Matiu, who is the General Manager-Operations of Te Whare Ruruhau o Meri; Jamie Downes, who does suicide prevention work in Taumarunui; and Leon Creen and Levi Torrey, who are rangatahi leaders with Te Hui Amorangi ki te Upoko o te Ika.
[3] The members of the Crime and Punishment group include Rev Jolyon White, who is the Director of Anglican Advocacy, the social justice unit of the Diocese of Christchurch; Professor Tracey McIntosh, who is a sociology professor at Auckland; Kim Workman, a former head of the Corrections Department and advocate for prison reform; Robert Moore, who is a Social Justice Enabler for Waikato's Anglican Action; Inspector Cliff Brown, the Maori Responsiveness Manager for the Central District police; Rev Brian Dawson, longtime supporter of the Prisoners' Aid & Rehabilitation Trust, and Wellington City Councillor – and Gilbert Taurua, from the NZ Drug Foundation.
[4] In 2012, 19 young Northlanders took their own lives, with one aged just 10. In fact, 2012 was a particularly grim year in New Zealand – with 144 youths taking their lives. Maori youth suicide rates are almost three times higher than non-Maori rates.
[5] These projects were funded by Ngātiwai Education – Dr George was working with them in 2014 to boost their research capability.
[6] Last year, 130 young New Zealanders killed themselves. Our teenage suicide rate (for youngsters aged 15 to 19) is the worst in the developed world, and our youth suicide rate (for people aged 25 and under) is the second worst.