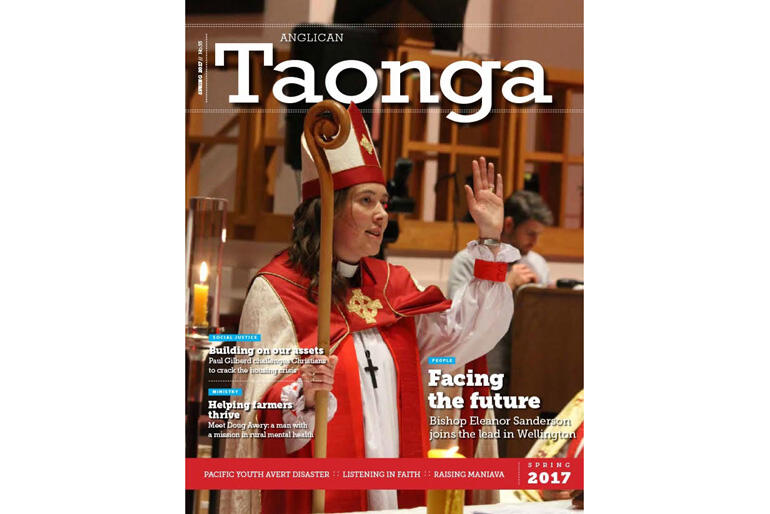 The Taonga magazine Spring 2017 issue opens with a welcome to three new bishops in Dunedin, Tonga and Fiji, before we take a close-up look at the ministry and vision of Wellington's new Assistant Bishop, the Rt Rev Dr Eleanor Sanderson.
Next we follow up on two Pacific stories that show our first steps in this Church's work preparing communities to withstand extreme weather events.
We head to Tonga where a group of young leaders have upskilled themselves to work with local communities, helping them to become storm-ready before disaster strikes.
Next, we revisit Fiji's village of Maniava to hear more of its story of post-cyclone renewal.
Housing
Then we go deep into the housing crisis with Paul Gilberd from the Housing Foundation, who wants Christians to make our mark on building a decent future for Kiwi families.
Rural mental health
We meet Doug Avery, a rising star in rural resilience training, whose pastoral insights are spreading hope through farming communities.
Spirituality
Rev Dr Max Whitaker takes us on a journey into unlikely realms of the Spirit and Adrienne Thompson unpacks the divine dimensions of hospitality.
Dr Katie Marcar delves into St Paul's first Epistle to Peter, to ask questions of nationality and identity.
Mission in parish life
Rev Dr Lynne Baab vouches for the power of listening in sharing our faith with others and Rev Dr Joe McGarry looks to Bonhoeffer for how preaching must reveal the living Word.
In our regular columns Jacolize Becker introduces a sporting approach to family ministry and Phillip Donnell asks why so many politicians are stuck in the rut of 'economic growth.' John Bluck reviews 'Dunkirk' and Imogen de la Bere searches geopolitics for Jesus.
We also review new books, meet a group empowering young women in India, and catch up with a Kiwi deacon taking on global leadership.
To set up new Taonga magazine subscriptions, make subs changes or to order extra copies of the magazine for your church or Anglican organisation, please contact: Taonga Distribution Manager Aleshia Lawson taongadistribution@gmail.com
For proposed books for review or article suggestions (on issues of interest across the Province), please contact Taonga editor Julanne Clarke-Morris julanneclarkemorris@gmail.com