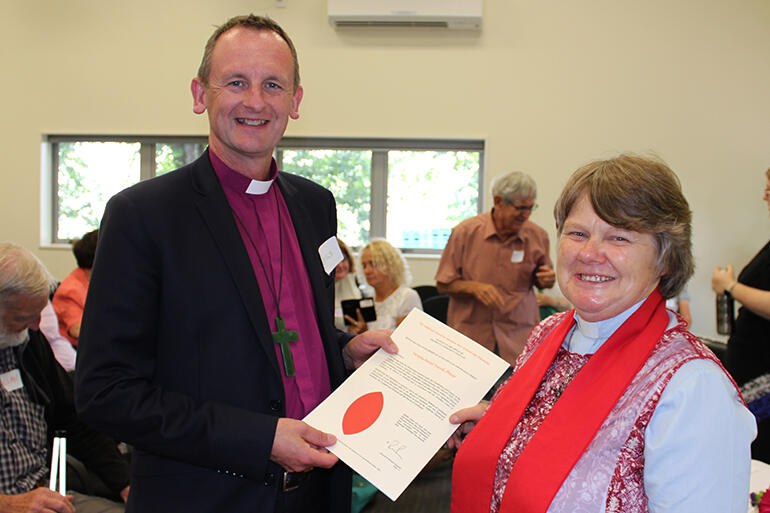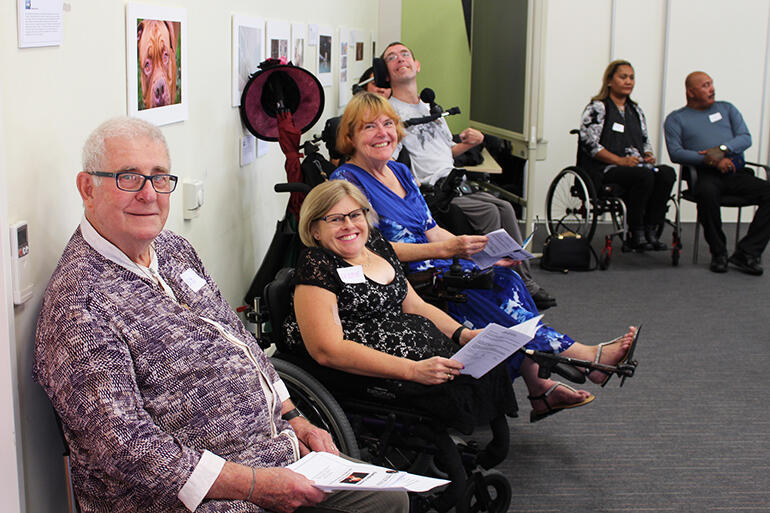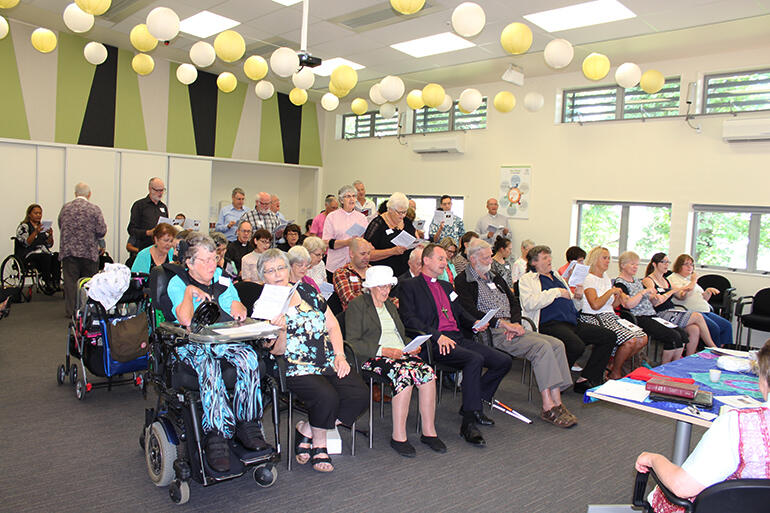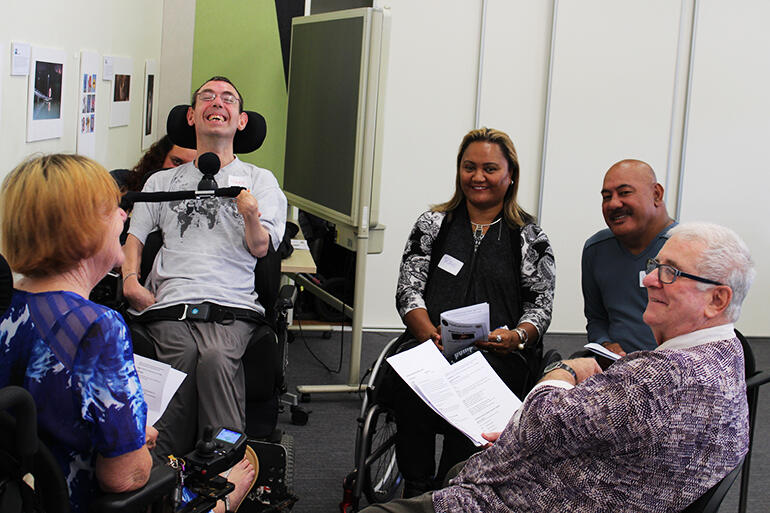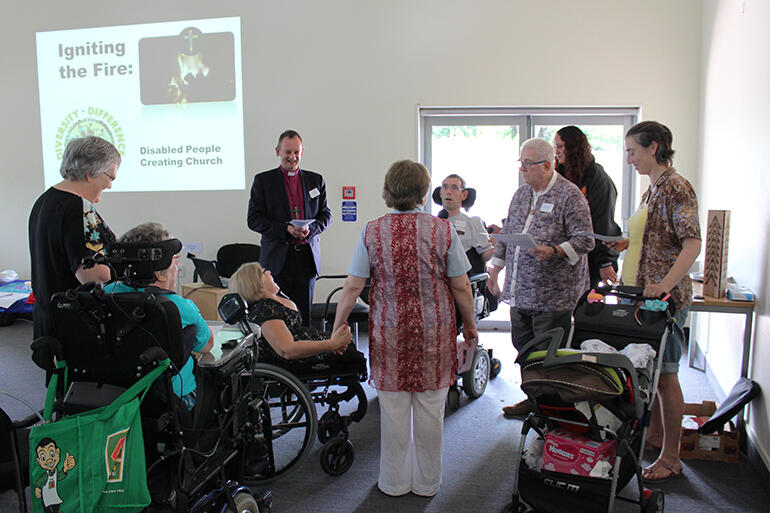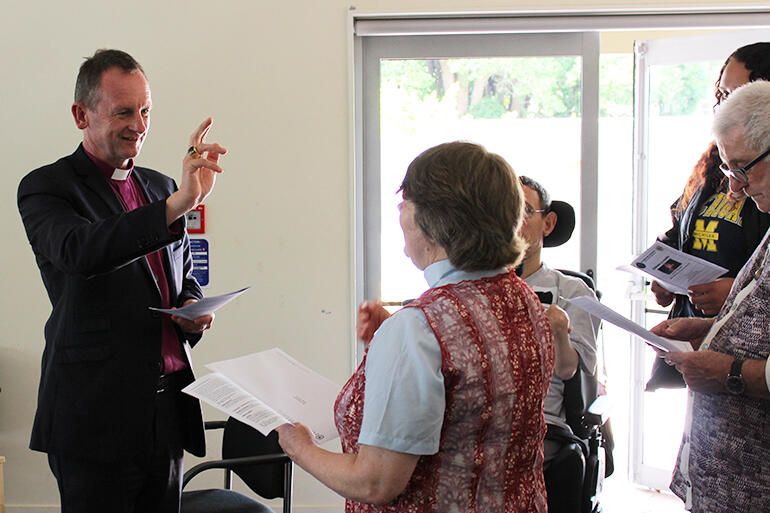 One in four Kiwis are disabled – they must navigate through life with physical, intellectual, sight, hearing, or psychological impairment[1].
It stands to reason, then, that disabled Christians might want to get together from time to time to explore their faith experiences and insights, and to strategize about their efforts to encourage mainstream churches to become fully inclusive of disabled people.
Earlier this month, Auckland's Disability Faith Community – which has been meeting for 18 months – celebrated a landmark in their life together.
They invited Bishop Ross Bay to a 'Celebration of Ministry' in which he licensed the Rev Vicki Terrell as a disability community chaplain in the Auckland Diocese[2].
Vicki, who was ordained to the priesthood in 2009, was born into the Anglican Church, and born into disability.
She's been active in the church and the disability communities here in Auckland and Wellington. Since the mid-1990s, she's also been involved with faith and disability issues internationally[3].
More than 70 supporters gathered for the service, which was held at the CCS Disability Action centre in Royal Oak on Sunday, February 19, and which began with the hymn: "Sing a new church into being".
The readings included passages from Psalm 139:
I praise you, for I am fearfully and wonderfully made…
And Matthew 5 – which, in the Message version, includes this verse:
If I make you light-bearers, you don't think I'm going to hide you under a bucket, do you?
Bishop Ross said that in recent years, real progress had been made in terms of the physical access to churches.
The challenge now, he said, was for the people in those churches to learn to relate well with people with disability.
The gathering heard international messages of support – including one from the Rev Andy Calder, who is a disability inclusion advocate from the Uniting Church of Australia.
The church leads an "illusory existence", he said, when it talks up welcome and hospitality – yet effectively marginalises disabled people.
Murray Wills, who is a council member of the Disability, Spirituality and Faith Network of Aotearoa New Zealand, and who travelled up from Wellington for the day, spoke later of the "joyous atmosphere" of the occasion.
"There was a sense of the 'gathering up' of Vicki," he said, "and a sense that we have been waiting for this and that God's hand is at work here."
Bishop Ross's licensing of Vicki gives "a new sense of credibility" to the Disability Faith Community, he said, and opened new doors for its ministry.
#
Footnotes:
[1] Source: 2013 New Zealand Disability Surveyconducted by Statistics New Zealand.
[2] While the diocese 'claims' Vicki as an Anglican priest, Bishop Ross recognises that the Disability Faith community is an ecumenical venture, which is free to develop its own life and witness to the church and the disability community.
[3] Through EDAN, for instance – the WCC's Ecumenical Disability Advocate Network.