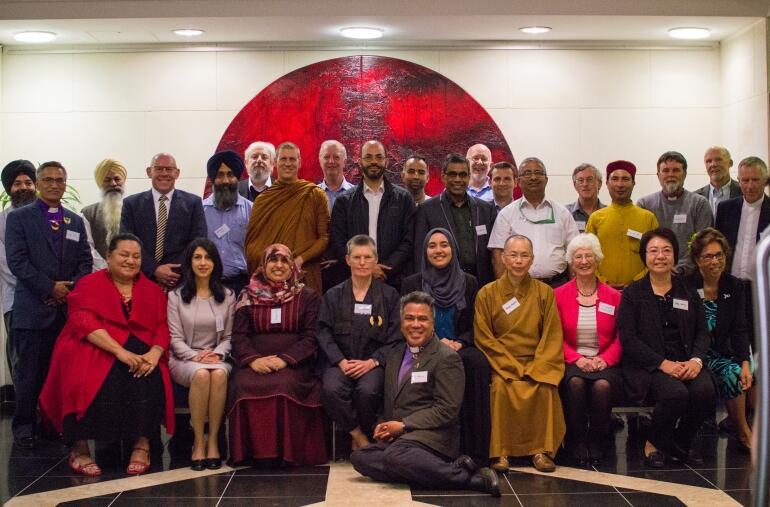 Leaders of New Zealand's Hindu, Sikh, Muslim, Baha'i, Buddhist, Jewish, Latter Day Saints, Ratana, Methodist Catholic and Anglican communities (represented by Archbishop Philip Richardson) gathered in Auckland last week in an all-day meeting hosted by the Religious Diversity Centre.
In her opening remarks, Jocelyn Armstrong, the Diversity Centre Trust Chairperson, told the gathering their meeting "was a powerful symbol of interreligious relations, and of the accepting, inclusive and dynamic society we all desire – rooted in respectful relationships that do not blur the distinctiveness of each specific religious tradition."
In the course of the day, the leaders discussed a number of common concerns, and they identified four issues which, according to a press statement they later issued, "need urgent action".
These include:
The growing levels of inequality and poverty in New Zealand;
Increased training for school teachers so they feel confident to deliver religious diversity education in their classrooms;
Recognising the climate crisis as an issue which impacts "everyone on the planet";
Recognising the plight of asylum seekers marooned on Manus Island and Nauru. The leaders support the Government's offer to relocate 150 refugees to New Zealand, and will mobilise their communities to help as needed.
The leaders are already working within their own faith communities to make progress on these concerns, says Jocelyn, but they also urge "wider collective action and advocacy."
Catholic Cardinal John Dew raised concerns at the gathering about the state of teaching of religion and religions in public schools – and in the wake of last Wednesday's meeting, Jocelyn expects a small working group to be formed to consider this issue, and to recommend a course of action to the full group, which will most likely meet again next March.
"We would like the skills and knowledge necessary for the teaching of religious diversity to be part of normal teacher training," she says.
"And the Religious Diversity Centre is prepared to do professional training with teachers."
Footnote: The Religious Diversity Centre is, in fact, a virtual centre, which seeks to operate on a national level. It fosters research, and provides education and professional training in the religious diversity space, and seeks to bring different faith groups together in dialogue and action.
The RDC was launched in Parliament in March last year by former Prime Minister Helen Clark, who said then that developing understanding and tolerance between faiths plays "a vital part in maintaining peace and harmony within and between societies." She is the RDC's patron.
The RDC has an office in Otago University House, 385 Queen St, and that's where last Wednesday's meeting was held.