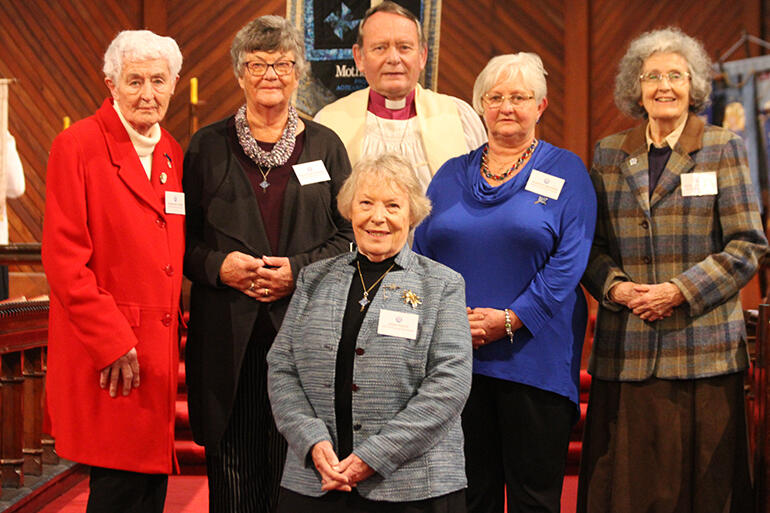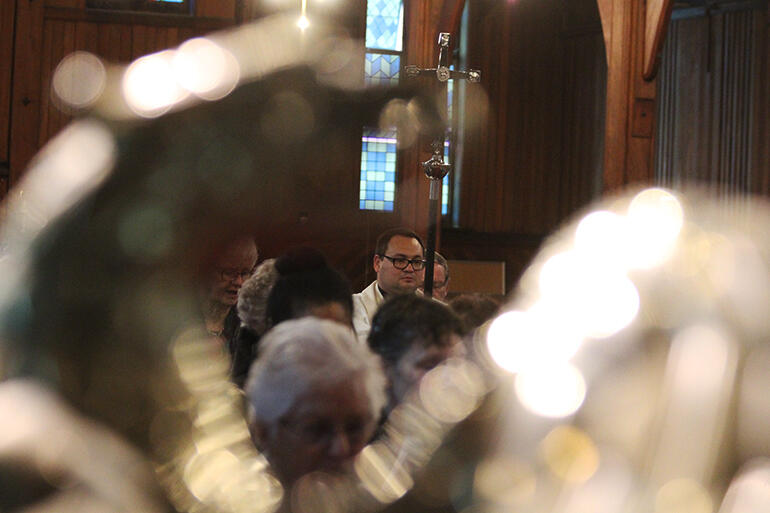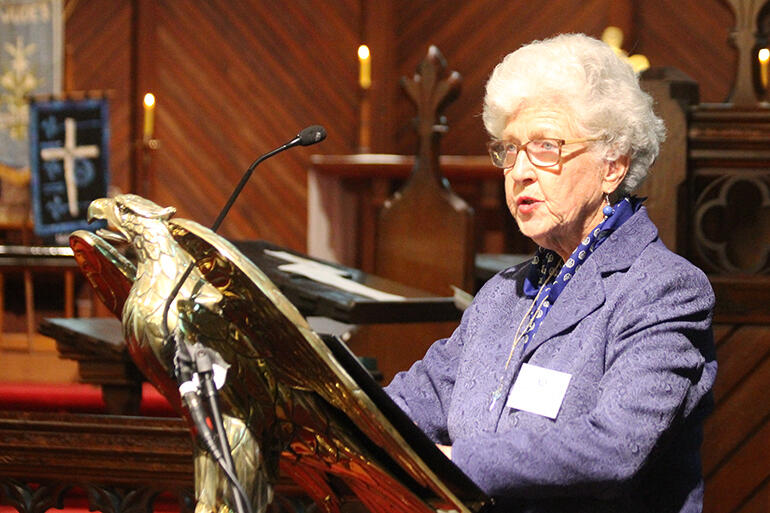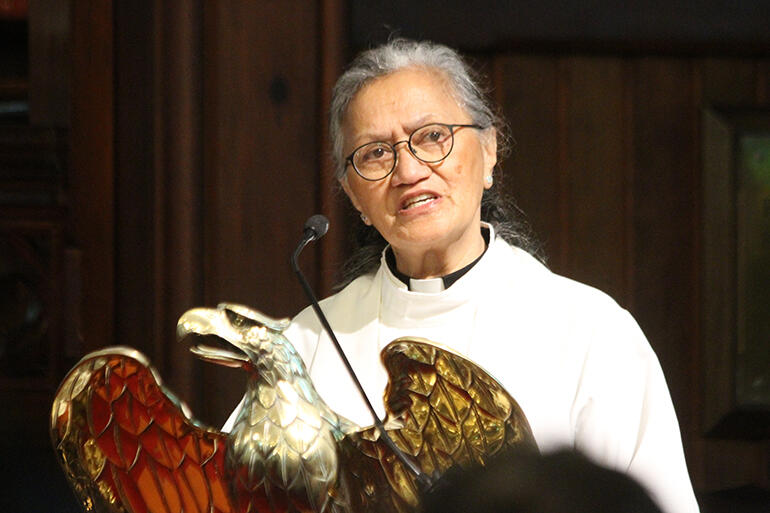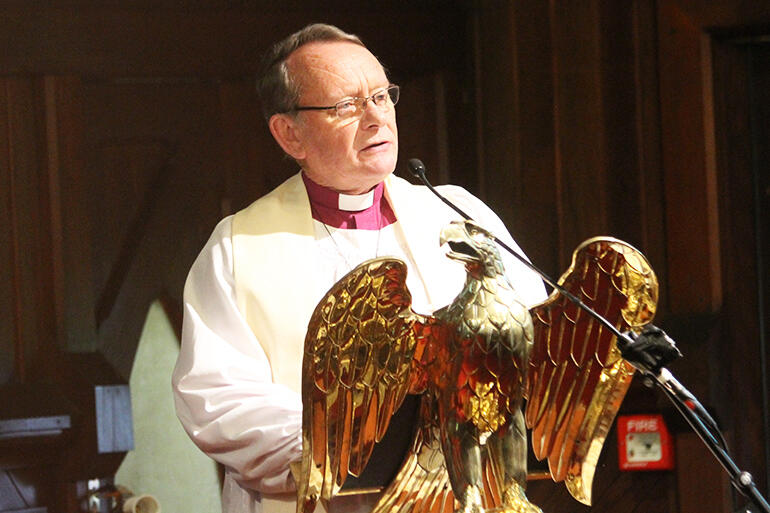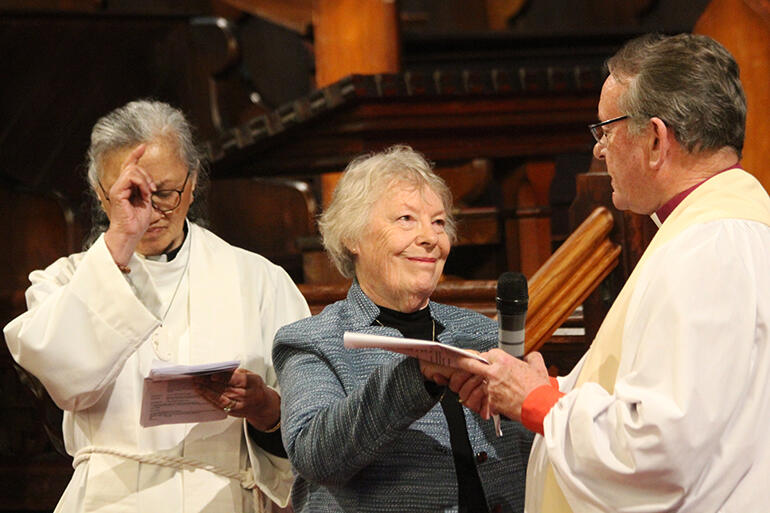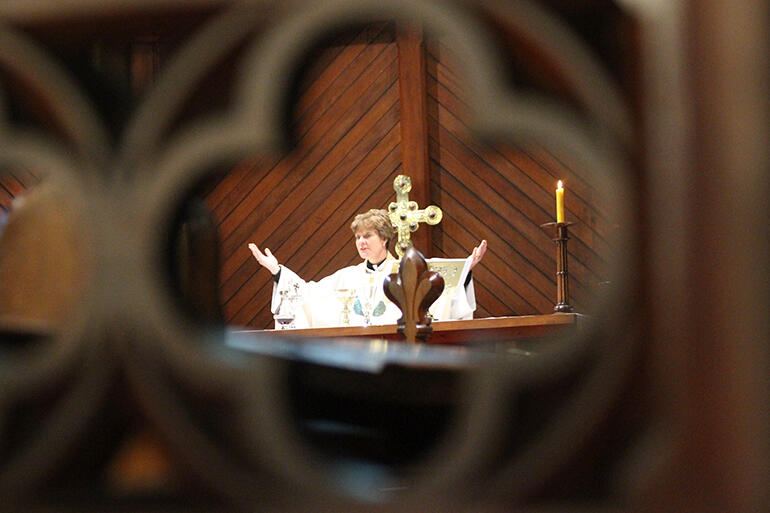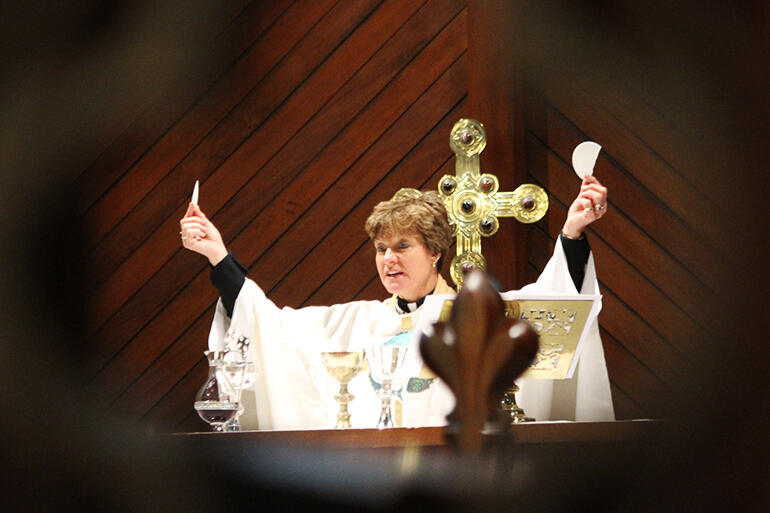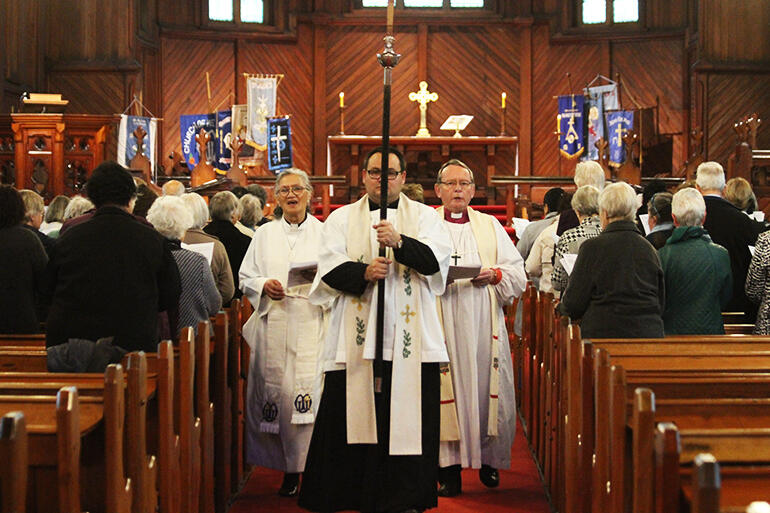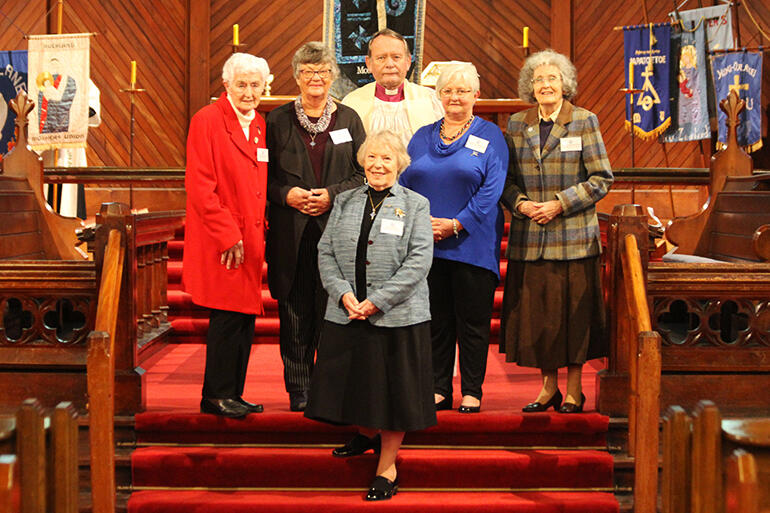 On a day when the clouds hung low over Auckland, and you had to hop past the puddles, about 75 well-wishers splashed their way into St Mary's-in-Holy Trinity Cathedral to witness the commissioning of Joan Neild as the new President of the Mothers' Union for the province of Aotearoa, New Zealand and Polynesia.
The commissioning was held on the day the worldwide Anglican Church recognises Mary Sumner, who founded the Mothers' Union in England in 1876.
The movement she founded now has now taken root in 83 countries, and four million Anglican women belong to "a worldwide society within the church, with special concern for all that strengthens and preserves marriage and Christian family life.[1]"
Archbishop Emeritus John Paterson was also commissioned as the chaplain to the provincial president – and he paid tribute to the outgoing Provincial President, Rev Iritana Hankins, and the outgoing Provincial Secretary, Mrs Margaret Wilson[2], who has been succeeded by Mrs Janice Cheeseman.
A life well-lived
He also gave a brief survey of Mary Sumner's life.
She was born in 1828 near Manchester, and when she was just 20, she married George Sumner, who was the vicar of a country parish near Winchester.
For the first 30 of her wedded years, Mary focused on raising their children, and supporting George's ministry.
Things changed, though, in 1876, when their eldest daughter gave birth to her first baby.
"This spurred Mary into action," said Archbishop John. "She recalled her own feeling of inadequacy as a young mother faced with the enormous responsibilities of nurturing a new life."
She also believed, he said, "that women from every social class needed to understand that motherhood was a profession and be equipped to perform it."
Mary had to overcome serious stage fright to get her movement off the ground.
Having called women from across her parish to a meeting in the Rectory she was too nervous to speak, and had to get George to stand in for her.
But she mastered her stage fright, said Archbishop John, and began to share her vision.
Of no relevance to this gathering...
"In 1885 Bishop Ernest Wilberforce, the Bishop of Newcastle, organised the Portsmouth Church Congress – a gathering of up to 1000 'poor and anxious women'[3]
But this time it was the Bishop's turn to take fright.
"Faced with all those women," said Archbishop John, "the Bishop was overcome with the notion that he had little to say of any relevance to these women – so he called on Mary Sumner to speak.
"Mary painted a picture of the low moral standards in Victorian England, and then asked what could be done to improve the national character.
"Her answer was that the power for change lay in the hands of the mothers. If women united in prayer and committed themselves to a Christian life, the nation would be transformed.
"The meeting responded to her passion and conviction with a rousing ovation.
"And on that wave of public enthusiasm the Bishop of Winchester, who was also present, decided to make Mothers' Union a diocesan organisation.
"And the rest, as they say, is history."
A rich Mothers' Union genealogy
Joan Neild herself has a rich Mothers' Union whakapapa. Her dad (Reginald Eades) was ordained to the Anglican priesthood when Joan was a teenager, and both her mum and grandmother were Mothers' Union stalwarts.
Joan and her husband Richard lived in Wellington and Auckland before retiring to Orewa, where they belong to St Chad's, Orewa.
Joan plunged into Mothers' Union life in Orewa, and was asked to join the MU Executive team as a Vice President. She later served as Auckland diocesan President.
Her dream, she says, is to see the Mothers' Union grow in stature and effectiveness – and to reclaim the impact it once had.
She says Mary Sumner "was a very wonderful woman, who was years before her time."
Long before the suffrage movement had caught the public's attention, says Joan, she was on to issues of gender equality. She organised men's meetings, where she told them plainly that parenting was a two-person job.
And she wasn't afraid to buck social norms. For example, at a time when unmarried mothers were condemned and cast out, she cared for her unwed niece and her son.
"She felt that the society of her time wasn't doing well," says Joan, "and it's the same today. We have all these children in CYFS care, and that's a tragedy.
"We just want to grow our organisation so that we can help more people see the importance of family life. And ensuring the safety and care of children – especially in a spiritual way – that's so needed today."
The founder's personal prayer
This morning's service ended with the congregation praying, as they have done so many times before, Mary Sumner's personal prayer:
All this day, O Lord,
Let me touch as many lives as possible for thee;
And every life I touch, do thou by thy spirit quicken,
Whether through the word I speak,
The prayer I breathe,
Or the life I live.
Amen.
[1] From today's liturgy.
[2] Margaret Wilson had also served as the first Provincial President of Mothers' Union.
[3] Anxious, no doubt, as to whether their children would starve.