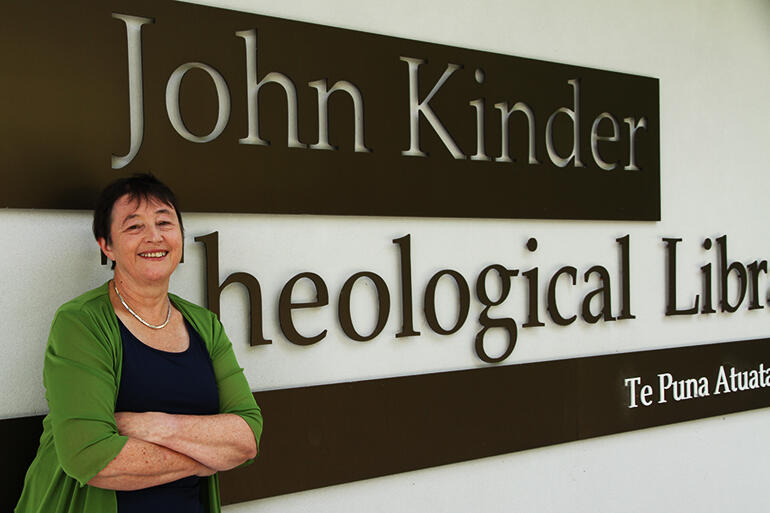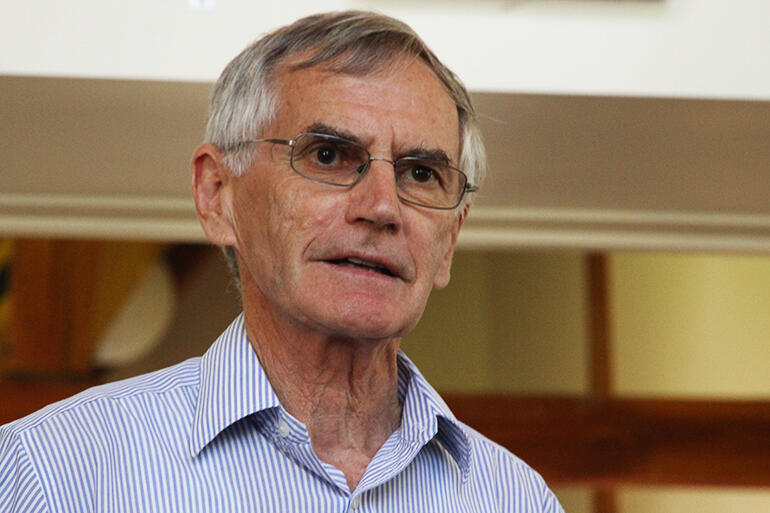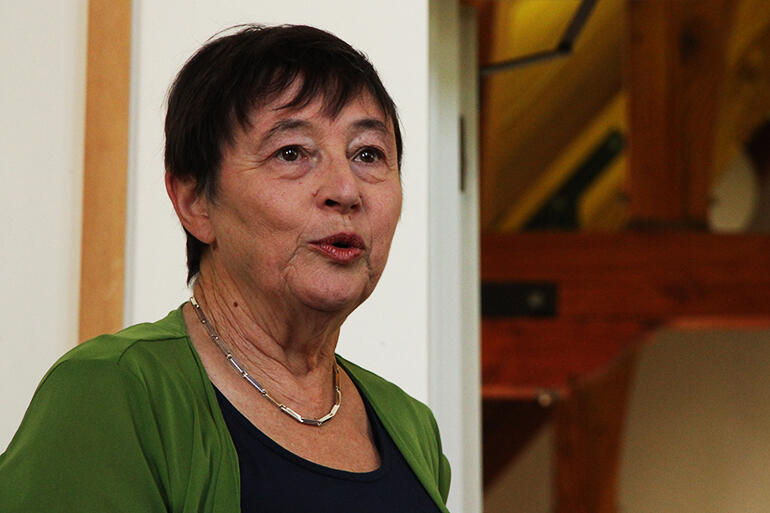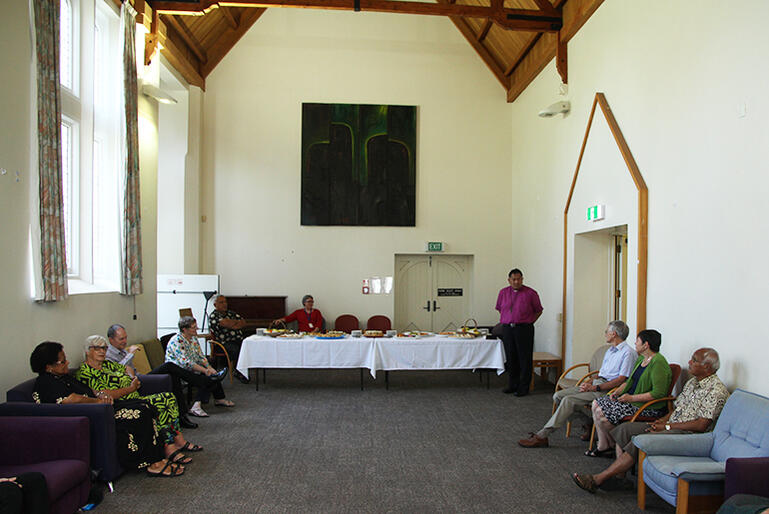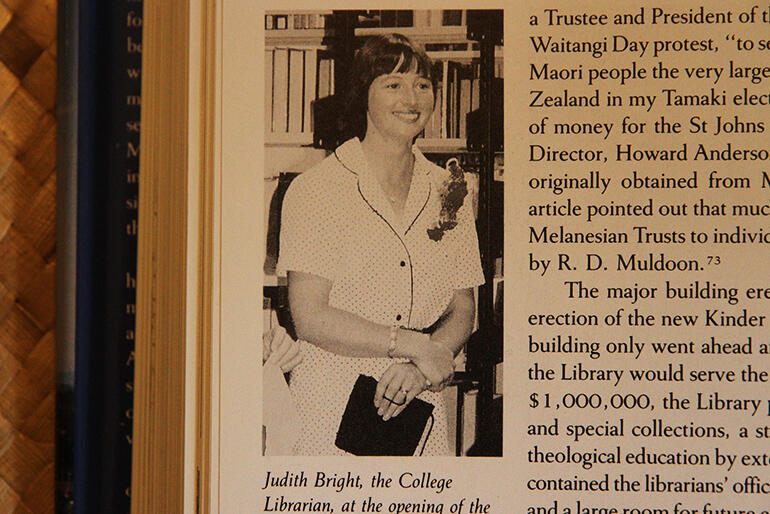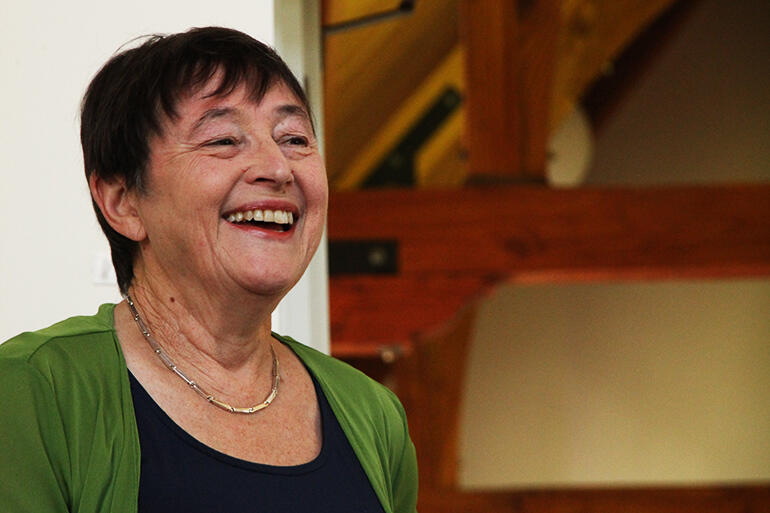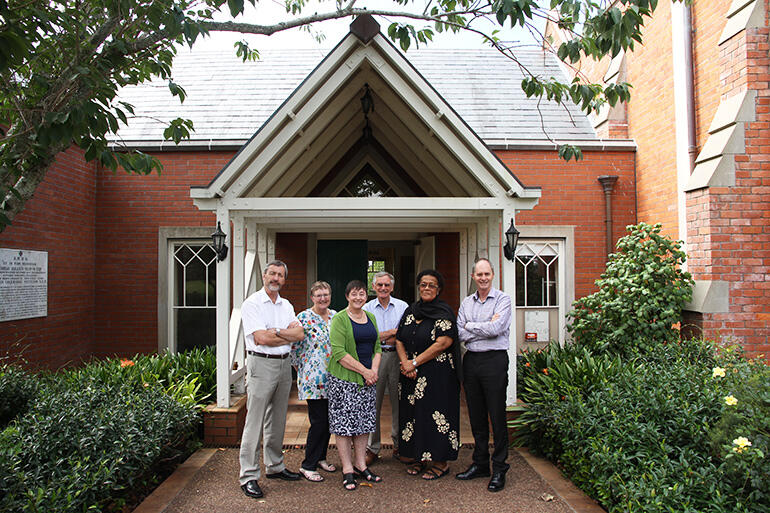 The Rev Colin Brown is chuffed about a reference he once wrote.
He wrote that testimonial quite a while ago.
More than 40 years ago, in fact.
But Colin is happy that subsequent events have proven his endorsement correct.
Back in 1976, Colin was a lecturer in religious studies at the University of Canterbury.
Before that, he'd been a lecturer at St John's College in Auckland – and he'd heard that they were looking for a librarian.
So this one day he bumped into Richard Bright in the Canterbury university library. Richard, who was a newly married MA student, told Colin he'd just been interviewed for a job in Auckland.
At which point, Colin made a beeline for the library cataloguing room.
"Judith," he said: "I hear you're going to Auckland – St John's wants a librarian!"
Well, history shows that Judith Bright did indeed become the librarian at the Kinder Library – partly on the strength of the reference that Colin Brown gave her.
Now, Colin looks back on his advocacy of her with quiet, but deep satisfaction:
"Her achievements, and her long devotion to her task", he says, "are quite remarkable."
#
Compared with Judith, Dr Allan Davidson is a Johnny-come-lately.
The well-known church historian joined the college in 1982 – six years after Judith – and he stepped down in 2009, after a mere 27 years there.
But Allan's respect for Judith Bright's contribution is such that he and others arranged a small ceremony at the college on Tuesday afternoon to mark her 40 years of service.
"You've been one of the people who've held this place together," he told Judith.
"You have brought continuity," he said, "and you have a great deal of institutional knowledge."
When Judith signed on – she was the first full-time woman faculty member at the college – the old Kinder library, such as it was, was on a mezzanine floor in what is now the Patteson Centre.
Judith had an office in the adjoining brick building – which was in bad shape, with draughts gusting through failing brickwork, and which has since been demolished.
"One of your achievements," said Allan, "was helping design the library that we now enjoy. And then shifting the library from one building to the other."
He paid tribute to Judith's innovation – "for keeping the library up with each new wave of technology".
He also singled out her role in looking after the church's archives.
"The church had not been good in caring for its past," he told the gathering.
The new Kinder Library was designed to correct that – with ample, secure, temperature-controlled, fireproof rooms for the church's historical treasures.
Allan acknowledged too, the setting up of the Anglican Archives Committee in 1982. Judith was a foundation member of that committee, he said, and the church had then employed someone to hunt nationwide for missing archives.
"They found them under beds, in garages – and Judith then had the job of describing them, and putting them into the ordered safekeeping we have them in today."
She's not only done that for the college, he said, she'd "kept the memory" of trust boards and dioceses.
She'd made numerous visits to Suva, for example – where's she's dealt with the challenges that tropical climate and insects present – and he was personally indebted to Judith and the library.
He would not have been able to write Selwyn's Legacy (the history of St John's College) he said, without easy access to the abundant archival material kept at the Kinder.
"In so many ways I have been helped personally," he said, "and that's just indicative of the hundreds of people who have been helped: students; researchers, and staff."
He also acknowledged Judith's personal research:
"Some of you may have seen last week's Listener, and the claim made in an article there[1] that Bishop Selwyn was present during the raid at Rangiaowhiain 1864.
"I thought that was incorrect, and so on Sunday evening I sent Judith an email.
"And within a couple of hours, she was able to direct me to a digital copy of a letter written by Bishop Selwyn two days after that February 20, 1864 event, and held now in the Turnbull Library.
"In that letter Bishop Selwyn tells how he was in Te Awamutu, seven kilometres away, and wasn't present during the raid at Rangiaowhia – and that the violence that had happened there was 'horrid, unnecessary and fruitless...'
"Judith Bright knows more about Bishop Selwyn's correspondence," said Allan, "than anybody else in the world."
#
Judith then spoke herself:
She had been tempted to think she had remained too long, she said, when she realised that she remembered "practically every bishop in the country from the time when they were students here.
"You think: 'My goodness. We know what books you didn't return'."
Judith spoke of how her husband Richard had come north ahead of her in 1976 for his own work.
"I said to him: 'Please go out to the college and have a look for me. Find out what I've applied for'.
"So Richard went to the office. He told the bursar his wife had applied for a position, and he just wanted to have a look around.
"Whereupon he was asked: 'Are you talking about the kitchenhand job?'
Being the first woman on the faculty had its moments, she said.
"Having no budget, having to ask the bursar for every single pencil that I needed, being asked in my first few days: 'How long did I think I'd be staying? Would I be having a baby quite soon?' Would I, in other words, be wasting their time?"
But those early irritations, she said, had paled in the light of the rewards that had followed.
"It's been a very rich life here," Judith told the gathering. "You get to the point where it's so much part of you that it's very hard to look for challenges elsewhere."
In fact, she said, it was the continuing challenges at the Kinder that had kept her interested.
She was privileged, she said, to have seen the Kinder grow from "from being a small library in this room to becoming a national resource."
"I think there are opportunities to develop further still – and I hope I can do this work for a lot longer."
Footnote: In 2007, Judith was elected a 'Fellow of the Library and Information Association of New Zealand Aotearoa'.
And in 2015, she was made an Honorary Life Member Australian & New Zealand Theological Library Association – in part, because she'd served as their president in 2001 and 2002.
[1] Vincent O'Malley, "Inglorious Dastards", New Zealand Listener, 25 February 2017, pp25-30.