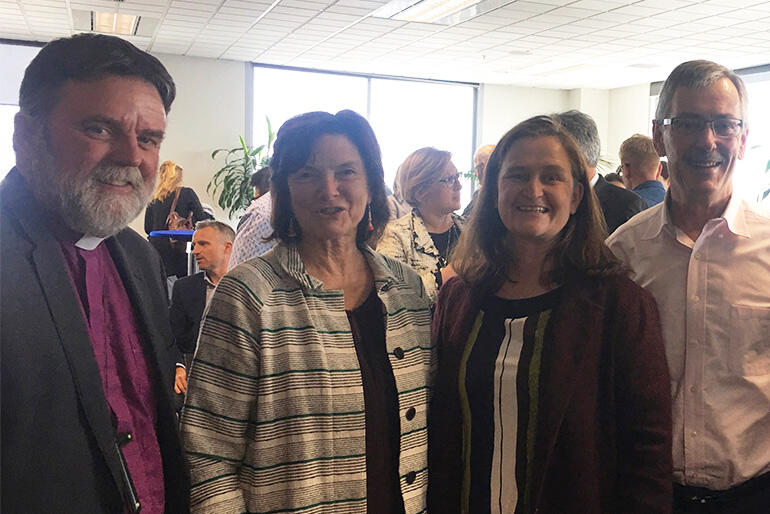 There's an openness, at the highest levels, to consider what the church has to say about climate change, and how New Zealand can best move toward a sustainable energy future.
That's one lesson that Archbishop Philip Richardson took from the launch at the Auckland University of Technology last week of a report on 'Climate Finance'[1], which is designed to help investors, the Government, the finance industry and philanthropic and faith communities spot ways to invest in a sustainable future.
James Shaw MP, the Minister for Climate Change Issues, launched that report and he invited Archbishop Philip[2] to join him – as well as Karen Silk, who is a Westpac General Manager[3], and Dr David Hall, from AUT, who is a co-author of the report – to offer their perspectives on climate finance issues.
The panelists each spoke briefly to an audience of about 80 economists, financiers, academics, and thought leaders[4] who then took part in a free-flowing discussion.
"An ethical transaction"
In his opening remarks, Archbishop Philip said that every transaction involving money is inevitably "an ethical transaction".
"Whether that's the choice we make about what we take down from the supermarket shelf to put into our shopping trolleys, or how we choose to invest our retirement money... every financial transaction has an ethical component to it."
He went on to argue that "all finance – not just climate finance – has to consider the impact on the wellbeing of all people, and the impact on the environment."
"Those who are yet to come"
Archbishop Philip also spoke about "intergenerational equity."
He suggested that investors had to consider not only the wellbeing of present-day beneficiaries – but of "those who are yet to come.
"At one level," he said, "that's standard. But for iwi, and for groups like the churches, with a strong value base, that is of really high significance. We need to serve the future, in a way that ensures that the planet itself is in a fit state to hand on to the next generation."
He said that the Anglican Church was trying to address this.
"We're encouraging our trusts to divest from fossil fuel extraction industries[5] – and we are starting to explore what reinvestment in sustainable energy solutions is possible. We are constantly wanting to see practical, tangible options."
He talked briefly about the challenges facing trustees of church funds, including the need to exercise "fiduciary responsibility" to maximise returns and minimise risks for beneficiaries.
The leadership challenge
Archbishop Philip then spoke of the need for a "changed culture amongst our trustees, in terms of being more pro-active about ethically sustainable investment."
And he spoke of "the leadership challenge" of encouraging a "change of hearts and minds."
"We need to have confidence that if we engage our community openly and transparently with these issues, that people will see their responsibility to the future."
Tackling the 'how-to's...
As he looks back, Archbishop Philip says he was personally encouraged by the day.
"Because what I experienced was these really, really, clever people thinking about the 'how-to's' – how do we shift the economic balance towards financial structures that enhance the planet, and enhance social wellbeing."
Archbishop Philip was impressed too, he says, because he sensed "a growing engagement across central government, local government, business and academic sectors… to engage in a reframing of the financial models."
And there was specific boost, too, for him as a churchman:
"I think the fact that the church was front and centre in that kind of environment was really encouraging – and we just need to grasp every opportunity that we get for that kind of engagement. "
#
Footnotes:
[1] Climate Finance landscape for Aotearoa New Zealand: A Preliminary Survey by Dr David Hall, and Sam Lindsay.
[2] Archbishop Philip had earlier met with Minister Shaw in Wellington to discuss issues around oil exploration off Taranaki.
[3] Karen Silk is Westpac's General Manager Commercial, Corporate and Institutional.
[4] The audience included Rod Oram, Julianne Hickey from Caritas, and Dr Betsann Martin from the Methodist Church, who were on hand to support and advise Archbishop Philip.
[5] As required by a 2014 General Synod resolution.