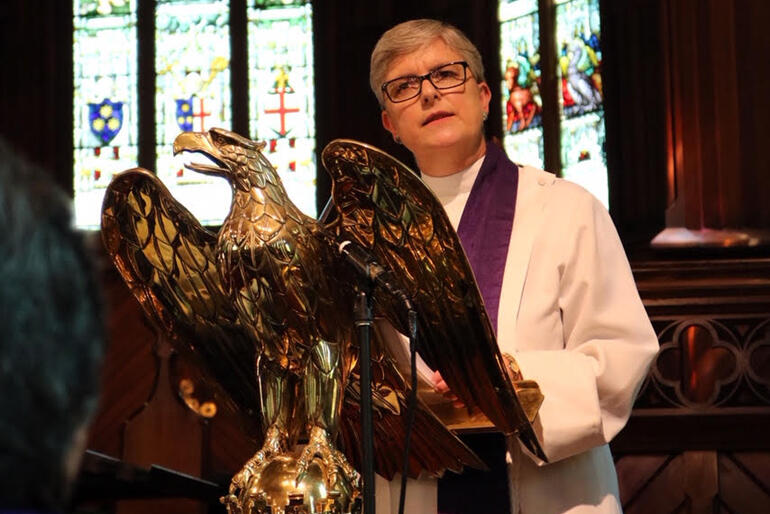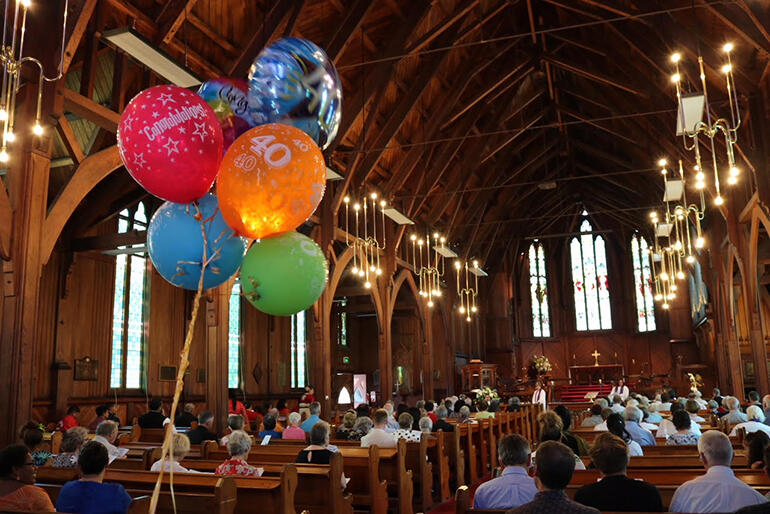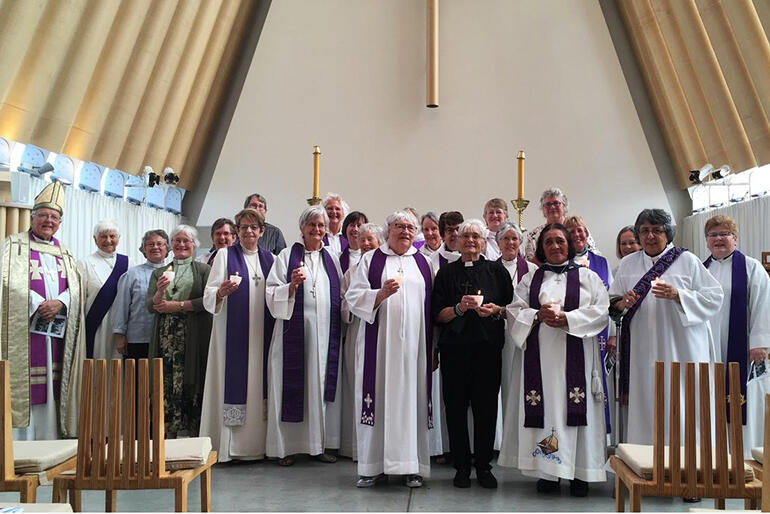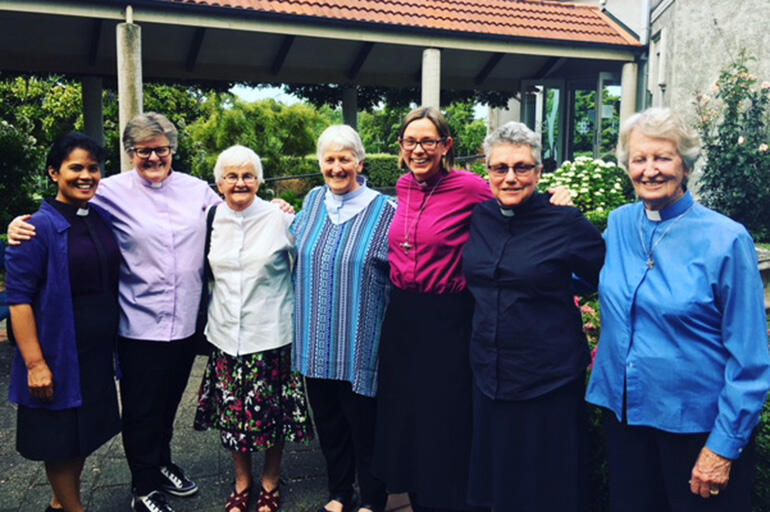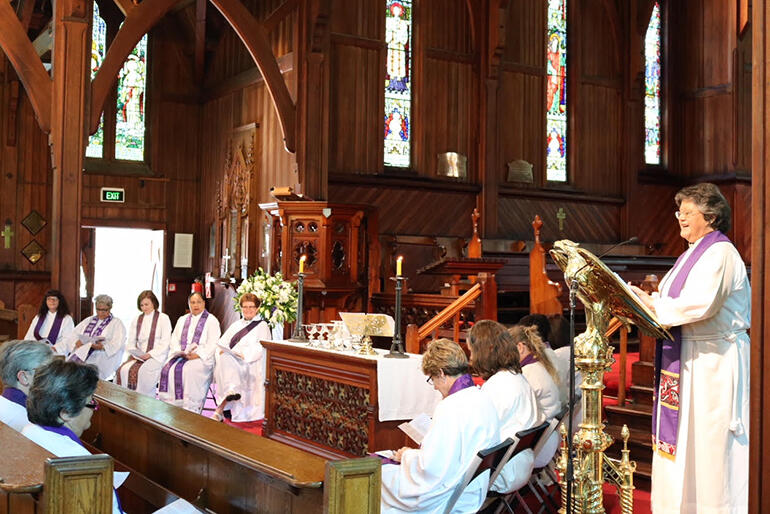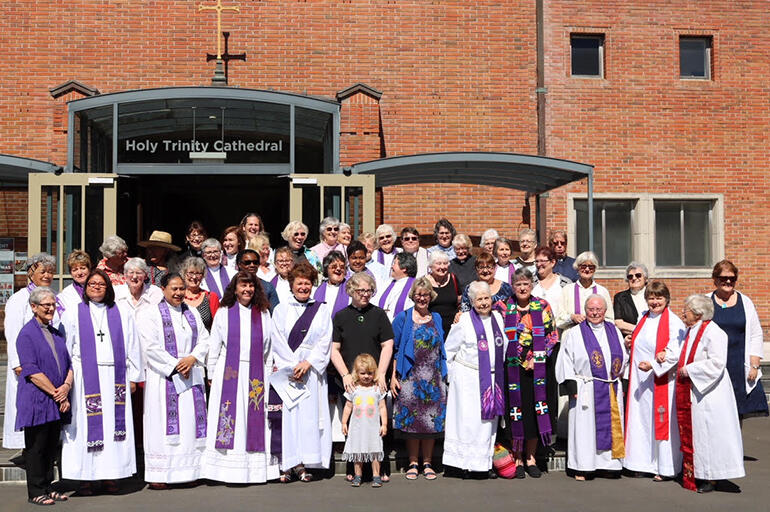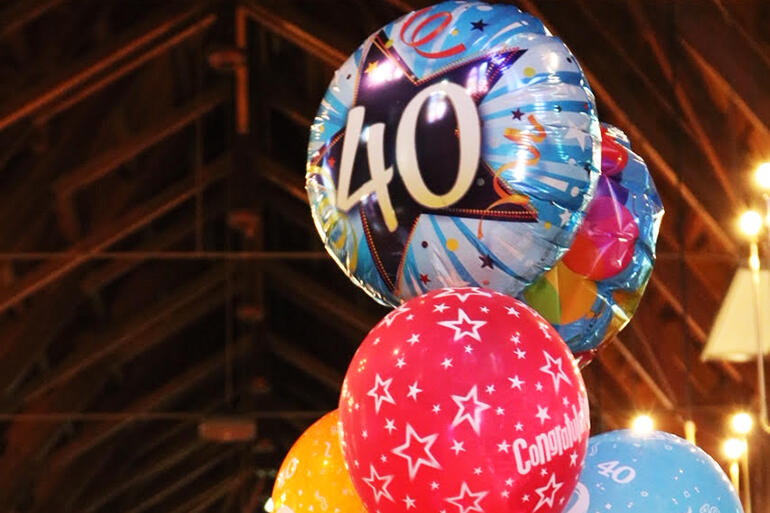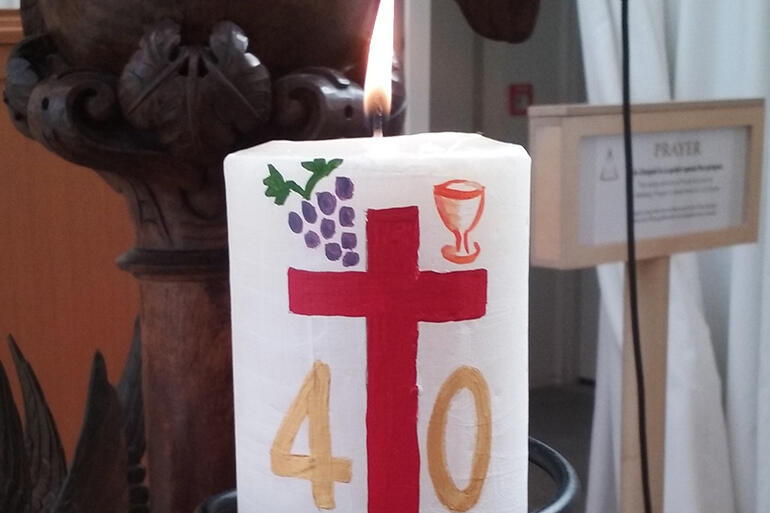 We're 40 years on, and we have 800-plus reasons to celebrate.
That's the equation that the Rev Jenny Quince outlined in St Mary's at Holy Trinity in Auckland last Sunday.
Forty years ago, on December 3 and 4, 1977, the first ordinations of women to priesthood in the church in these islands took place.
There were five women ordained that weekend[1] – Cherie Baker, Jean Brookes, Heather Brunton, Wendy Cranston and Rosemary Russell – and since then, according to Jenny's research, more than 800 women in this province have followed the trail they blazed, and made their vows as priests.
Including the Rev Puti Murray, who was ordained just five months after the "Famous Five" and who therefore became the first Anglican Maori woman priest[2].
Jenny shared those statistics, and other reflections, in a three tikanga service of celebration at St Mary's on the 40th anniversary of those first ordinations.
She shared as a Tikanga Maori priest – alongside the Rev Brenda Reed, who represented Tikanga Polynesia, and the Rev Helen Jacobi, from Tikanga Pakeha.
Suva to Southland
The events of 40 years ago were celebrated in churches from Suva to Southland, and in a number of special services, including one in Hamilton (led by Bishop Helen-Ann Hartley) and another in Christchurch.
The preacher in Christchurch was the Rev Dr Patricia Allan.
She charted a local history, in which she honoured Maude Royden, who was a suffragette and campaigner for the ordination of women, and who came out to Christchurch 95 years ago, and was the first woman to preach in the Cathedral in the Square.
Dr Allan also paid tribute to the women who came from England in the late 19th Century to pioneer deaconess training (and to plant the Community of the Sacred Name) – and to Deaconess Glenys Lewis, who came to Christchurch in 1960, and who later embarked on an 18-month tour of the country, during which she spoke to hundreds on the value of deaconess training.
Then, in the late 1960s, Glenys Lewis set up a deaconess training programme in Auckland – which was attended by some of the first women to be ordained as priests.
Dr Allan also quoted Carter Hayward[3], who was one of the first American women to be priested, who said that "women make progress over the dead bodies of their sisters."
Fiercely convinced...
"We are here today," said Dr Allan, "because (our pioneering sisters) were there, fiercely convinced that to be healthy and whole, society and the Christian church needed the full participation of women, as well as men."
Perhaps the last word, though, should go to Archdeacon Carole Hughes, who is the convenor for the Council for Anglican Women's Studies. She wrote a preface to the orders of service used in both Auckland and Christchurch, the final paragraph of which reads:
"A celebration is not an end. Our story, both as an inclusive and loving Church and as the people of God, is not over and is never-ending.
"So, as we celebrate this important and momentous occasion, may we keep our eyes and hearts on the future and the never-ending mission to love all, which is to love God – to share our stories of pain and suffering, to stand up for justice and care for the lost and the lonely, to share with people their sorrows and joys, to encourage the faithful, to pray for and help the sick, to be God in the world and to be united in love, as God's people."
Footnotes:
[1] Jean Brookes, Heather Brunton and Wendy Cranston were ordained in Auckland by Bishop Eric Gowing on Saturday, December 3, 1977 – while in Waiapu, Bishop Paul Reeves ordained Cherie Baker on the Saturday, and Rosemary Russell the following day.
[2] Puti Murray was ordained by Bishop Gowing. The first Maori woman priested by Te Pihopatanga o Aotearoa was the Rev Jane Hanna, who was ordained in 1987 in Manutuke by Bishop Whakahuihui Vercoe.
[3] Carter Hayward is a US theologian. She was one of the "The Philadelphia Eleven" – 11 women deacons ordained to the priesthood in July 29, 1974.