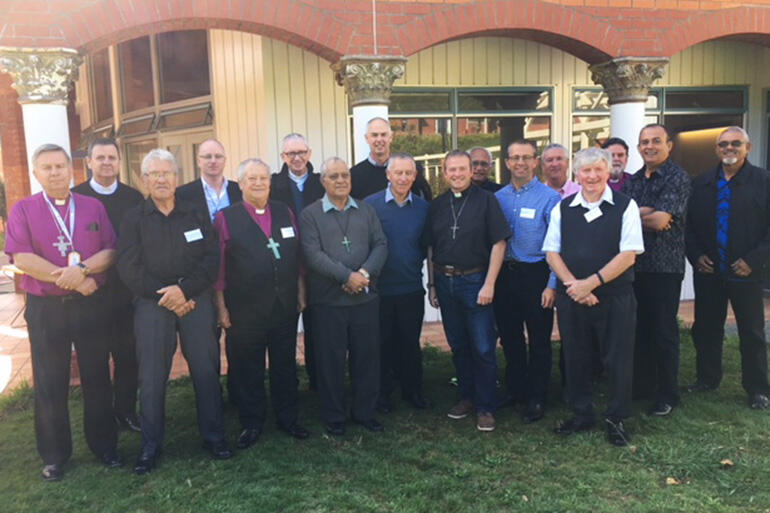 Anglican and Catholic Bishops met at the Home of Compassion in Island Bay this week, as part of their ongoing commitment to dialogue between the two Churches.
The bishops have previously met on numerous occasions and work together on issues including homelessness, poverty, trafficking and the environment.
They shared a meal and gathered in prayer on Tuesday evening, prior to Wednesday's meeting. Archbishop Sir David Moxon - lately the Archbishop of Canterbury's representative to the Holy See - joined the gathering to share reflections on Anglican-Roman Catholic Ecumenism. He spoke of ways of working together in the areas of justice, development and peacemaking.
The bishops looked at a new approach to Māori Pastoral Care in Aotearoa. As an example, they discussed the Wellington Catholic Archdiocese, where a new approach to Māori Pastoral Care is being implemented to enable Archdiocesan services to build Māori capability and capacity.
The bishops also considered the topic of secularization, tracing the history of secular thought, its philosophical and scientific underpinnings and some of results, both positive and negative, of such changes in mainly Western society.
Their shared discussions were fruitful, say two of the leaders:
Bishop Philip Richardson who, as Archbishop, shares the leadership of the Anglican Church in these islands, said Catholic and Anglican Bishops "have enjoyed strong friendships over many years. These friendships have translated into cooperation on many things, at a local level, and across the country. "
Bishop Patrick Dunn, President of the New Zealand Catholic Bishops, commented further: "The Bishops have shared some really fruitful discussions on a number of issues and this meeting has been a valuable opportunity to reconnect and reflect on how we can continue to work in achieving our shared goals."
Caption:
The gathered Anglican and Catholic bishops, left to right: Archbishop Sir David Moxon; Bishop Steve Lowe, Bishop of Hamilton (C); Bishop Ngarahu Katene, Te Pihopatanga o te Manawa o te Wheke; Bishop Charles Drennan, Bishop of Palmerston North (C); Bishop Richard Wallace, Te Pihopatanga o te Waipounamu; Bishop Patrick Dunn, Bishop of Auckland (C); Bishop 'Afa Vaka, Bishop in Tonga; Bishop Paul Martin, SM, Bishop of Christchurch (C); Cardinal John Dew, Archbishop of Wellington (C); Bishop Dr Steven Benford, Bishop of Dunedin; Archbishop Winston Halapua (partly obscured, in the rear); Bishop Andrew Hedge, Bishop of Waiapu; Bishop Richard Ellena, Bishop of Nelson (rear); Bishop Colin Campbell, Bishop of Dunedin (C); Archbishop Philip Richardson (obscured); Bishop Gabriel Sharma, Diocese of Polynesia – and Bishop Henry Bull of Vanua Levu and Taveuni.