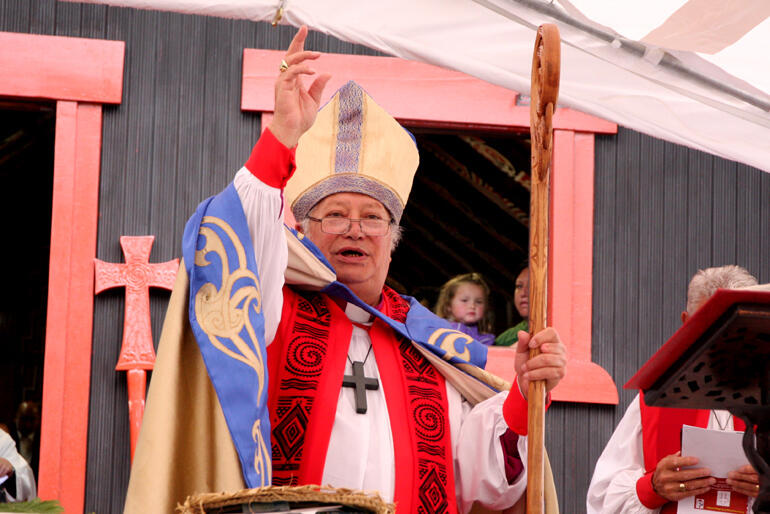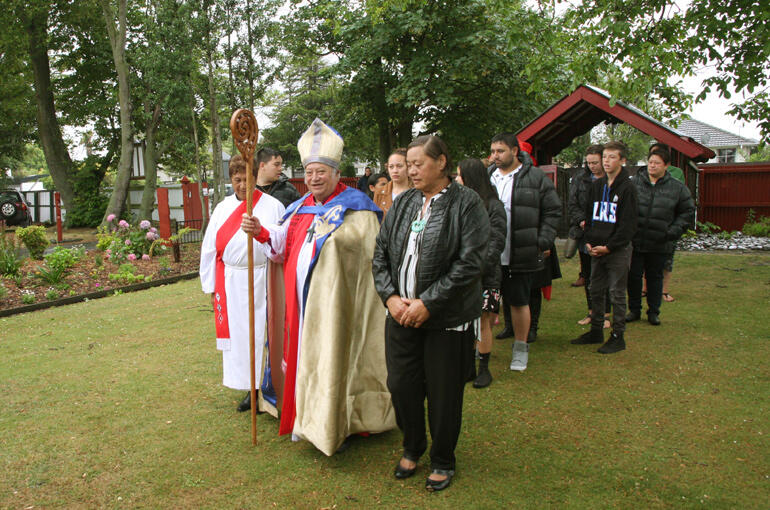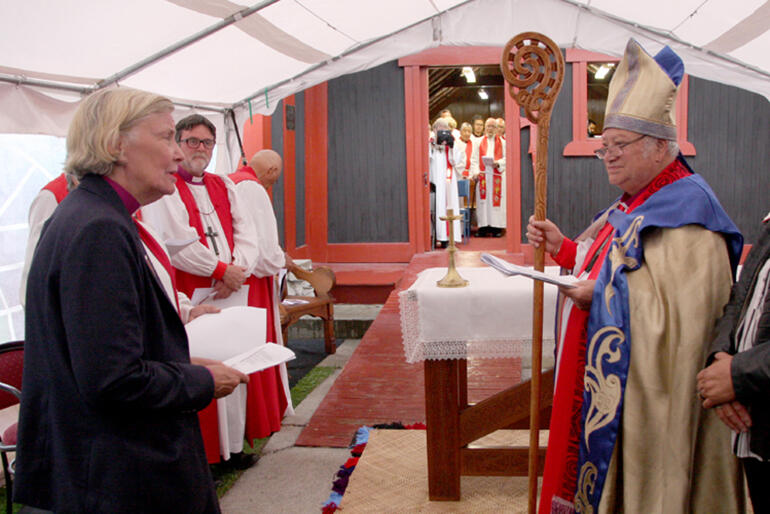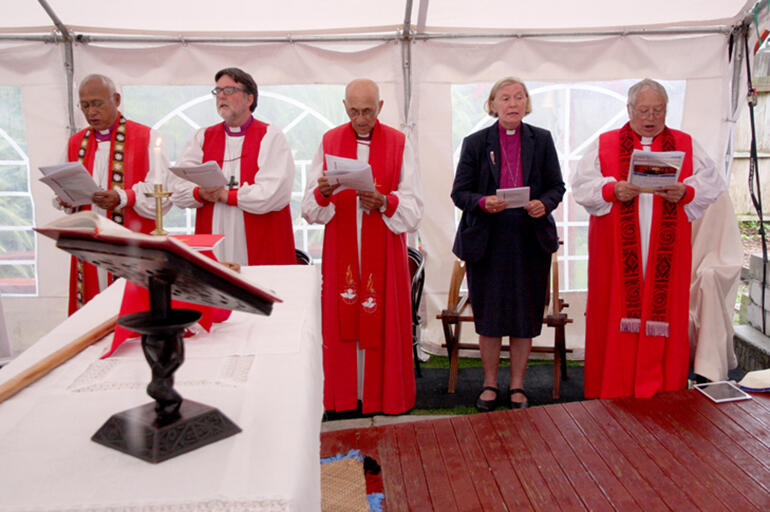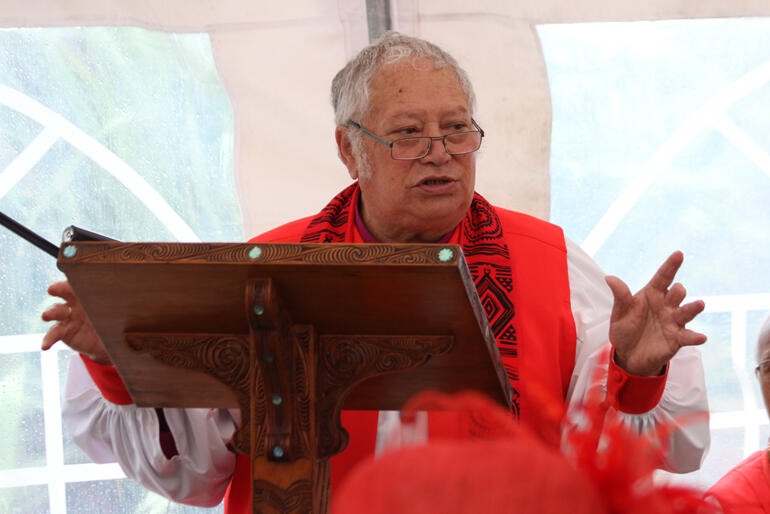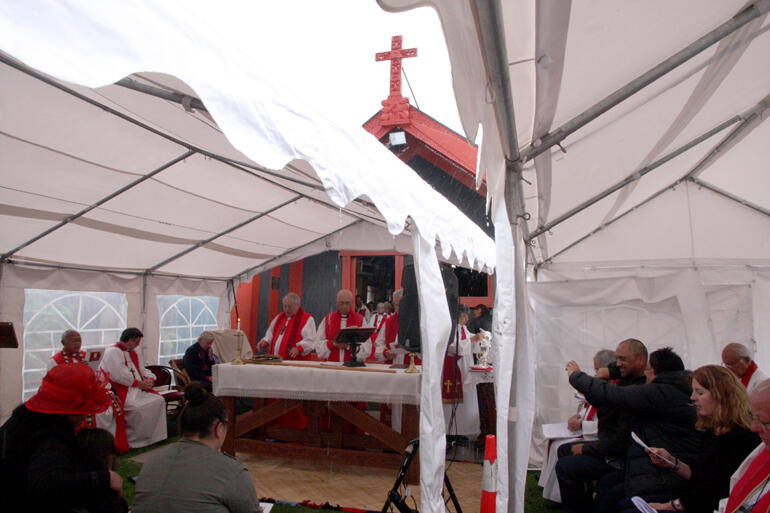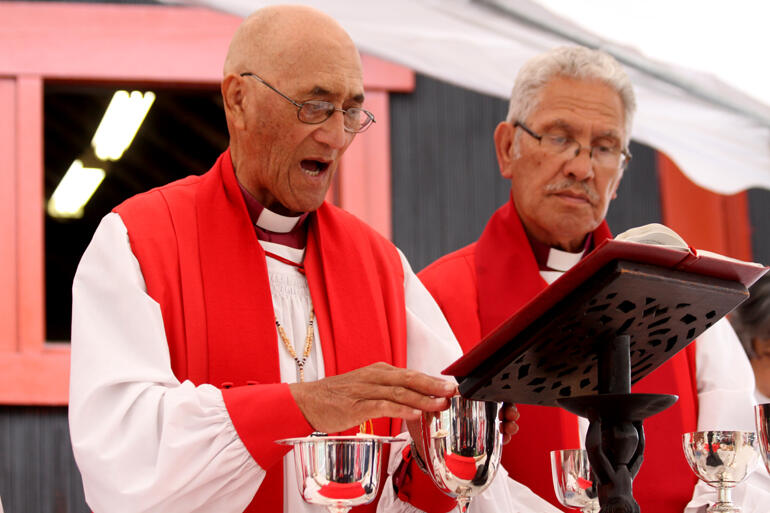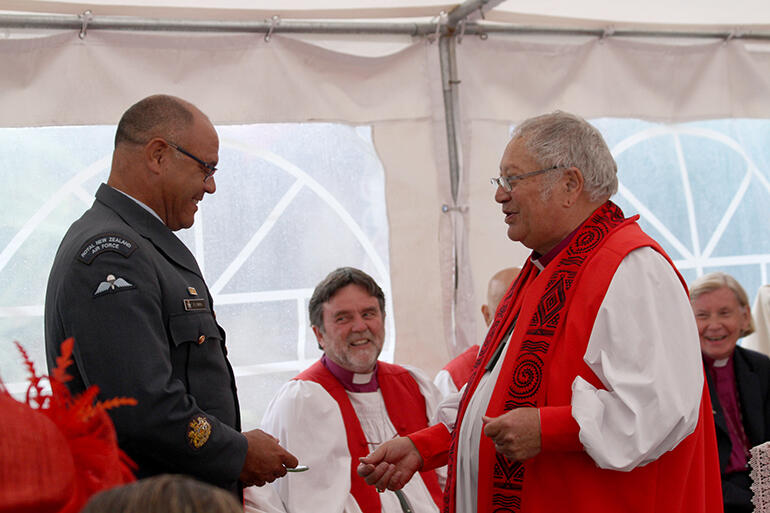 If rain is a sign of blessing – then Heaven has declared an emphatic blessing on Te Wai Pounamu's newly ordained Bishop Richard Wallace.
Rain was falling steadily when Bishop Richard stood outside the Church of Te Hepera Pai (The Good Shepherd) in Ferry Rd, Christchurch, waiting for the putatara, or conch, to sound his arrival to be installed as the second Bishop of Te Wai Pounamu.
The home people predicted a far bigger crowd than could jam into the beautiful little punga-clad whare karakia, and they were right about that – there wasn't a spare seat in the two marquees pitched in front of the church.
But by the time Bishop Richard was midway through his kauhau, the rain was fair bucketing down – dodge the drips if you could – and if you sat at the back you'd have struggled to hear over the rain's racket.
No matter: the himene were old favourites, they were frequent, the singing was full of joy and gusto – and there was no mistaking the fact that you were caught up in a forcefield of aroha, given and taken.
#
No mistaking, either, that when this bishop talks about partnership, he means it.
At the start of the service, Bishop Victoria Matthews was sitting well towards the rear of the marquee.
She wasn't sat there for long, though – because no sooner had the service begun than Bishop Richard called her up to sit alongside him in the sanctuary.
He wanted them to be bishops together, he said – and that remark drew a spontaneous burst of applause.
Bishop Richard's emphasis on doing ministry together was clear in the chosen readings, too.
There was Numbers 11: 24-29, read by Sophie Paaka. That's the account of the Lord sending the same Spirit that was on Moses on to the 70 elders, and of them prophesying. And of Moses's reaction when Joshua protested about that:
"Are you jealous for my sake? I wish that all the Lord's people were prophets and that the Lord would put his Spirit upon them all!"
Then, the chosen epistle, read by Rev Errol Anderson, of Brisbane, was I Corinthians 12-31a. Verse 21 catches the spirit there: The eye can never say to the hand: 'I don't need you.' The head can't say to the feet: 'I don't need you.'
And for the gospel, there was Peggy Peek reading Luke 10: 1-9, where Jesus chose 72 other disciples and sent them ahead in pairs to all the towns he planned to visit… and urged them to: "Heal the sick, and tell them: 'The Kingdom of God is near you now.'"
Bishop Richard developed those themes in his kauhau:
"When I put my pledge (to serve) in, I said – and I say again to you now – that this is not for me alone.
"The Bible readings remind us that – and these are words that God gave us – that I cannot do it alone, and we will do it as a team."
#
In his earlier life, Bishop Richard was a sergeant in the Air Force – and at Onuku Marae yesterday a contingent from the RNZAF were given significant parts to play at the start of the ordination service.
This morning, the Air Force ope was on hand again. Bishop Richard called them forward, and presented them with taonga, including a mounted piece of pounamu.
It has become clear, then, that this is a bishop who is not only a team player, but a bishop who doesn't forget the rock from which he was hewn.
#
As we said, there were two marquees pitched in front of the whare karakia.
A longer one for the congregation, and a shorter one for the clergy. Those two tents were butted together, and open one to the other.
But there was still a narrow gap between them, and if you strayed into that gap for more than a few seconds today… you'd surely get soaked.
Then again, if you looked skyward through that crack, you could see the cross that crowns Te Hepera Pai, standing high over the two tents.
It seemed symbolic, somehow, and perhaps Leonard Cohen should have the last word:
There is a crack in everything
That's how the light gets in.