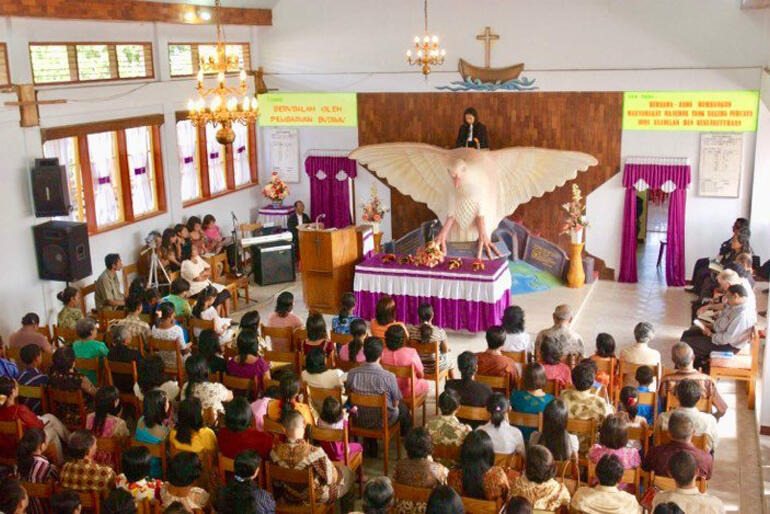 Today Christians across the southern hemisphere begin a week of prayer for Christian unity that each year runs from Ascension Day (30 May) through till Pentecost (9 June). Christians in the south pray in the second wave of this largest annual prayer gathering in the world, following on from early January observance of the Week of Prayer for Christian Unity (WPCU) by northern hemisphere churches.
Whether praying together, exchanging preachers or planning ecumenical services, the churches of the southern hemisphere are invited to bear witness to Jesus's prayer for his disciples that "they all may be one so that the world may believe." Each year, the Week of Prayer - a tradition that began more than 100 years ago - is jointly organized and led by the WCC and the Pontifical Council for Promoting Christian Unity (PCPCU).
The theme for the Week of Prayer for Cristian Unity in 2019 is, "Justice, and only justice, you shall pursue ..." drawn from Deuteronomy 16:18-20:
The World Council of Churches (WCC) general secretary Rev. Dr Olav Fykse Tveit said that as Christians around the world pray together, they will share a sense of joy, concern and accountability, a sharing that forms the heart of the ecumenical movement.
"As we celebrate a unity in diversity, we become more able to strongly pursue justice in our many contexts," he said. "In all cultures and continents, we can pray for each other and pray together as a living fellowship for justice and peace."
Each year churches in a different country are invited by the WCC and the PCPCU to prepare resources for the week, and in 2019 worship resources for the Week of Prayer for Christian Unity were prepared by churches in Indonesia.
With a population of 265 million, 86% of whom are identified as Muslim, Indonesia is has the largest Muslim population of any country. However, about 10% of Indonesians are Christians from various traditions.
In terms of both population and the vast extension of the country, Indonesia is the biggest nation in South East Asia. According to the churches who wrote the 2019 resources, much of the economic growth that Indonesia has experienced in recent decades has been built on a system that has competition at its heart. They say that stands in contrast to Indonesia's five founding principles (Pancasila) which are known by the motto Bhineka Tunggal Ika (Unity in Diversity). Across the diversity of ethnicity, language and religion, Indonesians have aimed to live by the principle of gotong royong which is to live in solidarity and by collaboration.
As Christians gather with the themes of unity and justice in mind, no matter how they interpret them, their hearts can be touched together, reflected Odair Pedroso Mateus, director of the WCC Faith and Order Commission.
"The Week of Prayer for Christian Unity deepens fellowship among Christians from different parts of the world who would otherwise hardly meet each other," he said. "The context of Indonesia, where fragile harmony today is threatened in new ways, is particularly moving."
At General Synod 2018 the Anglican Church of Aotearoa, New Zealand and Polynesia agreed to mark the Week of Prayer for Christian Unity in our Church's official observances listed in the lectionary. The WPCU has been celebrated by Christians in Aotearoa New Zealand since the Week began in 1908.
Click here to download a PDF containing Bible studies, daily reflections and prayers for the eight days 30 May -9 June and joint worship resources for the
Week of Prayer for Christian Unity 2019