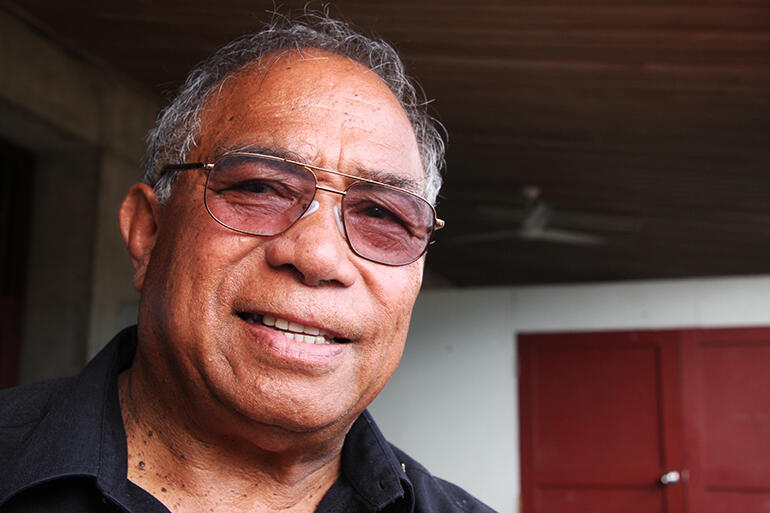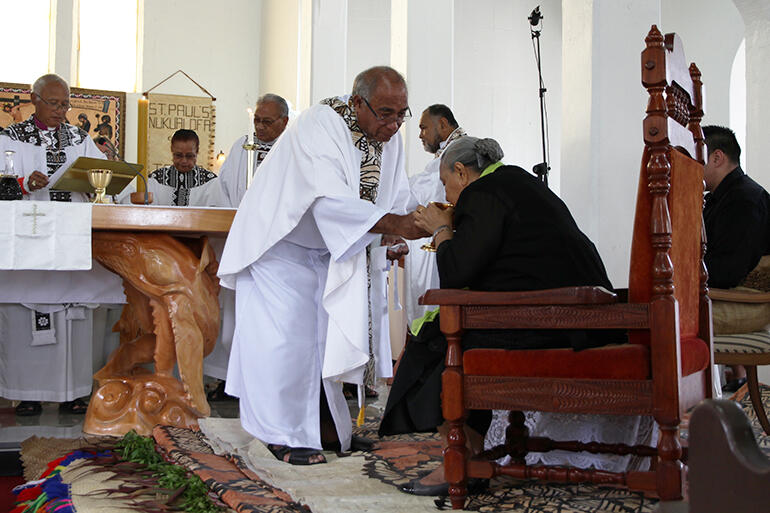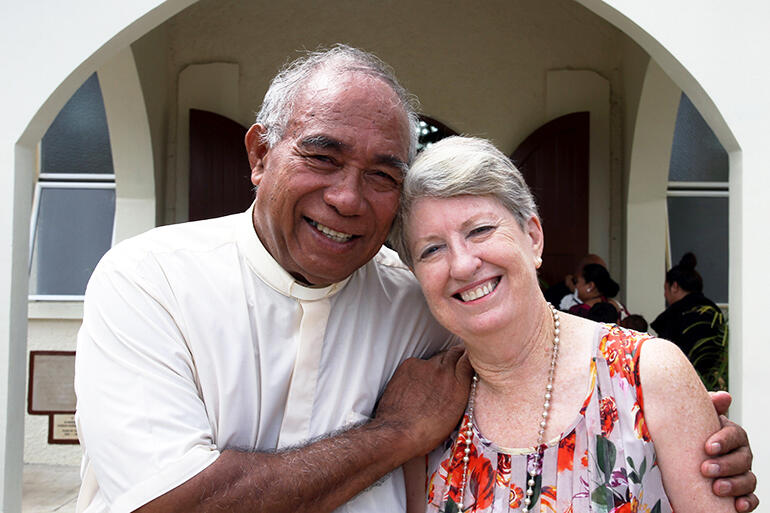 When Anglicans in this part of the world get together, sooner or later the talk turns to the three tikanga.
But Archdeacon Joe Le'ota – who is lying in state at Hei Marae, at Te Puke, and whose funeral will be held on Saturday – did more than just talk three tikanga, says Archbishop Winston Halapua.
Joe livedit.
He was born and raised in Tonga – Joe, Winston and Tilesi Bryce (Archbishop Jabez's widow) all grew up in Railway Rd, Nuku'alofa – and Joe was somebody in Tongan life, too.
For starters, Joe was a big man, a passionate rugby man, and in his younger days, he'd played in the second row for ʻIkale Tahi,the Sea Eagles, the Tongan national team.
By reason of his genealogy, Joe was also a significant figure in Tongan ceremonial life, too – a motua'puaka,a talking chief, a spokesman for the king.
Joe, in love
Then, there were Joe's Pakeha connections – which came, in the first place, through Anne McLean.
She'd gone over to St Andrew's High School in Nuku'alofa as a young VSA volunteer teacher.
Joe's first job was as a teacher at St Andrew's, too.
So he fell head over heels for Anne, persuaded her that he was a good bet – and Winston's father, Bishop Fine Halapua, married them.
Anne came from a Bay of Plenty farming family, and not long after they married, Joe and Anne returned to New Zealand where they took up share-milking in the Edgecumbe-Kawerau area.
They then went on to their own farm in Te Puke – and Archbishop Winston thinks Siaosi Kolo-ki-Hakaufisi (Joe to his many friends) just may have been the first-ever Tongan dairy farmer.
We knew the words...
Then there's the Maori stuff. And the fact that Joe is lying in state at one of the main marae around Te Puke tells you that he had real manain Te Ao Maori.
In the first place, Joe's entry into the Maori world came through Canon John Tamahori, who was the Headmaster at St Andrew's when Joe was a student there.
John Tamahori brought a passion for rugby to St Andrew's – and a passion for Maori culture, too. And strange as it may sound, the students at St Andrew's found that Maori culture and Tongan culture fitted, hand in glove.
"When we sang waiata," says Archbishop Winston, "it was just like singing in Tongan for us. We knew what the words meant."
And Joe had a better ear for te reo than most. The Le'ota clan are legends in music in Tonga, and Joe gravitated to choirs throughout his life.
Then, by virtue of the fact that Waiapu is Maori heartland, and that Joe and Anne threw themselves into the community life in Waiapu – well, Joe's connections to Te Ao Maoriwere bound to become stronger.
Bay of Plenty
Joe was ordained a non-stipendiary priest in the Diocese of Waiapu in 1983, and he ministered non-stop there for 30 years. He served his curacy in the parish of Edgecumbe-Kawerau, became priest assistant at St John the Baptist church in Te Puke in 1989 and Vicar of Te Puke in 2002.
He always seemed to make a point of upskilling himself, too. Back in 1980, for example, not long after he and Anne had arrived here, he had reeled in a qualification in Farm Management – and in 2002, he gained a Diploma in Counselling from the Bay of Plenty Polytech.
Joe had talent in that area. He became a school counsellor at Te Puke High School and, according to Adrienne Bruce, who is the Regional Dean for the Bay of Plenty, his rapport with young people was "amazing."
Joe was active in anti-violence work in the wider Tauranga Moana-Te Puke region, and he also helped out as a translator and supporter for Pacific Islanders when they landed in hospital, for example, or when they had to front up to court.
Then, just to keep himself from becoming entirely idle, Joe ministered once a month at 'Ofa Kihe Laumalie Ma'oni'oni – that's Holy Trinity, Otahuhu – which is the nearest thing to a Tikanga Pasefika cathedral in Auckland.
Joe took a malolo(rest) from stipended ministry in 2007, although he continued to serve as a counsellor at Te Puke High School and at the Beachhaven Community House in Papamoa.
Steadying the ship
In April 2012, the church in Tonga ran into strife – and Archbishop Winston pleaded with Joe and Anne to step out of retirement and to help straighten things out there.
He asked Joe to become the Archdeacon of Tonga, and the Vicar of St Paul's, Nuku'alofa.
Joe and Anne did that, too, only returning to the Bay of Plenty in September last year.
Not only did Joe steady the ship in Tonga, but he oversaw the complete refurbishment of St Paul's.That church was in need of substantial repair – and in May 2014 St Paul's was rededicated, debt-free, doubled in size, renewed top to bottom, with distinctly Oceanic-themed carved church furniture throughout. No question, that was a team effort. But Joe was at the tiller.
He walked the talk
"Joe lived like he played his rugby," says Archbishop Winston. "You put him in a position, and you could relax – because you knew he would score. The goaline was his business.
"If you talked money – he knew about that. Joe and Anne had owned a dairy farm.
"If you talked rough – Joe knew about that, too. They'd known what it is to have nothing.
"And when you talked worship with this man – you were just humbled. His big frame reeked worship."
Even so, says Archbishop Winston, Joe only became what he was because of Anne Le'ota.
"That beautiful Tongan man," he says, "was only beautiful because of Anne. Their marriage was a beautiful marriage of cultures. They danced, and they danced in rhythm.
"I'm looking to the day when the three tikanga church can strike that rhythm. When we do, we will be the envy of the world."
"And if I could say anything to Joe now, I would say: 'Joe: Dance on. Dance on to heaven."
#
Siaosi Kolo-ki-Hakaufisi Le'ota died suddenly in Otahuhu on Monday.
The Pasefika community turned out in force – some 400 strong – to pay their tributes to Joe at Holy Trinity in Otahuhu on Wednesday night.
On Thursday, Joe's family brought him down to St John the Baptist in Te Puke, where his many Waiapu friends and old Tikanga Pakeha parishioners bade him farewell.
Joe was brought on to Hei marae (Manoeka Rd, Te Puke) on Friday and his funeral, which will be led by Bishop Andrew Hedge, will be held there at 11am on Saturday. He will be buried in the Maketu cemetery.
Joe, who was 73, is survived by Anne, and by their sons Andrew and Salesi and their families.