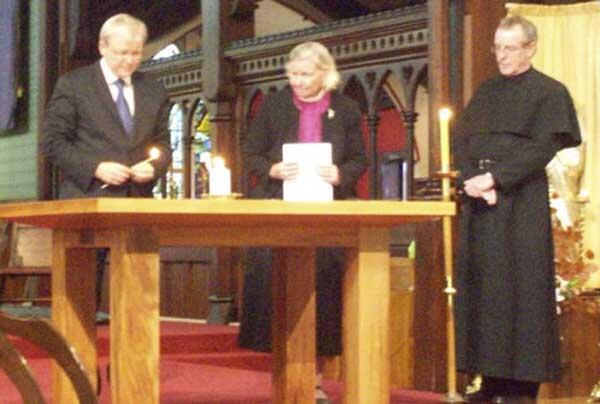 The Australian Minister of Foreign Affairs, Kevin Rudd, lit a candle of remembrance in St Michael and All Angels Church during a tour of quake-ravaged Christchurch on Friday, March 26.
Mr Rudd was attending a Lenten service led Bishop Victoria Matthews.
Pupils from St Michael's School also attended the service, which featured a violin solo by 7-year-old Justin Hodges – 'Humoresque' by Antonin Dvorak.
After the service Mr Rudd and Bishop Victoria went next door to the school, where he read to a class and chatted with several pupils before continuing his tour of the CBD.
St Michael's and All Angels is the only Anglican church in the CBD still usable after the February 22 earthquake.
The stone building of the school was damaged in the quake but cordoned off so that students and staff could return on March 16.
Mr Rudd's humanitarian visit to Christchurch reflected New Zealand's close relationship with Australia.
Additional images of his visit to St Michael's are available at:
www.nzpaimages.co.nz/events.php?event_id=12167&show_all=0&page_no=0