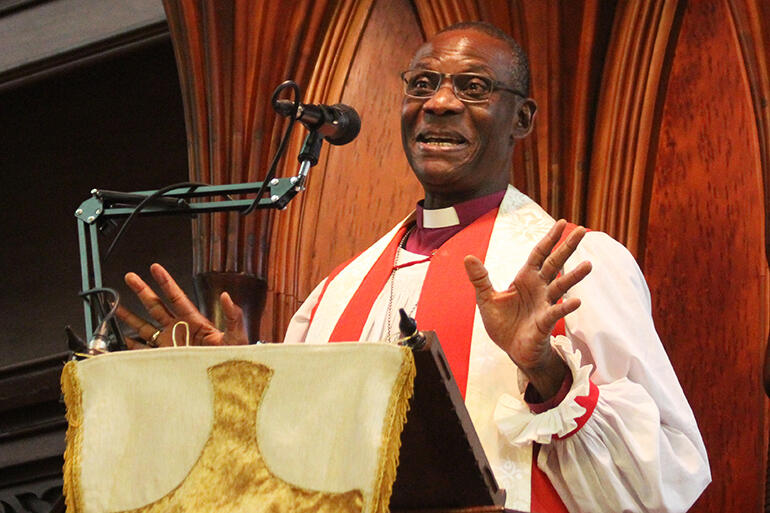 Archbishop Joshua Idowu-Fearon needs time, of course, to reflect on his whirlwind seven-day tour of the church in Aotearoa New Zealand.
But his first impression is that the three tikanga church has modelled an age-old Anglican virtue which is in danger of being lost.
That's the virtue of patience.
He has that impression, he says, because of what took place at the 2016 General Synod.
"I was led to understand that Tikanga Maori said: 'We are willing to bless people in same-sex relationships: Let's move on!'"
Tikanga Pasifika wanted to move on, too, and both could have asked for the vote to be taken. They had every right to do so.
Instead, they chose to give Tikanga Pakeha – who were themselves stuck, divided and in danger of splitting – more time to find their way forward.
"For me," said Archbishop Josiah, "that is the height of patience. That is the height of love and concern. And it is the practical outworking of this concept the Primates came up with in January 2016, that we work together in spite of our differences."
"There is always a need for patience. And I believe that this province is reminding our Communion that patience is a major characteristic of what it means to be Anglican."
"I take you back to the debate around polygamy. Bishop Colenso[1]brought this problem to the first Lambeth conference in 1867.
"The Communion did not take a position until Lambeth 1988. Resolution 26 of 1988 says that where polygamy will help mission, the growth of the church, let's allow it.
"For me, a student of Anglican polity, there is a significant lesson here.
"You don't leave behind members of your family."
#
In his time in New Zealand, Archbishop Josiah went to Sunday service at a Maori church, talked with the two Archbishops, and spent time in ecumenical and bicultural gatherings.
He also met members of the Progressive Network, the Women's Network – and last Friday evening, he took in the AFFIRM conference in Wellington.
He told the AFFIRMers that in his role, he often gets to meet with secretaries of other denominations.
For instance, he'd recently crossed paths in Rome with the international secretary of the Mennonite church.
And he'd heard, straight from that secretary, that the Mennonites have their own version of GAFCON – and that parts of the Mennonite world are refusing to have fellowship with other parts. All because of clashing attitudes to same-gender relationships.
"You find this issue in every denomination: Roman Catholic, Baptist, Methodist, Lutheran, Presbyterian, Seventh Day Adventist, evangelicals. You name it, it's there. We are all wrestling with it.
"And the more one is open to what is happening, the more humble you get."
"The question, I believe, that we need to be asking ourselves today, is this: What is the Lord saying to His church?
"When I say His church, I don't just mean the Anglican Communion, either.
"What is the Lord saying to His church?"
#
Archbishop Josiah is convinced that where same-gender blessing is concerned, Anglicans are called to show a lead in finding a workable answer to that question.
"I told the AFFIRM group that a huge number of the other churches outside our Communion are looking up to the Anglican Communion, to see how we resolve this issue.
"Because they know, with our Via Media,that we are good at finding a way forward.
"I believe there is a divine calling on the Communion to help the universal church here.
"I'm convinced about that."
#
Archbishop Josiah says he likes the anthropological concept of 'transculturalisation'.
For him, that means "moving out of your own culture, without denying your culture, and being in the culture of the other person to actually feel, see, and hear what the Lord is saying."
Archbishop Josiah says he learned much of what he knows about walking in the shoes of the other in Northern Nigeria, where he comes from, and where he served as a bishop, then archbishop, for 25 years.
Northern Nigeria is the most heavily populated region of Nigeria, it is predominately Muslim, and it is a seat of political power.
After Nigeria won independence in 1960, the leader of the east decided he needed to court Ahmadu Bello, who was the Sardauna of Sokota, and who had been elected as the Premier of Northern Nigeria.
So the two leaders met and talked about their respective peoples and cultures – until finally the eastern leader said: 'Oh, I've heard you. Now let's forget our differences, and work together.'
"And Ahmadu Bello, said: 'No: Let us understandour differences.'
#
Archbishop Josiah has reeled in two master's degrees on Islam, and Muslim-Christian relations, as well as a doctorate in Sociology – and in 2013 the Archbishop of Canterbury conferred the Cross of St Augustine on him for his ministry in promoting Christian-Muslim dialogue in Nigeria.
So he's well-placed to comment on evangelical work in his territory.
All too often, he says, that work is infected by a cultural blindness.
Many of evangelists working in the north come from the South-east, he says, where Muslims are a minority, and are "treated as people who don't matter".
"Christians from the South-east do not understand the concept of dialogue with their Muslim neighbour. They see that as compromise.
"And that is one of the major reasons why we have conflicts in the North. Christians are all lumped together, and we all suffer."
"We need to look at our Muslim neighbours with dignity.
"We shouldn't look at them as enemies.
"We shouldn't see them as just being there to be converted."
#
He also sees the fruitlessness of the impulse to separate, too, when he looks at Sudan, the country he visited immediately before coming to New Zealand.
In 2011, the people of South Sudan – who are African, and 'Christian' – voted for independence from Sudan.
"In the years before independence their rhetoric was: 'It's the Muslims. It's the Arabs. They're trying to colonise us. They're trying to impose Islam on us.'
"So now they are their own people... and we see the mayhem that's happening.
"Tribalism has come in, and the people of South Sudan can no longer accuse the Muslims, the Arabs, of anything."
#
Anglicans should earnestly pray, therefore, that they do not fall into the temptation of schism, says Archbishop Josiah.
Instead, they should hold fast to the virtue of patience.
"The Americans won't like this, but can you imagine if they had had leaders like Archbishops Brown and Winston to say: 'Hang on: Let's give some time'? They would have won more sympathisers.'
"And you see no matter what we do, there is no waythat either the right or the left will ever win. It's not possible."
"So our best option, is the Christ option: Be together. Walk together. Checkmate each other.
"When we're together, there is no room for arrogance: 'I don't need you. I don't want to know you'– I haven't read that in the gospel.
"As one of the new Primates said to me: 'Jesus walked with the Pharisees, Sadducees and sinners.
'Do I have a choice?'
"Or as the Pope has said: 'Who am I to judge?'
#
Footnote:
[1] John William Colenso (1814-1883) was the first CofE Bishop of Natal. Colenso first courted controversy in 1855 with his Remarks on the Proper Treatment of Polygamy which argued for tolerance of polygamy.