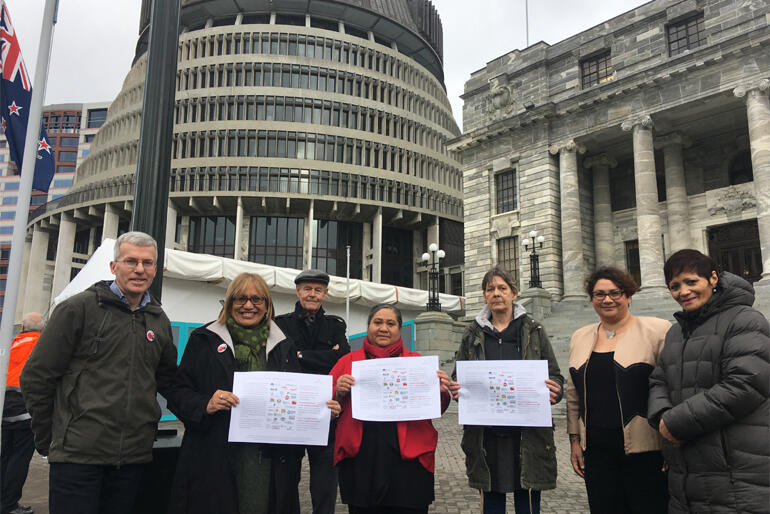 Today the Equality Network (EN) handed election year goals for a fairer society to National and Green MPs on the steps of Parliament in Wellington.
The Equality Network comprises 37 members representing social service and advocacy organisations from across Aotearoa, including: the New Zealand Council of Christian Social Services, Every Child Counts, Child Poverty Action Group, Living Wage Aotearoa, ActionStation and the NZ Council of Trade Unions.
The EN statement outlines three key ideas which network members believe need to be enacted immediately for a fairer income distribution and better quality of life for all Kiwis.
These are:
1) Income for all that provides the necessities of life through a Living Wage and fairer income support.
2) A Government-funded house-building programme to help address the housing crisis and provide everyone with healthy, affordable homes with long-term tenure, and
3) A tax on very high levels of wealth and higher top tax rates on the highest incomes to ensure that everyone contributes their fair share and enables our families and whānau to thrive.
"These key ideas, if enacted immediately, will help create a more equal New Zealand, one where everyone can pursue their dreams, a country where everyone has the resources they need to build a good life for their families and whānau, where income and wealth reflect fairness and balance." said Equality Network representatives at parliament today.
Green Party co-leader Meteria Turei, and National Party MP and Social Services Committee Chair Jo Hayes accepted the election statement from members of the Equality Network. Speakers at the handover event included Prudence Stone from Every Child Counts and Muriel Tunoho from the Living Wage Aotearoa campaign.
Also supporting the Equality Network is Graham Robertson, a former president of Federated Farmers, retired farmer and philanthropist.
"The NZ economy is in a relatively strong position relative to most other developed countries with low interest rates and low unemployment." said Mr Robertson today.
"Most of us are doing relatively well and it is time to turn our attention to those who are not. The mark of a successful economy is the way in which the poor are treated and New Zealand is not a good place for our poor, especially if they are homeless.
"Many of my friends and colleagues, particularly those who are comfortably off are offended by the shortfall in government funding for children living in poverty and I am too."
"The task is too big for voluntary agencies to plug the gaps."
"We must face up to the fact that we who are better off should pay more tax. International experience demonstrates this can be achieved without destroying economic efficiency or growth."
Mareta, a mother, grandmother and Government employee working as a cleaner explained the difference a Living Wage would make in her life.
"At the moment I'm working full time for eight hours a day, plus Saturdays. I work 44 hours a week. I get paid $15.75 an hour, the minimum wage. I end up with around $600 dollars a week, and after my power and rent it I am left with about $150.
"My family survived the past few years with me working two jobs, a day job and a night job. I never saw my kids, because when I came home, they were asleep. I worked hard because I felt sorry for my children and my family and we needed to pay the rent. It was a very stressful time.
"Now I have a full-time day job and my husband has his pension and my son works so we all help each other and help to pay the bills. But, sometimes I feel like there is not enough money. The cost of living is too expensive now, everything is money. At my house we have a fireplace, but it's too hard to get firewood. I spend 70 dollars every week for a train ticket and a bus card. It's so expensive."
Debbie Leyland, a beneficiary who also volunteers for United Community Action Network, spoke about her experiences on the benefit.
"A few weeks ago my daughter was over here, and I found some money under the bed. I asked her what we should buy as a treat, and we both said peaches! It was like we'd won lotto. Who can afford to buy fruit? No one that I know. I haven't seen a full fruit bowl, in the house of anyone I know for years.
"We bought some cauliflower the other day and we were in heaven, it was like Christmas. I'd love to be able to fill my cupboards with fresh vegetables and food so when my family come I could feed them a really wholesome meal. My fridge is empty. I've got a can of baked beans and a can of tomatoes. I haven't bought a block of cheese for months. It's too expensive.
"I'm on the invalid's benefits because I suffer from Post Traumatic Stress Disorder due to things that happened during my childhood. I suffer from depression and anxiety. It's very difficult but I'm at a level now where I'm well and I can maintain my life. But sometimes I can't afford my medication, because I don't have enough money, and then I become really unwell."
Stories like these, repeated over and again have motivated the Equality Network to hone in on the three key areas for change which will make the biggest difference to this country's children and families living in poverty.
To find out more go to the Campaign Against Income Inequality
To read the full EN 2017 Election Statement see the PDF below