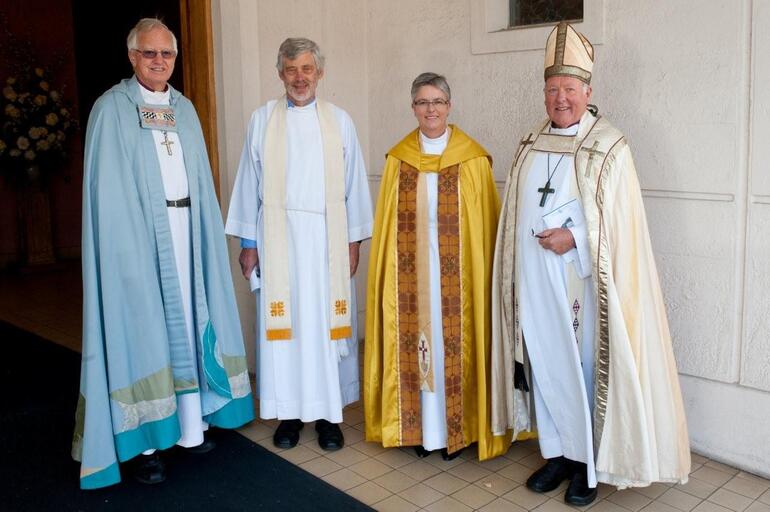 Over 300 people turned out at events in Napier over the weekend to mark 150 years since the first worship service was held in the original St John's Church on March 2, 1862.
The commemorations began on Friday with evensong in the cathedral and celebration drinks.
The city's mayor, Barbara Arnott, thanked the parish for its service and commitment to the city.
And in her sermon Dean Helen Jacobi dwelt on those same issues: "What will people in 50 years or 150 years say about us?" she asked.
"We hope that they will say we are a people who kept the faith and served our God and God's people."
A parish picnic had been planned for Saturday – but because of the weather "bomb", that had to be postponed for a week.
On the Sunday a large congregation gathered for Choral Eucharist and three former deans – Bishop David Coles; Bishop Murray Mills and Rev Noel Hendery – were among the worshippers.
Folk from St Augustine's Napier, St Andrew's Westshore, and St Francis, Clive came too, as their parishes had their beginnings with St John's.
At the end of the service the congregation processed to the bottom of the Madeira Steps to the "Selwyn Rock" where Bishop Selwyn, first Bishop of NZ, is said to have preached.
Bishop Selwyn had backed plans for building the first St John's Church, and a new Historic Places Trust plaque marking the rock was blessed by Bishop David Rice.
On Sunday evening 100 gathered for dinner at Ormlie Lodge. The city's MP, Chris Tremain, paid tribute to the Cathedral Parish.
"I know I won't be an MP for the next 50 years," he said. "But your church will still be serving the community then."
At the dinner stories which had been collected from senior parishioners were told by younger members of the parish, with the help of local writer Charity Norman.